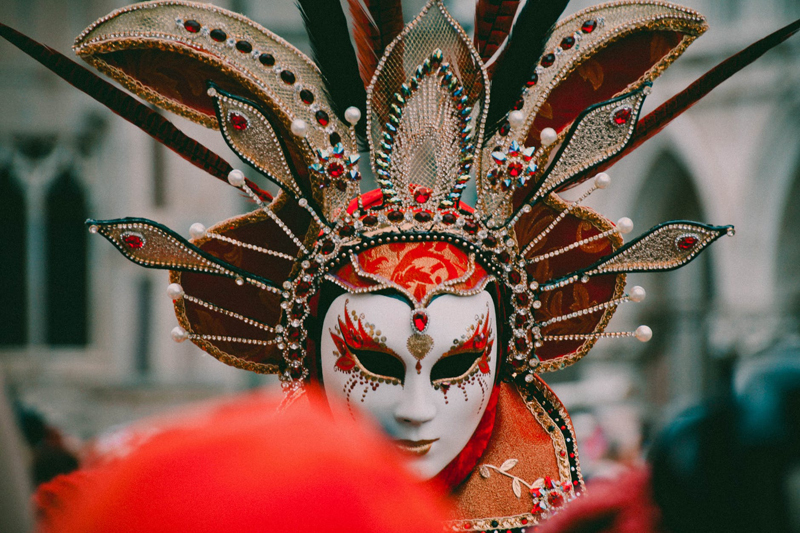 There are hundreds of ways to wrap a sari. Once upon a time, each village, each tribe, and each profession had their own sari drapes. Here are two sari drapes you can do easily. Both require a standard (six yard) sari, a choli (crop top), and a petticoat. If you buy your sari online, the choli and petticoat are usually included in the price.
The typical modern way to wrap a sari is called the Nivi drape. It shows off the pallu or decorated end of the saree, so pick a saree with a beautiful pallu. The bottom border of your saree may also be wider and heavier (sometimes with an added cotton facing) than the top border. This works well with the Nivi drape.
To begin, open your saree behind you. Make sure that the wider border is at the bottom and the decorated pallu is on your right.
Place the non-pallu end of the saree to your navel. Tuck this corner into your petticoat. Tying an overhand knot in the corner will keep it secure. See figure 1 at right for an illustration.
Traveling from that corner around your back to your right hip, tuck the top of the saree into your petticoat. Make a small pleat over your left and right hip so the saree hangs nicely. If you are not wearing a petticoat, the top corner and a point along the top of the saree can be tied together to form a waist.
Starting in front of your navel, make 4" wide pleats as shown in figure 2 at right. The amount of pleats you will need depends on your circumference and how you want to finish your saree drape. There is no problem with making too many pleats for now, so pleat as much as you like.
Press the pleats flat with your hands and tuck the top of the pleats into your waist in front of your navel as shown in figure 3 at left.
To finish the Nivi drape, pass the pallu-end of the sari under your left arm and carry it around your back to under your right arm. Pull it to the front under your right arm, across your chest, and over your left shoulder. Allow the decorated end to fall behind your left shoulder. The sari can be pinned to the left shoulder of your choli to keep it in place.
To make a Gujarati drape instead, take the pallu (unpleated) end of your saree and pass it under your left arm so that it is behind you. You can now choose from a couple of different finishes. The most traditional way is to wear the pallu as a veil. Pull the pallu over your head and let it fall to the front over your right shoulder. Take the lower left corner of the pallu cross your chest and tie an overhand knot in its end. Tuck the knot into your back waist near your right hip. Pin the veil to your hair to secure it further.
To wear the pallu over your shoulder, you will have to make more pleats at your waist to take up the extra. After you've done this, pass the pallu under your left arm behind you and bring it forward over your right shoulder. Knot the lower left end and tuck the knot in your back waist as in the veil drape. Pin the saree to your choli on your right shoulder if you need to secure it.
If it doesn't turn out perfectly the first time, don't get discouraged. Saris are like living, breathing things. Sometimes they need to be coaxed to get them to do what you want them to do. Practice makes perfect, and the more you wear your sari, the more comfortable you will become with draping it.
Enjoy!
Here's a great pattern for an authentic Indian choli (sari blouse)
that shows you how to wrap the sari three different ways.
Buy wonderful saris at Utsav Fashion.


Related Articles
Editor's Picks Articles
Top Ten Articles
Previous Features
Site Map





Content copyright © 2019 by Kass McGann. All rights reserved.
This content was written by Kass McGann. If you wish to use this content in any manner, you need written permission. Contact Brandi Ford for details.