The Pleasures of Beer - A Woman's Passion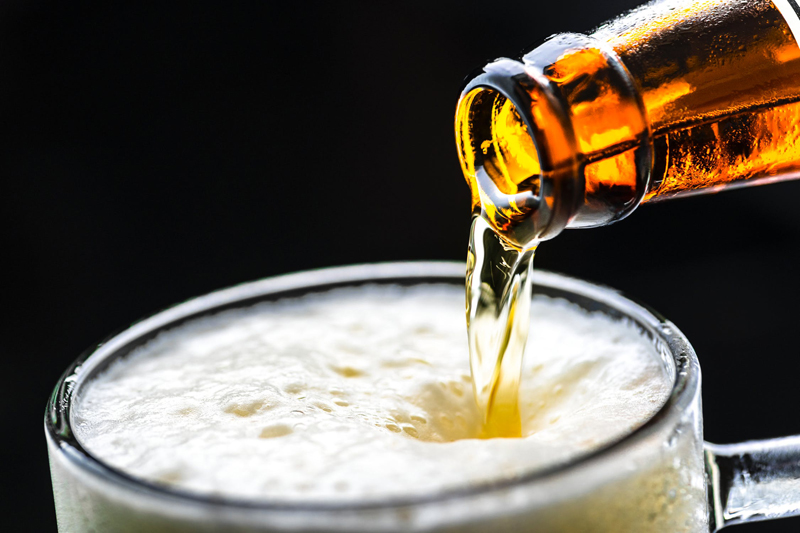 We were all chilling out at a cozy little tavern. A group of close friends, celebrating the feats of another week in the corporate world. Marty's spicy story seemed the perfect appetizer to our gustatory feast of Mexican delight. "Drinks, Ladies?"

This was a tough week. A superfluous margarita seemed off-balance for our dashing bill of fare. Something that could blend well with the complex flavors of Mexican cuisine seemed to call to the palate. "The beer list, please!" we replied with commanding grace.

Such is Divine Revelation.

A traditional woman might think the world of beer to be off-limits. In the past, we fully believed that we had to be satisfied with wine or a neon-colored mixed drink that did not blend well with food. Shake the cobwebs from your barstools, America! Beer is no longer the exclusive domain of man!

By conservative estimates, there are upwards of 28 major categories of beer throughout the world today, with subcategories beneath each, totaling more than 100 distinctly different styles of beer. The United States alone boasts over 1,500 brewing establishments, producing a delightful buffet of flavors and colors to please the most discriminating palate.

In addition, amplify a "select" beer's ability to blend with the most complex of foods, and you have orchestrated the beginnings of a grand symphony.

One small challenge exists – you have all the pieces to the jigsaw puzzle, you see a picture of the end result, but need a little help getting started. I am willing to bet that most women do not know of the existence of a kriek or a stout, much less the flavors associated with each.

As assistance to those developing a passion for gourmet beer, brewers would be well advised to add descriptives of their complex flavorings on select bottles of beer. We "better-than-average" women are attracted by artistic labels with gold etching, words that capture our interest, and guidance in the selection of beer.

As women with class, we leap at the chance to "not look stupid and clueless" when shopping for a finer malted beverage. With a little education on the unique qualities of beer, some states may even re-vamp their out-dated laws that require the purchase of beer by-the-case, preventing a beer connoisseurs' freedom of choice – a preference to shop for a fine beer as others shop for a bottle of sherry. This would certainly open up a field of possibilities to those "Pleasure Seekers of the Palate" who desire exploration of the senses through the passion of fine craft beer.

You may dabble in the delights of Rare Vos, a Belgian-Style Ale from Brewery Ommegang in Cooperstown, New York. This brew does carry a precise description on its elegant brown bottle, and is sealed with a champagne cork. The flavors will dance in your mouth! High Rollers Wheat Ale from Anderson Valley Brewing Company in Boonville, California has a light, golden sparkle of color with a delicate tang and clean crispness. If you prefer a slightly tart air, New Belgium Brewing Company in Fort Collins, Colorado brews Transatlantic Kriek, a delectable cherry lambic, with creamy texture, light white head and delicate lacing.

It's all about style! Use your finest Ommegang Beer Chalice, Bavarian Wheatbeer Glasses, or Belgian Tulip Glass.

With the discovery of classically-brewed craft beer, you can move on to the next sophisticated step in the mastery of beer – that of gourmet cookery for beer lovers. The magical combination of science with unwitting art! The sensations of the heart with the titillations of the palate! The merging of food with the complexity of choice beer!

In a search for the most winning combinations of food with the ideal flavorings in beer, you will embark upon a journey across the American and Canadian landscape. Stories of guts and determination abound, as complex as the brews that precipitated their emergence. Within all this beauty, all these stories, all this complexity, lies the tantalizing enchantment of sumptuous beer cuisine.

Most of us have been cooking with beer for a lifetime, in the traditional dishes of sausage or bread. Wheat beer and ales merge particularly well with bread ingredients, as do an occasional lager or steam beer. These can lend a crisp or citrus sweetness to the yeasty aroma characteristic of most oven-fresh, home-style breads. Sausage or kielbasa, marinated in ale and cooked for hours, is a welcome treat on a cold day.

Beer cookery extends far greater than one or two dishes, however. Marzen lager, with its creamy amber malt tones, creates an even balance for the richness of shrimp bisque. This is a particularly attractive dish, deserving of the high accolades it repeatedly wins. The most polished guests forget their manners in pursuit of a little take-home treasure!

One of the most surprising uses of beer-in-food is in its combination with fish and seafood. Cherry lambic, with its up-front tartness and smooth malty undertone, blends well with a delicate flounder or tilapia. A juicy salmon steak, wrapped in parchment or grilled over hickory chips, experiences a flavor explosion when married with a marinade of German-style wheat or French-style white beer.

Beef, veal and pork are more tolerant of extremes in flavor. A bock lover can wallow in gentle bitterness and roasted malts while soaking up the gusto of a Delmonico steak. Creamy stroganoffs merge well with the roasted tawny tinge of a stout. The full-bodied, round character of a porter unite subtle chocolate characteristics with veal or sausage.

Poultry and game, on the other hand, require the flavorings found in the lighter styles. They shade the aroma of hops with light malts, honey, saffron, and raisins. These are generally found in ancient ale, barleywine style ale and German style maibock. Blondes and Belgians create happy blends, as well.

The crème de la crème of food refinement culminates in the dessert category, the delightful blending of sweetness with creativity. It is almost like sex! The true edification of genius, released!

The balance of choice hops and exquisite malted cocoa blissfully merge when you add chocolate stout to a creamy cheesecake recipe. Caramel delicacy and the light body of black & tan unite with palatable finesse to produce an airy trifle. A variety of beer, from oatmeal stout and pumpkin ale to seasonal cinnamon blends, are superb additions to cookies, rich cakes and gingerbread. Beer touched with cherries (kriek) or raspberries (framboise) create mouth-watering fruit crisps, steaming from the oven.

The added benefit of cooking with beer is in cultivating the art of choosing a beer that will serve as an accompaniment to the savoir-faire of beer cuisine. As your knowledge of beer expands, with the ever-growing creativity among craft brewers, you will open up a world of taste, heretofore untapped. You will discover "champagne" beers, along with the knowledge that "Raison D'Etre" from Dogfish Head Brewery in Delaware, "La Fin du Monde" from Unibroue in Quebec or "Prima Pils" from Victory Brewing in Pennsylvania are cultivated refinements of the beer revolution.

A serious dedication to beer connoisseurship provides a unique connection to men in a genre readily shared by the more discriminating. Be bold! Expose yourself to the variety that awaits your discovery. After all, a woman's roots are in her beer!

Cheers!


You may wish to add a bit of class when serving beer. This classic set is a great starting point. You may also wish to seek out Stemmed Pilsners or Wheat Beer Glasses before expanding to Champagne Flutes or Digestive Glasses.
Spiegelau Barrel Beer Classics Lager Glass, Set of 6 in Barrel Gift Tube

Spiegelau Beer Classics Ultimate Beer Glass Set 6-pc.
You Should Also Read:
Beer Lovers' Cookery - Sugar Mama Pecans
The Old World Art of Breadmaking With Beer - Part II
Elegant Beer Cookery - Rockville Bisque Made with Shrimp


Related Articles
Editor's Picks Articles
Top Ten Articles
Previous Features
Site Map





Content copyright © 2022 by Carolyn Smagalski. All rights reserved.
This content was written by Carolyn Smagalski. If you wish to use this content in any manner, you need written permission. Contact Carolyn Smagalski for details.