Beer Cooking with Decadent Chocolate Recipes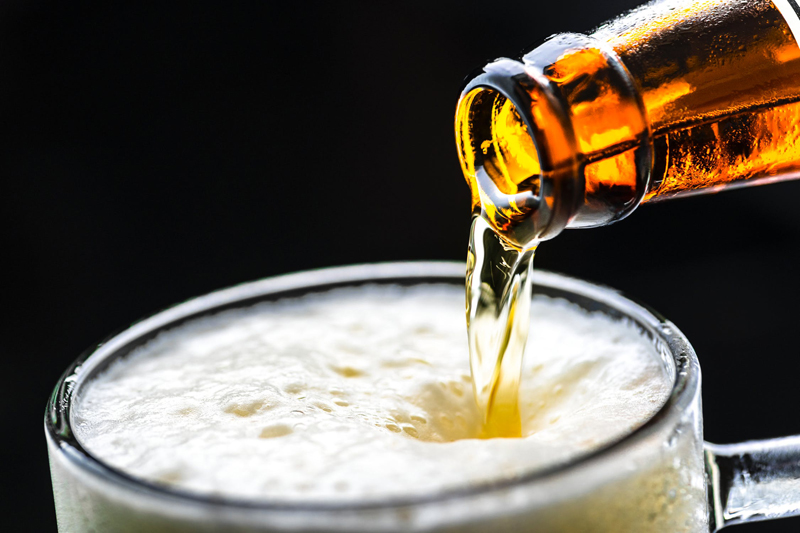 Beer Cookery can open up a world of new tastes to the palate. Chocolate and beer is a magical blend that is unmatched throughout Cuisine-land. The rich and robust flavors of stout and porter raise these decadent desserts to heavenly heights.

Auntie Ellen's Chocolatee Stout Cheesecake

The Beer Fox says, "The look is marble-ous; the flavour – heavenly smooth!"
Recommended Brew: Chocolate Stout - Rogue Ales, Newport, Oregon USA

Style: Chocolate Stout – Ebony in color – Mellow blend of oats, chocolate malts and exquisite chocolate is balanced with choice hops. The result is a rich beer with a bittersweet finish.

Graham Cracker Crust:
1 C. graham-cracker crumbs (from a 13-1/2 oz. pkg.)
1/8 C. granulated sugar
1/8 C firmly packed light brown sugar
½ C. finely chopped pecans
4 tablespoons butter, melted

Combine graham-cracker crumbs, sugars and chopped pecans in a small bowl. Blend in melted butter. Press firmly into the bottom of a lightly greased 9-inch springform pan.
Bake in 325 degree oven for 9 minutes. Cool and chill before filling.

Cheesecake:
8 oz. semi-sweet chocolate pieces
6 oz. Chocolate Stout
1-1/2 tablespoons espresso
3 eggs, separated
½ C. sugar
2 teaspoons vanilla extract
2 packets unflavored gelatin
4 oz. milk
3 tablespoons sugar (for egg whites)
16 oz. cream cheese
1 C. heavy whipping cream
Chocolate syrup, for garnish

In small saucepan over very low heat, melt chocolate pieces in 3 oz. Chocolate Stout and espresso. Remove from heat and allow to cool.

Combine gelatin with milk. Meanwhile, in top pan of double boiler, beat together egg yolks and 3 oz. Chocolate Stout. Add ½ C. sugar. Heat, stirring constantly, for 5 minutes. Remove from heat. Blend in vanilla extract and gelatin/milk mixture. Chill in refrigerator. Stir at 2 minute intervals.

In large bowl, whip cream cheese until light and fluffy.

With hand-held electric mixer, beat whipping cream until light. In separate bowl, beat egg whites until they form stiff peaks. Gradually add 3 tablespoons sugar, beating until very stiff.

Blend gelatin mixture into whipped cream cheese. Gently fold in the sweetened egg whites. Fold in the whipped cream.

Separate 1/3 of mixture into small bowl. Blend in chocolate mixture. Alternately pour white and chocolate mixtures into chilled crust. Lightly cut through batter with knife to marbleize. Chill overnight until firm. Remove from springform pan.

To serve. drizzle dessert plate with chocolate syrup in criss-cross pattern. Center cake slice on plate.

*Health Benefit: Rich in calcium, vitamin A, vitamin B-complex vitamins, vitamin E, iron, copper


Fudgilicious Porter Cake

The Beer Fox says, "Simple ingredients explode with flavor in one of grandma's world class treats."
Recommended Brew: Anchor Porter - Anchor Brewing Company, San Francisco, California USA

Style: Porter – Mahogany in color – Intense, rich and full-bodied, with a satisfying hint of chocolate malt, topped by a creamy, ample head.

8 tablespoons butter (1 stick)
1-1/4 C. granulated sugar
2 large eggs
1-1/2 C. flour
½ teaspoon salt
1 teaspoon baking powder
1 teaspoon baking soda
7 oz. Anchor Porter
2 oz. cocoa

Fudgilicious Icing:
4 oz. unsweetened bakers chocolate
2 tablespoons Anchor Porter
4 tablespoons butter
1-½ C. confectioners sugar
1 tablespoon milk

Preheat oven to 350 degrees. Grease and line two 9-inch square cake pans.

Sift together dry ingredients – flour, salt, baking powder and baking soda. Set aside.

With electric mixer, cream butter. Add sugar and beat until light and fluffy. Add eggs, one at a time, until well blended and light.

Whisk cocoa into Anchor Porter. Alternately add cocoa/beer mixture and flour mixture to creamed blend, thoroughly mixing after each addition. Pour into two 9-inch prepared cake pans. Bake at 350 degrees for 35-40 minutes, or until toothpick inserted in center comes out clean.

Cool thoroughly on wire rack.

To prepare icing, melt chocolate in 2 tablespoons Anchor Porter until smooth. Cool slightly. Cream butter. Blend creamed butter and confectioners sugar into chocolate mixture. Blend in milk.

Lightly spread prepared icing between layers of cake. Cover top and sides with remaining icing.

* Health Benefit: Rich in calcium, vitamin A, vitamin B-complex vitamins, vitamin E, iron, copper
Enjoy!
 
You Should Also Read:
Party Food - Black Warrior Meatballs
Porter - History of Beer and Imagination


Related Articles
Editor's Picks Articles
Top Ten Articles
Previous Features
Site Map





Content copyright © 2022 by Carolyn Smagalski. All rights reserved.
This content was written by Carolyn Smagalski. If you wish to use this content in any manner, you need written permission. Contact Carolyn Smagalski for details.