Savor the Southwest in 30 minutes or less!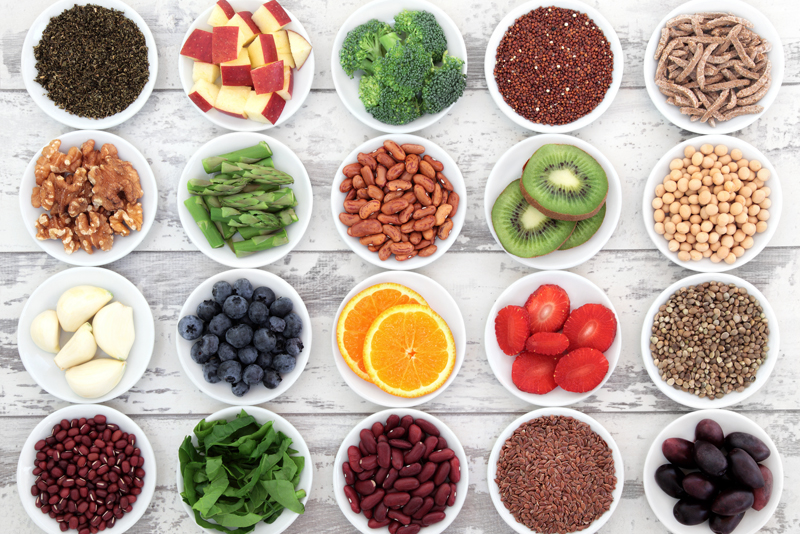 Raw spinach is a great choice for a healthy salad since it contains calcium, vitamins A, C, E, K, folic acid, magnesium, and several important antioxidants. It has almost no calories—only 20 in 3.5 ounces or 100 grams--and is delicious, not to mention a beautiful dark green which compliments the other dishes in this quick and easy dinner. The main dish in this Southwest inspired menu is Chile rubbed chicken breasts, which cook quickly on the grill with sweet potato slices which are microwaved for five minutes before being sprinkled with the same chile rub. If you have a little extra time, you can cook some fresh corn on the cob or a vegetable from your garden.
Timesaving appliances are key to this quick meal: a blender for the salad dressing, microwave for the sweet potatoes, and the gas grill for the main dish. Several convenience items from the grocery store also contribute to saving time: ready washed and packaged spinach, packaged cooked and crumbled bacon, bottled salsa, canned sliced olives, and frozen boneless skinless chicken breasts.
Leftover Mango Salsa is great with tortilla chips or on grilled seasoned fish like halibut or salmon.
Southwestern Spinach Salad
with Salsa Vinaigrette
6 Servings
1 10 oz. package fresh baby spinach
1/4 cup finely chopped red onions
1 cup finely grated cheddar-Jack cheese
1/4 cup cooked crisp and crumbled bacon
1 4 oz. can sliced black olives, drained well
1 cup jicama, peeled and cut julienne
3 Roma tomatoes, chopped
1 large avocado, chopped
1 cup coarsely crushed tortilla chips
Dressing
1/4 cup red wine vinegar
1 tablespoon lime juice
1/2 cup vegetable oil
1/2 cup medium salsa
Mix all salad ingredients in a large bowl. Pour the dressing ingredients in a blender container and blend until mixed well; there will still be a few salsa chunks.
Chili-Rubbed Chicken Breasts
with Grilled Sweet Potatoes and Mango Salsa
6 Servings
6 boneless skinless chicken breast halves
2 tablespoons chili powder
1/4 teaspoon cayenne pepper (or more to taste)
1/2 teaspoon salt
1/4 teaspoon freshly ground black pepper
2 medium to large sweet potatoes (about 1 ½ pounds)
2 tablespoons vegetable oil
1 batch Mango Salsa
Heat the gas grill to high heat.
Run the chicken breast halves under the water to clean and cut out any veins, blood, or fat. Mix the chili powder, cayenne pepper, salt, and pepper. Rub 2/3 of the mixture over the chicken breasts. Reserve the remaining spice mix.
Poke the sweet potatoes all over with a fork and microwave 5-7 minutes or until they are almost cooked through. Cut into 1" thick slices, peel the skin off, and place in a bowl. Toss with the vegetable oil, then sprinkle with the chili mixture.
When the grill is heated, turn off one side of the grill and place the chicken breasts and sweet potatoes on the side that is turned off. Close the lid and cook about 5 minutes; turn the chicken and sweet potatoes over, close the grill lid, and continue to cook until the chicken is just done through and the sweet potatoes are crisp on each side. Remove from the grill to a serving plate. Serve the chicken topped with the Mango Salsa and the crisp sweet potatoes on the side.
Mango Salsa
12 Servings
2 large mango
1/4 cup minced red onions
1/4 cup diced red bell peppers
1 diced jalapeno pepper
2 teaspoons grated fresh ginger
3 tablespoons chopped fresh cilantro
zest of 1 lime
3 tablespoons lime juice
1/2 teaspoon salt
Peel, pit, and dice mangos. Add the remaining ingredients. Cover and refrigerate until serving. Taste for seasoning. If you prefer sweeter salsa, you may add brown sugar to taste.


Related Articles
Editor's Picks Articles
Top Ten Articles
Previous Features
Site Map





Content copyright © 2023 by Karen Hancock. All rights reserved.
This content was written by Karen Hancock. If you wish to use this content in any manner, you need written permission. Contact Karen Hancock for details.