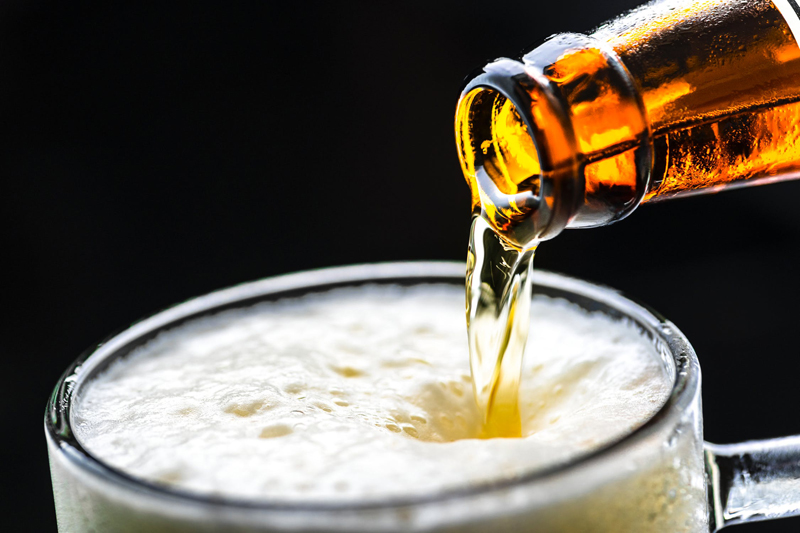 Is it any wonder that Americans love their dogs so much? Dogs are dedicated to splashing in a cold liquid on a steamy, summer day - hanging out, having fun, going to the park, sticking with the pack! They keep our feet warm at night, and take us for lively walks in the brisk morning air. They are totally uninhibited! Just like beer-loving Americans!

Of course, as beer loving Americans, we immortalize our furry friends by naming our best brews after them – Howlin' Brown Ale, Moondog Ale, Pitbull Dry Light Ice, and Maximus IPA – as well as a great bar or two - The Blue Dog, The Mad Dog Tavern. It should come as no surprise that there are beer pubs and lounges throughout the United States that cater to your canine companions.

City Ordinances and Board of Health laws in the larger cities tend to lay restrictions upon many establishments, particularly if they serve food. The more creative of these provide outdoor dining when the weather permits, allowing Rover to accompany his master as loyal friend and cohort. If the pub operates exclusively as a watering hole, the rules relax beyond the conservative statutes, allowing your faithful buddy the freedom to be by your side.

In the historic Old Towne section of Alexandria, Virginia, the Holiday Inn Select Courtyard on King Street, one of the top seventy-five Holiday Inns worldwide, stands in the company of upscale boutiques, art galleries and gourmet restaurants. A pet friendly atmosphere floats in the air. Promptly at 5 p.m. every Tuesday and Thursday, the Holiday Inn provides a Doggie Happy Hour. A lovely outdoor courtyard is dotted with tables and bistro umbrellas, while complimentary hors d'oeuvres and happy hour specials flow in abundance. Colorful gourmet doggie biscuits in an array of appetizing flavors are the canine-bill-of-fare, washed down with fresh spring water for every doggie guest.

Chicago opens its arms to pooches of all breeds. The Marquee Lounge at Armitage and Halsted Street in the heart of Lincoln Park welcomes dogs daily until 9 p.m. In close proximity, you can cruise over to Jake's Pub at 2932 N. Clark, where you will find the warm charm of an enduring neighborhood pub. Doors are open to all well-behaved canines, while you enjoy the luxury of an incredible list of brews – Imports such as Chimay, Leffe, Duval, Ephemere and Hoegaarden; Domestics like Pabst, Sprecher Abbey Tripel, and Mad Bitch; and Draughts of Sierra Nevada, Guinness, Summit Hefe Weiss and Goose Island Pilsner.

Within one mile of Wrigley Field, the Ten Cat Tavern welcomes your mutt, particularly in the afternoon when business is slower. If Lassie likes the freedom of the fresh air, an outdoor beer garden awaits, during the warmer weather. The Ten Cat's 1950's décor creates an aura of fun, where two antique Brunswick pool tables welcome the loyal locals. As a quiet retreat, you and Lassie may wish to chill-out in the backroom, complete with fireplace, and available for parties, free of charge.

Throughout the US, there are restaurants of gourmet cuisine and pubs of warmth and pleasure that will welcome your dog in lovely, outdoor dining areas. You can make your Mutt feel splendid by sharing your dining experience at the outdoor tables at Devon Seafood Grill at 225 - 18th Street in Philadelphia, Pennsylvania. Caribou Café at 1126 Walnut Street, in the City of Brotherly Love, strikes up an authentic Paris atmosphere, complete with the casual feel of a brasserie-style cafe, where your pooch may accompany you. Caribou's list of 40 specialty beers is a delight for the beer-loving fan. Ministry of Information at 447 Poplar Street in the Northern Liberties section of Philadelphia has a great bottled beer selection, and is one of the most dog friendly bars in the city.

Noe's Bar at 1199 Church Street in San Francisco will welcome your pup at the outdoor tables while you applaud the 49er and the Giants, or bond with the friendly locals. At the Crab Claw in St. Michaels, Maryland, you and Rover can sit on the outside deck, enjoying a table filled with steaming, red crabs and your favorite brew. The view of the Chesapeake is awe-inspiring! The Chesapeake Inn on the C & D canal in Chesapeake City has an atmosphere that your dog will love. The tiki bartenders will keep Barto supplied with fresh water, and may even slip him a puppy treat or two!

Dog-friendly establishments are popping up in greater abundance, in response to the demand. In jolly Old England it is common, not only to welcome dogs, but for the proprietors of the taverns to also have residential dogs on premises at all times. The White Horse, Easton in Suffolk County, U.K. is world-known for their fine cask-conditioned ales, adventurous cuisine, lovely outdoor dining section, and occasional live music – and their three dogs (and until recently, one goat) in house. Dogs are allowed everywhere except the restaurant area, and the Brits find it prudish to lay restrictions on those who are so much a part of family life.

If you keep your eyes open, you will find these warm and welcoming pubs, where you and your canine can relax with a fine brew, and meet others who share your sense of loyalty with their canine companions as well.
 
Beer Fox Recommendation: The Pet Travel and Fun Authority By: M. E. Nelson
Cheers!
You Should Also Read:
Beer Dogs and Party Animals
Beer Lovin' Party Animals in the Wild
Beer Lovers' Cookery Celebration - Dogtown Jambalaya


Editor's Picks Articles
Top Ten Articles
Previous Features
Site Map





Content copyright © 2023 by Carolyn Smagalski. All rights reserved.
This content was written by Carolyn Smagalski. If you wish to use this content in any manner, you need written permission. Contact Carolyn Smagalski for details.