The Grand Embellishment of Food with Beer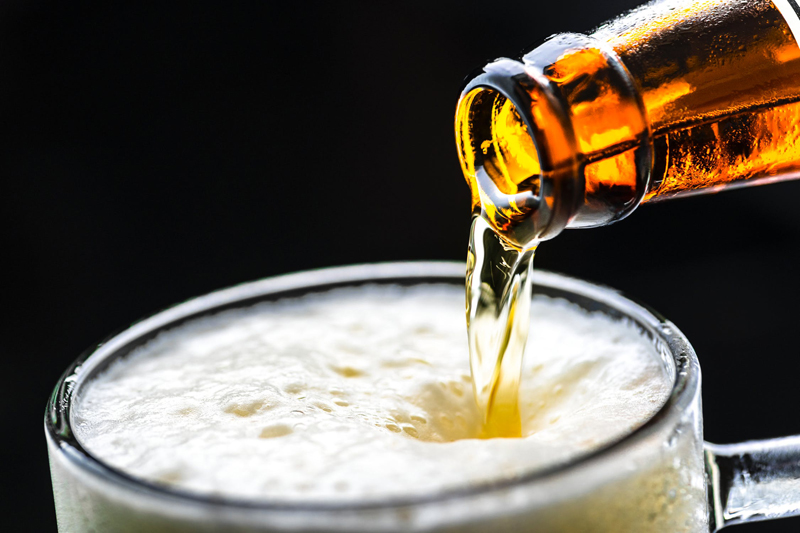 By themselves, the great and flavorful craft beers of the US, Canada and Europe are symphonies for the tongue. With the addition of food, they become grand embellishments that light up the sky with fireworks and laser shows. They illuminate the flavors in scrambled eggs, spicy edibles, roasted meats and sausages, ethnic dishes, and rich chocolate desserts.

The culture in the United States greatly promotes the coupling of wine with food. Wine can be a wonderful accompaniment with many dishes, but the spices found in food may change the characteristics of the wine itself. Red wines can turn bitter, while white wines become hot, flat, or sour.

The carmelized and roasted flavors in beer create harmony in many styles of food – barbecued dishes, rack of lamb, sausages, salmon, and the ethnics – Thai, Mexican, Middle Eastern, Japanese, Indian and Cajun styles. Chocolate and coffee overtones, such as those found in the porters and stouts, light up chocolate desserts and spicy cakes. The refreshing citrus subtleties, common in wheat beers, and the complex fruit tones of Belgian ales have a natural affinity with scrambled eggs, vinaigrette dressings, tomatoes, asparagus, fish and seafood, and fruits desserts.

Many of these food/beer combinations are the normal bill-of-fare found in brasseries throughout the world. In French, brasserie is a word used for brewery, but throughout the continental cities of the world – San Francisco, New York, Montreal, New Orleans, London, and beyond - it has come to be associated with an eclectic style of dining that merges the casual with the elite, incorporating the best in cuisine with the charm of tradition in a relaxed, easy setting. These brasseries are, perhaps, more daring in their approach to cooking with beer, introducing their clientele to combinations that light passions of the palate. In these exciting little hot-spots, it is not unusual to find diverse and elegant beer lists that can rival the most complex of wine offerings.

In the United States, it has now become stylish for brewing establishments to have a Master Chef in addition to the Master Brewer. Craft breweries often present the added pleasures of food with their brews, and as a result, have developed cookery that incorporates beer in a masterful complexity of available dishes. Many styles of beer already use food to add subtle undertones of excitement – Bushy's Oyster Stout, New Belgium Transatlantique Kriek, Boston Beer Works Pumpkinhead Ale, McAuslan Apricot Ale, Middlesex Brewing Oatmeal Stout and Rogue Ales Chocolate Stout. It naturally follows that adding beer to food can open up a world of excitement to the gourmet chef, as well as the grillman at the barbecue.

Ignite your own passions for beer cookery! The following resources will add pizzazz to your kitchen or barbecue grill with the refreshing, alternate style associated with the merging of beer and food.

On the Web:

Alaskan Brewing Company in Juneau, Alaska has developed a diverse collection of recipes online for the aspiring beer cook. At Cooking with the Brew Crew, they have developed a searchable database with over a hundred recipes in all categories of cooking.

Stephen Beaumont's resource, Brian's Monthly Beer Cuisine, is the inside story for the cooking enthusiast.

Lucy Saunders presents beercook.com, with secrets of world-renowned chefs, informative tips about cooking with beer and links to online beer and food sources.

David Lauterbach displays passion for the beer lover and the home beercook at Brian's Belly.

Hard copy resources that present pairings of beer and food, as well as recipes for the avid beercook:

The Brewmaster's Table – Discovering the Pleasures of Real Beer with Real Food by Garrett Oliver – a "must have" guide that describes perfect pairings of refreshing brews with sumptuous cuisine.

Cooking With Beer by Lucy Saunders, published by Time/Life Books – footnoted as a resource for food and beer in the original hardcover edition of Michael Jackson's Great Beer Guide. This book has also been a source of information for beer journalists across the country, from the Chicago Tribune to the Los Angeles Times.

Ultimate Beer by Michael Jackson – in addition to being a comprehensive collection of marvelous brews and descriptions, a goodly chunk of this edition is dedicated to food and beer, presented in a luxurious display of mouth-watering comestibles.

Candy Schermerhorn's Great American Beer Cookbook touts a chic, exotic, downhome and decadent collection of beer-enhanced recipes to satisfy the most discriminating palate.

The Beer Cookbook by Susan Nowak – beer appears triumphantly in diverse recipes, from the sophisticated to the hearty.

It was my intention to whet your appetite for gourmet beer cookery – to make you an enthusiast, immersed in the pleasures that can only be found with the merging of beer and cuisine. Your meals can stand out as the highlights of your life, ones that will light up your senses and live in your memory. Cook with beer!

Cheers!

 
You may wish to add a bit of class when serving beer. This classic set is a great starting point. You may also wish to seek out Stemmed Pilsners or Wheat Beer Glasses before expanding to Champagne Flutes or Digestive Glasses.
Spiegelau Barrel Beer Classics Lager Glass, Set of 6 in Barrel Gift Tube


Related Articles
Editor's Picks Articles
Top Ten Articles
Previous Features
Site Map





Content copyright © 2023 by Carolyn Smagalski. All rights reserved.
This content was written by Carolyn Smagalski. If you wish to use this content in any manner, you need written permission. Contact Carolyn Smagalski for details.