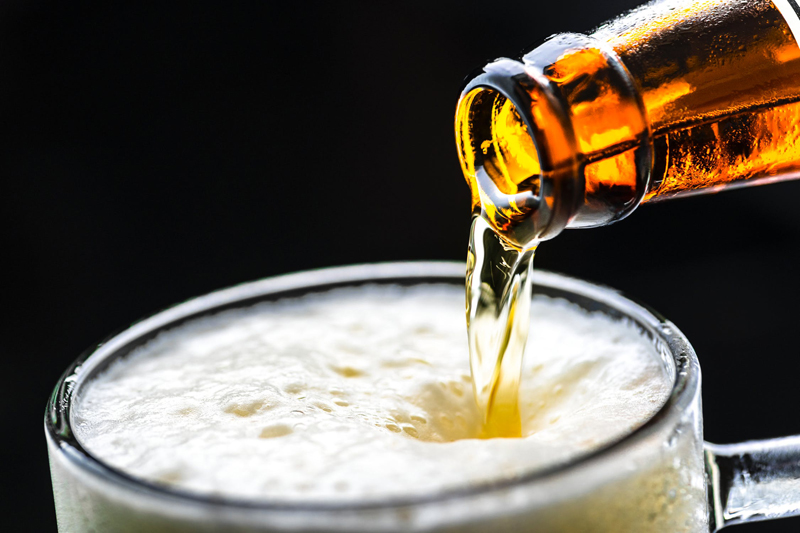 Food enjoys grand embellishment when combined with beer. Read more!
Ask the Beer Fox - Introducing Beer to Wine Lovers


What is the best way to introduce high quality craft beer to my wine-drinking and beer-deprived friends?
Beer & Cheese : Do you know this Cheese?


From Buffalo, New York, a question about beer and cheese pairings.
Beer & Food and ... Massage Oil ?


The real meaning of enduring love may be found in something as simple as a beer made memorable. Create a superb beer and food combination, add warming massage oil, and let the romance begin!
Beer for Sophisticated Restaurateurs


It was a memorable day, that "coming-of-age" moment when I was mature enough to be included in the family toast.
Best Beer & Food Destinations in North America


Beer and food are natural partners. These legendary destinations prepare beer and food as the raison d' être for those of us who delight in the merger.
Breakfast Beer


Old wives tale: Never have beer before noon – that is a true sign that you have developed a drinking problem. Who are these old wives and where did they accumulate their higher education?
Brewmaster's Mexican Beer Dinner at Iron Hill


When you think Mexican, think Bethard and La Pierre. Although they may not sound like Masters of Mexican Gourmet pairings, their skill in the culinary realm of food and beer pairing is one to be emulated and enjoyed.
Captain Lawrence at the Belgian Cafe


On September 8, 2009, Scott Vaccaro of the award-winning Captain Lawrence Brewing Company of Westchester County, brought his tasty brews to the Belgian Café.
Cheese and Beer for Holiday Pairing


When it comes to holiday gatherings, there is nothing quite as comforting, luscious, and satisfying as cheese and holiday beer.
Cooking With Beer at the Alaska Women's Show


As the Beer Fox, I was honored to be the keynote presenter at the 14th Annual Alaska Women´s Show in Anchorage, Alaska. During seven events on the fully functional Lowe´s cooking stage, the most illustrious chefs and talented brewers from the Anchorage region made magic!
Creating Desserts With Beer


As an accompaniment to dessert, beer is a well-matched partner. Take it one step farther, and it doubles as a secret ingredient that adds a voluptuous quality to a large variety of desserts.
Cyber Monday Beer - Ultimate Relaxation


Wait … did I say "quaffing beer"? Absolutely. Cyber Monday is a day of total relaxation, and there is nothing better than starting the day with eggs and a delicate wheat beer in the morning.
Delicate Pairings of Beer and Cheese


Trappist monks in the Belgian monasteries discovered a natural affinity between beer and cheese that continues to this day. These delicate pairings will awaken seductive taste sensations in your journey to the aristocratic qualities of beer.
Elegant Beer for the Thanksgiving Table


No feast in America is quite like Thanksgiving. This year is special – a change of tradition for many in my family.
Four Beer & Food Pairings for the Winter Chill


As you whip on that little red dress, flecked with sequins that roll seductively over your curves, toss back a light aperitif to prime your palate for the banquet ahead.
Garrett Oliver - Brooklyn Brewmaster of Beer and Food


Garrett Oliver of Brooklyn Brewery is internationally recognized as an expert in traditional beer styles and food-beer pairings. In The Brewmaster´s Table - Discovering the Pleasures of Real Beer with Real Food, he entertains the beer lover with his passion for epicurean pleasure.
Get Healthy with Superfoods and Beer


Superfoods may seem simple, but they are heavyweights that can add gloss to the hair and color to the skin.
Gluten Free Beer & Party Food for Celiacs


Brewers of craft beer are beginning to step up to the plate by focusing on the needs of these Beer Lovers, but what about party food to accompany that amber brew?
Gourmet Treat - Holiday Beer at Monk's Cafe


Holiday feasts linger in our minds like so much sweetness, drenched in sumptuous flavors, exotic aromas, joyous laughter and seasonal spirits. Tom Peters' 16th Annual Holiday Dinner on December 15, 2009, at Monk's Café in Philadelphia was no exception.
Granite City Food & Brewery Warms St. Louis Park


Just a double-day of these freezing temperatures was enough to build up a thirst for a Winter Warmer or Oatmeal Stout.
Halloween Spirits and Dracula's Midnight Feast


With Halloween just around the corner, you must be seeking some gory brews for the witching hour. You may wish to use them as ingredients in your culinary concoctions or sip them until your hair turns green, but the easiest and most direct route is to pair them with delightful cuisine.
Holiday Seasonal Beer & Party Snackers


Reach back to your own youth and gather that laid-back-style with a Winter Celebration of fine craft beer, appealing party snackers and great tunes.
Jim Koch Presents Samuel Adams in Philadelphia


My train was running late. "Signal problems," they said. It didn't much matter. I was headed to Monk's Café in Philadelphia for a Samuel Adams Dinner, presented by the energetic Jim Koch, founder of Boston Beer Company.
Left Hand & Terrapin Beer Dinner at Monk's Cafe


As I step onto the train platform at Suburban Station in Philadelphia, an infinite ocean of people, shops, sounds and smells fly at me in a continuous stream of consciousness. I feel like James Joyce or J.P. Donleavy.
Mensa Menu - Upscale Beer & Food Pairings


They may not be saying it, but customers relax more when Executive Chefs and Cicerones present a Mensa Menu – an upscale list of beer and food pairings that marry together in one stroke. It's time to get your Aass bock in business.
Miracle Fruit and Beer Tasting


In 1725, French cartographer Chevalier des Marchais, in his many travels to West Africa, was intrigued by the food culture of local tribes, who chewed a tiny red berry before meals. The tiny fruit, Synsepalum dulcificum, seemed to change the flavors of food. Strange.
Monk's Café - Tom Peters & Fergus Carey


Monks publishes the most readable bible in the country ...
Monks Beer Dinner Cantillon - LaSenne - beerbistro


In the world of beer and food, artisans still existEantillon,Brasserie de la Senne, beerbistro Ean echo of the aesthetic, striving to satisfy the senses, creating harmony with a sense of the dramatic.
Off Centered Sam Calagione at Monk's Cafe


Sitting in one of the most renowned beer bars in the country with off-centered people ranks as one of the great joys in my life. Off-centered people are really among the most creative inspirations in the world.
Olives in Beer


When I initially heard olives in beer was a common practice in the Midwestern part of the USA, tiny hairs stood up on the back of my neck. That bittersweet malty profileEiolated by a Pit Junkie!
Patrons of the Brewing Arts


Each brewer is an artist in his own right; each beer style is easily recognized, particularly among those who are patrons of the brewing arts.
Pumpkin Ales and Foods That Harmonize


Good beer-and-food harmonization is achieved by following the guidelines set by the Brewers Association. This may scare you regarding pumpkin ales.
Spinnerstown Holds Unibroue Beer Dinner


Spinnerstown Hotel owners John and Susan Dale are the epitome of the perfect host and hostess. They have developed this vintage gathering house into a Mecca for Beer Enthusiasts. On March 5, 2008, Spinnerstown opens its doors for a very special event, The Great Tastes of Unibroue from Canada.
Superfood and Beer Pairings


The Beer Fox believes that beer should be included as a SuperFood. Studies worldwide indicate that moderate beer consumption is good for your health.
Superfoods and Beer - Midnight Sun Coffee Porter


It may seem impossible that someone from Chicago, one of the most illustrious culinary areas in the contiguous United States, would earn a degree in Culinary Arts, work as a Sous Chef for Bayport Cookery – the top rated restaurant in Minnesota, according to the Zagat Survey – and leave it all behind
Tapas and Beer - Tasty Food Pairings


Grateful for the Spanish tradition of tapas, you slide your feline hips into a pair of sexy, low-slung jeans, slather on a bit of Burberry and shake your hair to fullness on the way to your local brewpub.
Taras Boulba at Monk's Cafe


The atmosphere is relaxed…anticipatory. Belgian brewer Yvan de Baets is here to present a magnificent pairing of victuals and beer, and it happens to be scheduled during American Craft Beer Week.
The Grand Embellishment of Food with Beer


Beer illuminates the flavors in food like a grand display of fireworks and laser shows! Discover the secrets that light up your senses in beer cookery.
The Headhouse - Philly's Heady New Beer Bar


In early March 2010, Bruce Nichols and Madame Saito will be presenting The Headhouse, a new bar experience in the Society Hill section of Philadelphia, with a focus on great regional craft beer and fusion cuisine.
Tomme Arthur At Monk's Cafe


To a brewer and a restaurateur, magical pairings between drink and food is the key to magnifique. When Brewmaster Tomme Arthur of Port Brewing/The Lost Abbey in San Marcos, California, merges his talent with Tom Peters, co-owner of Monk's Café in Philadelphia, the earth moves.
Editor's Picks Articles
Top Ten Articles
Previous Features
Site Map
Content copyright © 2018 by . All rights reserved.
This content was written by . If you wish to use this content in any manner, you need written permission.
Contact Carolyn Smagalski for details.