Getting Started Bead Stringing and Finishing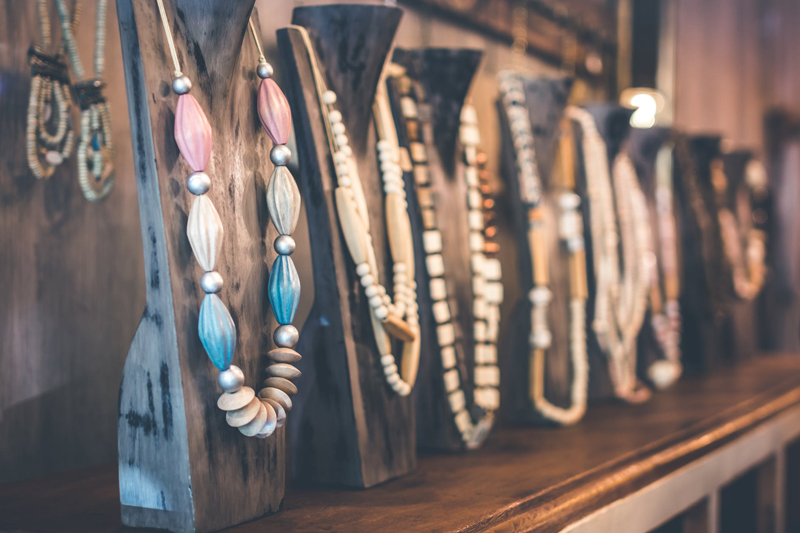 Click here to read the first article in this series, Getting Started Bead Stringing - Preparation.
You have your tools and materials at hand and your bead design finalized on your bead board or mat. You're now ready to begin stringing procedures.
First, take a look at your clasp. If it doesn't have loose metal rings attached to both parts, you'll need to add them. This will allow the clasp to lay properly when your jewelry is complete.
Little metal rings used in jewelry making are called "jump rings." They're available in all kinds of materials, colors, and sizes. You can make them yourself (we'll learn how in an upcoming article), or you can purchase them pre-made where you buy beads. "Open" jump rings are rings that are not soldered closed. This allows you to open them to attach them to things - like your clasp.
For a basic necklace or bracelet clasp, try a jump ring that is 18 gauge wire and about 4mm or so in outside diameter. If you find 18 gauge too bulky, try 20 gauge - but keep in mind that smaller gauges are more likely to pull open accidentally. (The ring shown in the image is much larger than needed.)
Always use two pair small chain nose pliers to open and close jump rings. Use them to grab both sides of the ring, with the open seam on top and centered. Gently pull one half of the ring toward you and the other away from you to open the ring. Slip the open ring through the ring or loop on your clasp, and perform the opposite maneuver to close the ring. (Never open or close a jump ring in a side-side motion - this will deform and weaken it.)
Using small wire cutters, cut a length of stinging wire at least six to eight inches longer than your final piece of jewelry will be. You will end up trimming some off, but the added length adds leverage essential to finishing your stringing wire properly. String one crimp bead or tube onto the wire, then string on the jump ring you attached to one part of your clasp.
Carefully wrap the end of the wire back through the crimp, leaving a few inches of tail. Holding the crimp, gently pull the other end of the wire until you've created a small loop at the end containing the jump ring to your clasp. It's very important not to make this loop too tight. The jump ring should have ample room to move around freely.
Using your chain nose pliers, firmly squeeze the crimp until its completely flat and very snug against the wire. (Alternatively, you may use special crimping pliers, which we'll cover in an upcoming article.) Using small wire cutters, snip off the extra tail of wire close to the crimp. You're now ready to string on your beads, in the order you have them laid out on your bead board or mat.
When all your beads are strung, add another crimp, loop it through the jump ring on the other part of your clasp, and string it back through the crimp. It's always trickier to secure the final crimp than the first one, because you now have beads in your way. However, keep in mind that your beads need room to move around on the wire, to avoid friction which can cause the wire to break. So you do not need or want the crimp to be snug against the last bead.
Leaving a little "breathing room" will make it easier to pull the wire tail back through the crimp. Then, use your pliers again to close the crimp, and trim the extra tail very close to the crimp.
That's it! You now have a simple, strung bead necklace. Over time you can experiment with different stringing materials, various types of crimps, "wire guardians" and other more complicated components, which we'll address in future articles. But for now, keep practicing your bead stringing and enjoy your crafty new jewelry.
You may also be interested in:
Teach Yourself Visually Jewelry Making & Beading
Beadalon Nylon Coated Bead Stringing Wire
Advanced Beadwork by Ruth F. Poris - Book Review
---
Chris Franchetti Michaels is a writer and jewelry artisan specializing in beaded designs, wire work, and metal fabrication. She is the author of the books Teach Yourself Visually: Jewelry Making and Beading, Beading Quick Tips, and Wire Jewelry Quick Tips. Visit her website BeadJewelry.net for more jewelry-making help and inspiration.
You Should Also Read:
Beadalon Nylon Coated Bead Stringing Wire
Advanced Beadwork by Ruth F. Poris - Book Review
Choosing a Technique


Related Articles
Editor's Picks Articles
Top Ten Articles
Previous Features
Site Map





Content copyright © 2021 by Chris Franchetti Michaels. All rights reserved.
This content was written by Chris Franchetti Michaels. If you wish to use this content in any manner, you need written permission. Contact Susan Mendenhall for details.