This is the 2nd part of Kim's interview. Please see the link below for the first part.
Morley: Have you ever met the band? Can you please share how that came about?
Kim:
The first time I met Gene, he was promoting @ Rock and Roll Heaven in Toronto Canada. He had produced Greg Guiffrias band House of Lords. I met Paul in Toronto again, when he was doing Phantom of The Opera (which I saw twice…front row the second time...he was brilliant). Met Gene again in Toronto at his book signing at Chapters and then met the whole band backstage at Darien Lake in 2004 with my KISSter Kristine. Paul signed my
Rock and Roll Over
Tattoo and I had his signature tattooed in the next morning :).
Morley:Any anecdotes that you can share involving your dedication to KISS (friends that you made because of them/boyfriends who loved/hated them, things that happened at a KISS show)??
Kim:
K, again, this would be a novel in the making. As far as friends because of KISS, again Kristine Connell is probably the best KISS friend in the whole world and we met for the very first time in Louisville Kentucky…but it was just a brief hello…after that we saw each other quite a bit at tribute shows and we have an awesome connection. My best friend Candis was into some, well, different kind of music when we met, she is now one of my biggest supporters in what I am doing right now and has seen KISS with me many times and loves them. Boyfriends, none of them of "gotten" it *grin*. I need to find myself a KISS man! I would have to say that the best and most fun I have had with my KISS dedication, is with my father. I thought after all of these years that he just kind of shrugged it off and that I would grow up….for the first time last year, he actually bought me KISS stuff for Christmas. Yay, he finally gets it. Him and I have an ongoing banter regarding Gene, he continuously calls him Richard Simmons…and I joked to him that I was going to get him to a show and get a pic of him with The Demon himself…well, I knew that was never going to happen. So online I go, searching for a pic of Gene with a fan that has virtually the same body type as my father….sure enough I found one and my sister in law super imposed my fathers face onto this guys body and I had it done in a glossy format, framed it and gave it to my dad for Christmas. I thought he would NEVER stop laughing.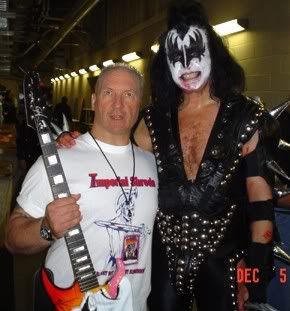 Morley:If you could personally address the Hall Selection Committee, what would you say to them??
Kim:
Please turn the vote over to the fans. Bottom line is this, The Rock and Roll Hall of Fame museum should be a place where the fans can gather to revel in their favorite bands successes. Unfortunately, that's not what it is right now. You, the committee, should not speak for millions of fans around the world. From an article I read, the museum is losing money. Apparently you have done a fine job *sarcasm*. A bands influence and commitment to their fans is shown in their longevity and in their fan base. The Rock and Roll Hall of Fame virtually sustains itself at this point and the Foundation ONLY deals with the inductions. Unfortunately, these people wouldn't know a great rock and roll band if it came up and bit them in the "you know what". You men and women on the Foundation need to listen to the people that will walk through the doors of that building in Cleveland Ohio. Move aside and hand the voting procedure over to the people that matter.
Morley:Anything else you would like to add??
Kim:
I would like to send two personal messages. The first to KISS themselves. Thank you guys. You have helped to inspire me in so many different ways. Without your music, there are numerous things I probably would have had a harder time getting through. I love you ALL with everything I have in me and I look forward to many more years of Rockin with my boyz! :)K men, but you catch my drift *giggle*
The second message is to the fans who will be with us in Cleveland and those of you who can't make it but will be there in spirit. I love you all and let's ensure that the Rock Hall Foundation NEVER forgets the KISS ARMY. See you all in August. Huge hugs and much love to everyone. Thank you to Morley Seaver