Unique Costume Embellishments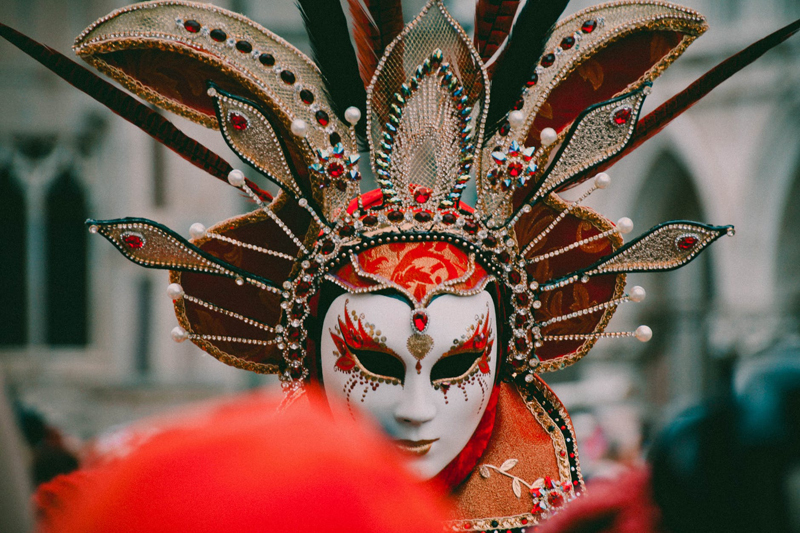 Are you new to costuming? Do you worry that your costumes don't have enough impact? Do you think you're not a good enough seamstress to make a truly stunning outfit? Well I have a solution for you! A very simple costume can be converted to stunning with the proper embellishment. In the 1920s, the cut of clothing was very simple and boxy, but garments were covered in bugle beads, sequins, and embroidery to make something plain into something spectacular.
Don't worry. You're not going to look like everyone else! If you are tired of using the same old trims from JoAnn's or beads from Michael's, here are some ideas of how to embellish your costume in new and beautiful ways.
Make use of the natural properties of the fabric to embellish the costume
Cut strips of fine fabric on the bias (diagonal) and sew to the body of the garment to make diaphanous, fluttery flounces.
Pleat strips of fabric into circular shapes and adorn your costume with fabric flowers.
Unravel a few inches of the bottom edge of your fabric and make fringe. To do this, take a few threads in one hand and a few adjacent threads in your other hand and twist them in the same direction. Now put the two bunches of twisted threads together and twist them around each other. Make a small overhand knot at the bottom if necessary. You can also make an overhand knot at the top of the fringe and leave the threads loose.
Make your own trim
Using embroidery floss, thread, yarn, or even threads from your base fabric, you can make your own trim by braiding, fingerloop weaving, card weaving, or using a lucet. All of these methods make a narrow textile with unique patterns that will add colour and interest to your costume. If you're making a historical costume, many of these narrowware weaving and braiding techniques are period appropriate for a wide variety of time periods.
Add unique embellishments made by a craftsman
Glass beads are a wonderful embellishment for costumes. They can be abstract bits of colour or whimsical forms such as mermaids and seashells. The right beads can turn a plain sack into something truly memorable.
Heart of Oak Crafts is my absolute favourite source of handmade glass beads. Some are historical. Some are just plain fun. All are beautiful and handcrafted by an American artisan.
Heart of Oak Crafts
For awesome 1920s dress patterns to embellish, check this out:
https://store.reconstructinghistory.com/historic-patterns/vintage-patterns.html


Related Articles
Editor's Picks Articles
Top Ten Articles
Previous Features
Site Map





Content copyright © 2023 by Kass McGann. All rights reserved.
This content was written by Kass McGann. If you wish to use this content in any manner, you need written permission. Contact Brandi Ford for details.