More Tasty NYC Street Food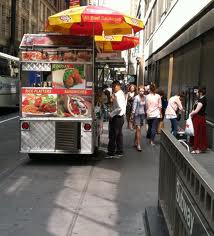 Here's more New York City Street Food in Part Two of my article on what's good on the streets and how to eat it. There is no ranking here, just a compilation of tasty eats on the streets! For Part One of How to Eat the NEW New York City Street Food click on the link at the bottom of this article.
1. Classic Knishes
Where there are hot dogs, there are knishes, and that's every other block. Yummy, filling and nothing but carbs, the basic street knish is a potato, onion and spices filled flaky square that has either been fried or baked. Served super hot, they are good, inexpensive eats, especially on a cold winter day.
Knish is a Yiddish word that simply means bun, and every ethnic group has its variation: Jamaican beef patties, Latin American empenadas, Polish pierogis, you get the idea. Knishes now are the classic potato, or are filled with kasha (buckwheat groats) or spinach. They are also filled with cheese, coming dangerously close to the Italian calzone. There are also cheese and fruit fillings, which I will admit, is still on my "to try" list.
Upscale delis in NYC sell a round baked variety that can be filled with anything from broccoli to artichokes (okay, maybe not artichokes), but the classic street knish is a large square that has been cooked in oil, called the Coney Island Square. Visit us on a cold winter's dayand grab a knish and a hot cocoa. You'll warm up in no time!
2. Mexican Morsels
There are two ways to eat corn in the city: a grilled ear slathered with butter, mayo, cheese, a zesty combination of spices topped off with a squirt of lime, is one way.
It is a Mexican-derived treat and these babies are everywhere, Queens, Manhattan, Brooklyn the Bronx and Staten Island. Did I mention that they are served on a stick that you eat like ice cream while walking down the street. Frankly, I find this vaguely uncomfortable, as corn on the cob seems like it should be relegated to some rulebook somewhere for people who want to sit down and eat. I could go on about this...the dropping of kernels on kilims for sale at markets, the greasy fingers and mouths that attempt to engage in conversation...but I digress.
A much more discreet and far more acceptable alternative is a styrofoam (when will everyone stop using this poisonous substance for food?) cup full of esquites, sauteed corn kernels in butter or oil and flavored with the pungent herb, epazote, which is as old as the Aztecs and is medicinally used to ease stomach distress.
Served differently in different neighborhoods, there is one place I haven't tried yet in Sunset Park Brooklyn, where esquites are served with a little mayo for dipping, some crumbles of hard tangy cheese, cayenne and the ubiquitous splash of lime.
3. Pupusas
Have you ever had meat or vegetable wrapped in a grain patty? Of course you have, and we just talked about how that combo is prevalent worldwide. Pupusas, however, are corn masa flour patties containing special meat and spice combinations with a Caribbean-Latino bite.
Pupusas are the national food of El Salvador. They are filled and then grilled and served hot. These days they can be filled with sophisticated veggie combinations, cheese and spices, or chicken, beef or fish.
4 & 5. Biryani and Tikkas - complete meals
New York cannot claim Biryanis as its own. The first time I ever tasted the scrumptious Pakistani/Indian chicken and rice dish as street food I was in Niagara Falls at a carnival.
There are the biryanis then there are the tikkas and a host of other dishes that you'll have to discover on your own. We'll just talk about two here: First, biryanis are a little difficult for me to eat standing up.
Chicken, goat or lamb is marinated in spices and yogurt, simmered forever until it falls off of the bone, then is hidden inside of a mound of Basmati rice. People do it. I've seen them. Plastic forks and all. The Biriyani Cart on 46th street and 6th in Manhattan is written about all of the time, so I'm probably not telling you something novel about them. The traffic at that intersection stinks and it's better to walk to the cart than to think you can pop out of your car and grab a meal.
Next are tikkas and they are...confusing! Only because we went to two different vendors for chicken tikka, and they served up entirely different dishes. One was a tandoori (clay oven baked) style chicken, served in a yogurt-y tomato cream sauce. It was darkly spicy and scrumptious! The other tikki was chicken also, only it was boneless breast that had been marinating in something I could not define. It was served in a little checkered paper tray with yogurt and a mound of shredded cabbage and carrots. This dish was really refreshing and finally the muted flavors of coriander and mint incorporated into the dish fnally emerge, turning a dubious expectation on a corner into a really elegant moment.
There are so many food vendors on the corners of New York City! The prices are incredible reasonable (read: cheap) and because business is brisk, everything is always freshly made. New York City is still called the melting pot in some circles, and now you know why. We cook, we eat and then we cook some more. Bring your list of street food to try when you visit NYC and create your own tasting contest with your family or fellow travelers!
This site needs an editor - click to learn more!

You Should Also Read:
How to Eat the NEW New York City Street Food
100 Years of Patince and Fortitude in New York City




Related Articles
Editor's Picks Articles
Top Ten Articles
Previous Features
Site Map





Content copyright © 2022 by Karen Joyce Williams. All rights reserved.
This content was written by Karen Joyce Williams. If you wish to use this content in any manner, you need written permission. Contact BellaOnline Administration for details.