Introduction to Pearl Beads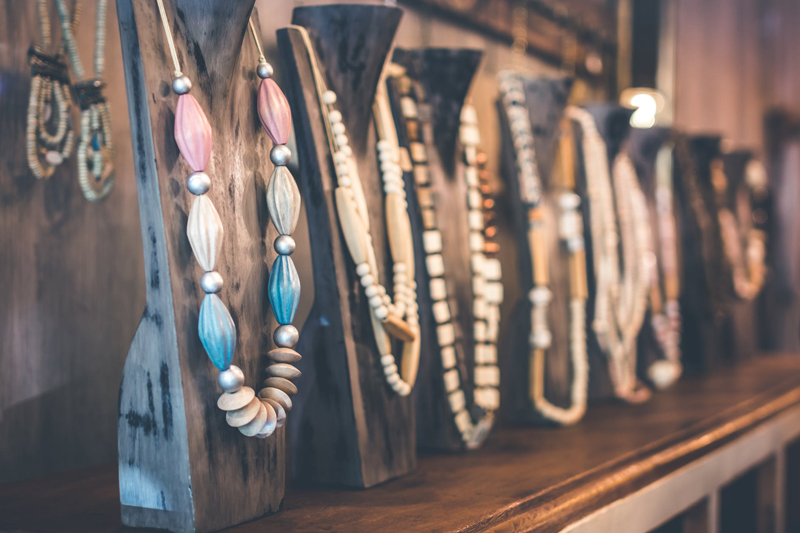 There are two primary types of pearls: natural pearls and cultured pearls. Natural pearls occur in nature when irritants (like grains of sand or parasites) become trapped in the soft, inner tissues of shelled water creatures called mollusks. Mollusks' bodies secrete a protective material called nacre which builds up in layers around the irritant. The result is a natural pearl.
Natural pearls are extremely rare and, therefore, expensive. Instead of natural peals, most jewelry artisans use beads made from cultured pearls. Cultured pearls are created when humans intentionally imbed irritants in the tissues of farmed mollusks. Because these pearls can be mass-produced in relatively consistent shapes and sizes, they make attractive and affordable jewelry components.
Pearls can grow in mollusks that live in either saltwater (sea water) or freshwater. Cultured saltwater pearls are made by placing spherical "beads" of irritants into the tissues of sea oysters. This process results in pearls that are very round and have a beautiful translucent glow, called luster.
Cultured freshwater pearls are typically made by placing irregularly-shaped irritants (like pieces of shell) into the tissues of freshwater mussels. These pearls are much less round, and are more inconsistently shaped, than salt water pearls. They also have less luster.
Cultured-pearl beads range in price from easily affordable to prohibitively expensive. Generally, five factors determine their quality and value:
Degree of luster - Pearls with greater luster are more attractive than pearls without luster.
Surface condition - Smooth pearls are usually more desirable than bumpy or pitted ones.
Shape - Round and consistently-shaped pearls are more valuable than less-evenly shaped ones.
Size - Larger pearls are more expensive than smaller pearls of comparable quality.
Color - Pearls with attractive natural color (typically white, cream, peach, pink, lavender, gray, or black) are more valuable than dyed pearls.
Saltwater pearls typically exceed freshwater pearls in all five categories. They are more expensive than freshwater pearls and their supplies are more limited. Freshwater pearls are readily available and tend to be affordable. They are most popular for use in casual, fashion-forward jewelry designs. Be aware, however, that poorly-dyed freshwater pearls may fade over time or transfer color onto skin and clothing. (This is most likely to occur with the least-expensive pearls on the market.)
Pearl beads are notorious for having very small dill holes. Fortunately, the soft texture of pearls makes their holes easy to enlarge with a bead reamer tool.
The highest quality pearls are traditionally strung on silk thread and separated by knots. The knots keep the pearls from rubbing against one another and becoming
dull or scratched. Additionally, the knots keep most of the pearls from falling off of the thread if it breaks. For high-quality pearls, many jewelers recommend re-stringing once every year or two to avoid problems with normal wear and eventual breakage.
Keep in mind that pearls, in general, require some special care. They can be damaged by perfume, makeup, and chemicals, including many commercial jewelry cleaners. They can even crack if stored for long periods of time without being worn, so be sure to carefully inspect any vintage pearl beads you consider buying.
In the upcoming articles in this series, we'll review common pearl bead shapes (like stick, button, and potato) and cover more important pearl terminology (including Akoya and Biwa).
You may also like:
Create Jewelry: Pearls: Luxurious Designs to Make and Wear (Create Jewelry series)
---
---
Chris Franchetti Michaels is a writer and jewelry artisan specializing in beaded designs, wire work, and metal fabrication. She is the author of the books Teach Yourself Visually: Jewelry Making and Beading, Beading Quick Tips, and Wire Jewelry Quick Tips. Visit her website BeadJewelry.net for more jewelry-making help and inspiration.
You Should Also Read:
Pearl Jewelry Project Book Review
Getting Started Bead Stringing - Preparation
Getting Started Bead Stringing - Stringing and Finishing


Related Articles
Editor's Picks Articles
Top Ten Articles
Previous Features
Site Map





Content copyright © 2023 by Chris Franchetti Michaels. All rights reserved.
This content was written by Chris Franchetti Michaels. If you wish to use this content in any manner, you need written permission. Contact Susan Mendenhall for details.