Beer Tasting with Michael Jackson The Beer Hunter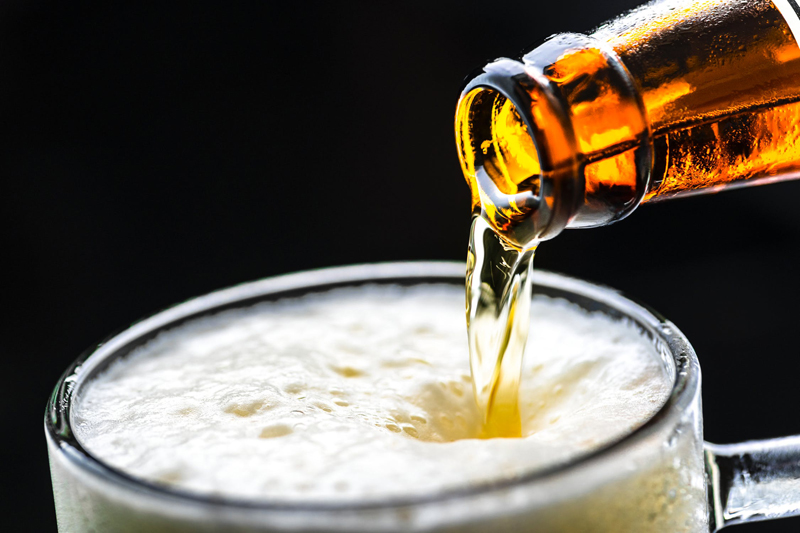 He stepped up to the podium - Master of Beer, Emperor of Ale, Sovereign of Imperial Stout. A hush fell over the room. All eyes are focused on the tutor, one who held as many secrets as the City of Ur, the ancient Sumerian city in Mesopotamia where treasures of gold, silver and lapis had been painstakingly excavated with chisel and paintbrush.

We were at the University of Pennsylvania Museum of Archaeology and Anthropology in Philadelphia, Pennsylvania, celebrating the 2005 return of the nationally - traveling exhibit, Treasures from the Royal Tombs of Ur. Ur, located on the Euphrates River in what is now modern-day Iraq, was founded in 6,000 B.C., home of the moon goddess Nanna. By the 3rd millennium B.C., it was the most powerful and prosperous city in Mesopotamia.

This was home to Lady Puabi, Queen and High-Priestess, brewer of beer. Her royal tomb held such treasures as a lapis lazuli, carnelian and gold cape, golden headdress woven of leaves and curling tendrils, ostrich egg drinking bowl of gold and precious gems, and beer drinking straw – fashioned of gold, believed to be the earliest invention of a straw implement used by ancient civilizations. A reverence for beer as a staple of life by an early, civilized nation!

Our beer tasting echoed the Golden Treasures of Ur with the Golden Treasures of the Great American Beer Festival - eight Gold-Medal winners from the 2004 festival held in Denver, Colorado, a stunning expression of dedication to beer by the myriad of beer establishments throughout the United States.

Michael Jackson, aficionado of all-things-beer, was our Master Tutor. In 1981, Charlie Papazian and Michael Jackson had an amorphous vision of a beer festival for the United States, one that could hold-a-candle to the Great British Beer Festival held in the United Kingdom. Papazian recalled Jackson saying, "We probably could or should, but what would we do for beer?"

Twenty-four years later, Jackson hailed The Great American Beer Festival (aka GABF) as the greatest beer festival in the world. It has, in his opinion, the most interesting beers globally and is the "toughest judging festival in the world." Medal-winners are symbols of excellence in their field, one that is highly competitive, yet bound by a sense of camaraderie.

As we raised our glasses to examine each beer for color, clarity, head, lacing and aroma, our grand tutor presented a backdrop of historical knowledge about each brew, peppered with anecdotes of his world travels, expert courtroom testimonials, and seduction by some of the best brews he had ever tasted. The atmosphere was tinted with an air of light-heartedness, brought on by our mentor who led with such ease and grace.

We advanced from light to dark, from the crisp taste of hops to the rounder sweetness of barleywine and stout, and finally to the most complex of Belgian styles. We examined our selections for appearance, bouquet/aroma, bitter/sweet balance, mouthfeel, aftertaste, and overall impression/drinkability. I decided that I am a hop-monster, one who can become immersed in the bitter, citric, dry and crisp aroma/taste of the Pacific Northwest.

The Sampled Brews: Overall Impressions – Gold Medal Winners

Tuppers Hop Pocket Pilsner – Old Dominion Brewing Company, Ashburn, Virginia – Shining pale yellow with a slight haze, the head was a wisp of the ephemeral with delicate lacing, a malt background, yet freshly floral and herbal in aroma. Five additions of hops created a tantalizing crisp lager, perfect as an aperitif.

Kellerbier – Triumph Brewing Company, New Hope, Pennsylvania – Intense gold with cloudy haze, frothy white head with touch of lacing, this one was a well-balanced blend of malt and hops with lasting bitterness in the back of the mouth. This "cellar beer" was extremely refreshing and highly drinkable.

The Wise ESB – Elysian Brewing Company, Seattle, Washington – Clear, jewel-tones of amber copper were topped with a dense, cream-white head that dissipated to a persistent veil of lace holding emphatically to the walls of the glass. Aroma was of sweet fruit and malt, with softly enticing hop presence. A full, rounded mouthfeel emphasized a highly balanced beer. Cascade/Centennial finishing hops imparted a light citric character.

Avery India Pale Ale – Avery Brewing Company, Boulder, Colorado – Amber-orange, with the brilliance of a precious gem, it was topped with a huge rocky-white, persistent head and tons of lace. Intense aromas of citric grapefruit and balanced malt seduced me into the glass. Once there, a complex, clean tang danced on the tongue, as the rounded, malt character lingered with delight. Jackson noted, "It is difficult to tell whether this is similar to what the original IPAs were like." My thoughts were lingering in the glass, begging for more.

Grog – Nodding Head Brewery and Restaurant, Philadelphia, Pennsylvania – Walnut colored brown ale shone with a thin ring and lovely lacing on the glass. The aromas were of smoke, toffee sweetness, and chocolate malt. Smooth and velvet-silk mouthfeel displayed no trace of hops. Sweet, roasted malt flavors echoed wisps of chocolate. I could envision an accompaniment with salad and beef.

Stewart's Barleywine – Stewart's Brewing Company, Bear, Delaware – Deep Brown hue with almost no head and minimal touch of lacing, this highly complex beer emitted the sweet aroma of dried, dark fruit, rich malt and wine character. 10.3 ABV made this a deluxe after-dinner sipper.

Russian Imperial Stout – Iron Hill Brewery & Restaurant, Wilmington, Delaware – As a very dark, almost black brew, highlights of sparkling umber lit the edges. Aromas of coffee, cocoa and barley, balanced by Chinook and Centennial Hops, made a tantalizing balanced brew. A burnt fruit taste, with roasted mocha and bittersweet Ghirardellis made this an espresso-like death by chocolate! What a great way to die!

Cuvee de Tomme – Pizza Port & Pizza Port Brewing Company, Solana Beach, California – A deep reddish-brown sweet/sour Belgian-style dark ale highlighted complex notes of sour cherry, chocolate, rum and raisins, which permeated the nose. Vinous, brandy-like flavors of licorice, star-anise, cloves, sour cherries, raisins, maple, caramel and chocolate sat in layers, with a liqueurous, syrupy texture, and the kiss of a warm, dry ending.

As our session came to a close, the anticipation of excitement lingered, as we moved to the Chinese Rotunda, where the Beer Fox met the Great Beer Hunter.

Read more, as the saga continued in - The Beer Fox Meets the Beer Hunter

Cheers!

You Should Also Read:
Beer Alert - The Magic of the Griffin
Thr Beer Fox Meets the Beer Hunter
Beer Styles - Tribute to Jackson , Eckhardt , Gatza & Papazian


Related Articles
Editor's Picks Articles
Top Ten Articles
Previous Features
Site Map





Content copyright © 2023 by Carolyn Smagalski. All rights reserved.
This content was written by Carolyn Smagalski. If you wish to use this content in any manner, you need written permission. Contact Carolyn Smagalski for details.