The Beer Fox Meets The Beer Hunter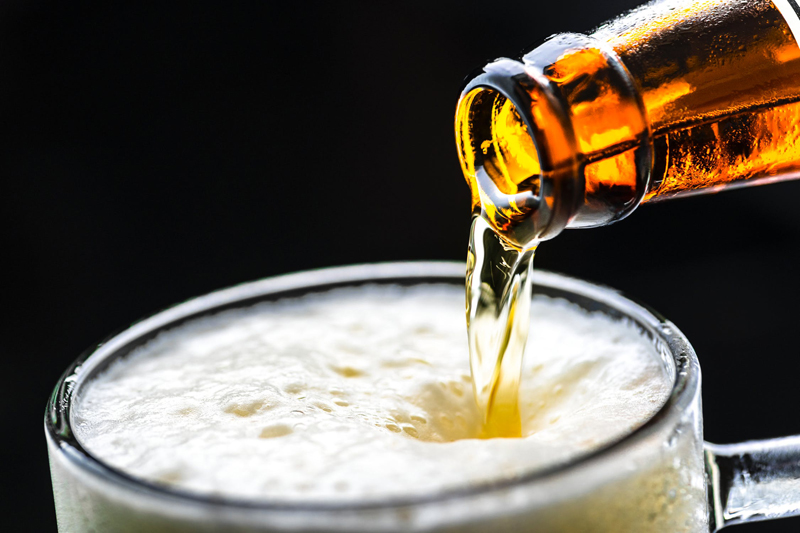 The crowd was feeling euphoric, a light, alcoholic "high" heightening their sensory perception and energizing their mental activity. As the beer tasting segment drew to a close, camaraderie developed within the group of beer lovers.

We were in the Upper Egyptian Gallery in the University of Pennsylvania Museum of Archaeology and Anthropology in Philadelphia. It was Saturday, March 12th, 2005, a celebration marking the brief return of the Treasures from the Royal Tombs of Ur. Michael Jackson, the Beer Hunter, had just presented a grand taste-tutoring of Golden Treasures – Gold-Medal winners from the Great American Beer Festival in Denver, Colorado. We were asked to continue our tasting in the Chinese Rotunda, where over 100 signature craft beers were available for our discovery. Michael Jackson was also present for those who desired autographs or light-hearted repartee.

As we entered the Rotunda, we were dancing cheek-to-cheek with our fellow tasters. No music. Just that warm feeling of closeness that quickly develops among people who share a common interest – laughing, sharing tidbits of information about a trip to the monasteries and farmhouse breweries of Belgium, discussing the newest of American brews, asking questions.

My eyes fell upon the dignified man at the table. Michael Jackson. Unpretentious. Approachable. Compelled by that "inner something" that drove him onward, into a microscopic, yet global, assessment of the brews and brewers within his genre. Categorizing, critiquing, enjoying.

He asked every admirer for their name, endeavoring to please them with a personalized note in his books – not just an autograph, but a bit of himself as well. A gift from the master, as one committed to serve the public.

I introduced myself as "The Beer Fox" to "The Beer Hunter." With good-humored joviality, he shared a few carefully-chosen witticisms about my title, then gracefully moved into stories about beer in America and abroad.

He believed the Great American Beer Festival to display the most interesting beers in the world, and classified the event as the toughest judging festival in the world. He admired the beer-culture in America, particularly within the craft-brewing segment, with the high amount of creativity and experimentation. His speech was peppered with anecdotes and humor: Tales of adversity against the cleverest of lawyers – his testimony concerning ESB - a trademark of Fuller's in the United Kingdom, but a loose-term for a "beer style" in the United States - clearly a "violation of proprietary ownership" if used by other brewers in the U.K., but altogether acceptable if done in another country. Tales of friendship with Charlie Papazian, the beginnings of CAMRA (the Campaign for Real Ale, founded in 1971), and an occasional submission to a particularly enticing brew. He was easy to like.

His time was limited, so I excused myself to explore the electricity in the air. Sebbie Buhler, the delightful Roguester featured on the 22-ounce bottle of Rogue Chocolate Stout, is gifted with an engaging personality. She offered me a taste of Black Obi Soba Ale, developed as part of the Rogue Ales Signature Series with internationally acclaimed Chef Masaharu Morimoto. This herbally satisfying brew was created with roasted buckwheat and malts, imparting a nutlike character, and was artfully balanced with Horizon, Sterling and Cascade malts for a clean, quenching piquance.

Patrick LaZelle of Duvel USA and Brewery Ommegang presented me with a taste of Three Philosophers, a quadruple Belgian Ale of deep mahogany hues. The aromas sang an enchanting symphony of sweet and sour fruits, with spices and alcohol. As the glass touched my lips, a chorus of angels exploded on my tongue - spices, cherries, raisins, plums, perhaps bittersweet cocoa and raspberries. A religious experience!

Of course, Dogfish Head Craft Brewery, the "Grand Cru Brewery" - unique in the business of extreme beer – was sporting 120 Minute IPA, with a kicking ABV level - the colossal brew for committed hopheads - and Aprihop, a hoppy, citrusy apricot IPA seasonal.

Carol Stout and her Stout-crew was on hand with their bevy of provocative brews. Pleasing the beer lovers, engaging in conversation, sharing in the charismatic atmosphere.

So many brewing establishments worthy of mention: Bethlehem Brew Works, Nodding Head Brewery, John Harvard's Brew House, Victory Brewing, Triumph Brewing Company, Flying Fish, Home Sweet Homebrew, Southampton Publick House, Legacy Brewing Company, Iron Hill, Monks Café, Sly Fox, Troegs, Weyerbacher, Pennsylvania Brewing and Woodchuck.

Local Distributors/Importers like Friedland of Philadelphia served Chimay, Lagunitas, Singha, Great Divide, Dekoninek, and Gilde; Unibroue of Champlain, NY; Star Brand Imports of White Plains, NY serving Paulaner, Affilgem and Murphey's; Interbrew of Philadelphia, PA poured Hoegaarden, Leffe, and Bellevue; Global Brewers Guild of Calverton, NY served Allagash, Flying Dog, Abita, and Belhaven; Merchant du Vin of Lennox, MA with Samuel Smith, Ayinger, Westmalle, Pinkus and Lindemans; Kunda Beverage/Vanberg and DeWulf of King of Prussia, PA served Harpoon, Augustiner, Moreland, and Affligem; Muller of Philadelphia, PA with JW Dundee, Molsen, Stegmeiers, DAB, and Binding-Brauerie; Shangy's of Emmaus, PA poured Avery, Brussel's and Bell's.

An explosive world of spectacular brew is open to you, Beer Lovers! American crafted beer or European crafted – a golden touch awaits! The gift of the gods!

Cheers!

Glass Beer Boot:
2 Liter Machine Pressed Glass Beer Boot - 67 oz. - Das Boot


Words from the Beer Hunter:
Michael Jackson's Beer Companion: Revised And Updated
You Should Also Read:
Beer Tasting With Michael Jackson - The Beer Hunter
Beer Styles - Tribute to Jackson , Eckhardt , Gatza & Papazian
Whiskey - The Definitive World Guide


Related Articles
Editor's Picks Articles
Top Ten Articles
Previous Features
Site Map





Content copyright © 2023 by Carolyn Smagalski. All rights reserved.
This content was written by Carolyn Smagalski. If you wish to use this content in any manner, you need written permission. Contact Carolyn Smagalski for details.