Guest Author - Jeanne Egbosiuba Ukwendu
Name:
Black Rhinoceros or Hook-lipped Rhinoceros
Nick Name:
Rhino
Latin Name:
Diceros bicornis (Black Rhino)
African Names:
Kifaru (Swahili, Black Rhino), Ubhejane (Zulu), Chipembere (Shona), Tshukudu (Tswana)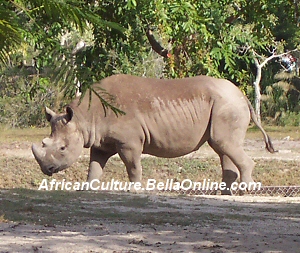 Height:
Black Rhino - just over 5 feet
Weight:
1,750 to 3,000 pounds
Life Span:
30 to 35 years
Description:
Black rhinos have two horns.
Habitat:
In general, the black and white rhinos live in Africa in grasslands, savannahs and tropical bushlands.
Species:
There are 4 subspecies of the black rhino: South-central Black Rhino (Diceros bicornis minor), South-western Black Rhino (Diceros bicornis bicornis), East African Black Rhino (Diceros bicornis michaeli), West African Black Rhino (Diceros bicornis longipes)
Babies:
One baby is born about every 2 to 4 years. Gestation is roughly 15 to 16 months. Calves are weaned around 2 years of age.
Food:
Black rhinos eat leafy plants, shoots, thorny wood bushes, fruit, and leaves and branches of trees and shrubs. Rhinos use their horns to break branches and digging up roots for food.
Group Name:
A crash of rhinos
Predators:
Rhinos have no natural predators, but may fall prey to a crcodile or the calves may be taken by a hyena or lion.
Endangered:
West African Black Rhino - Officially Extinct
East African Black Rhino - Critically Endangered
South-western Black Rhino - Vulnerable
South-central Black Rhino - Critically Endangered