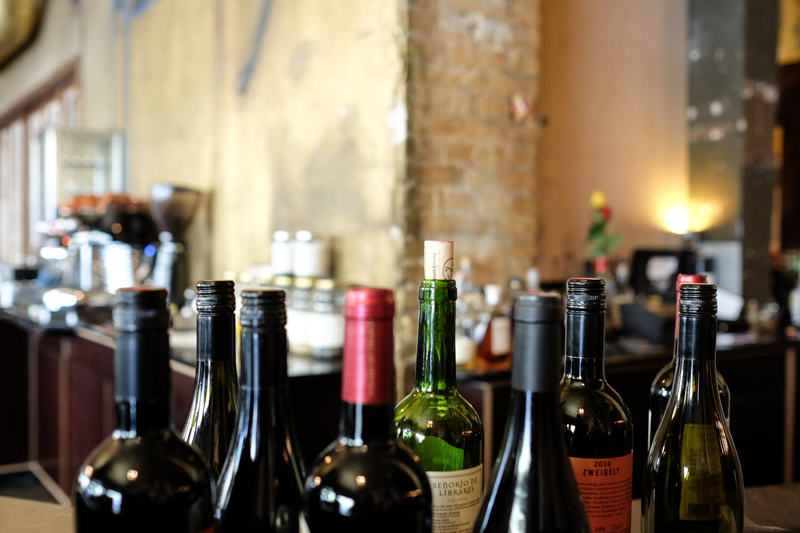 Cork is an amazing natural product. It can be squashed into half its size and when released will swiftly return to its previous dimensions. It has many tiny air filled cavities that the first person who discovered them with a microscope called cells, because the reminded him of the small rooms used by monks in monasteries. Cork became the standard closure for glass bottles, with its diameter slightly wider then the neck of a bottle it made a good seal, preventing wine from seeping out and air getting in to spoil.
Drinkers noticed that wine changed and often improved when kept. The early squat bottles became taller and thinner, the better to be more efficiently stored on their sides. But some wines were tainted by a damp cardboard, mouldy mushroom type smell and taste that drinkers blamed on faulty corks.
Cork is the bark of a variety of oak tree (Quercus suber) that grow mostly in Spain and Portugal. As the tree grows it produces new bark from the trunk and the old bark on the outside can be harvested without harming the tree.
From the 1970's there has been a huge increase all around the world in people drinking wine. Wine production has increased to meet demand, and thus so has demand for corks. It takes at least 25 years before the first bark can be harvested from a newly planted oak tree, and so to meet demand cork producers reduced the time between repeat harvesting of cork, and started cutting cork from closer to the ground that they'd previously rejected on quality grounds.
Incidences of faulty 'corked' bottles also increased and some wineries started looking for alternatives. The 1970's saw the first wine grown on New Zealand's South Island, and their Sauvignon Blanc gained world approval. These new wineries grew increasingly angry with having their wine spoiled by faulty corks. They thought they were at the end of the line for cork shipments and they were being sent consignments European wineries had rejected. After trialling, they put their faith in quality screwcap closures, and now about 97% of all New Zealand wines are closed with screwcaps. Wineries elsewhere too notice, and so too did the cork companies.
Although cork has many uses and only about 15% of cork production is used for wine bottles, wine corks earn more than 65% of total revenue.
The cork industry worked hard to reduce cork taint, and they went on the offensive against competitive closures with a scare campaign claiming wildlife living in cork forests would die out if consumers didn't insist on cork closures. This ignored the fact they were selling more wine corks than ever before.
Today 4-5% of wines closed with cork are affected by cork taint.
The perfect wine closure has not yet been invented, but there are two which I prefer and I know that wineries that choose them care about the quality of their wines. They are screwcaps and the so-called 'technical cork' under the brand name DIAM. This is made from powdered cork that has undergone critical CO2 cleansing and reassembled to make a closure guaranteed free from taint. Such closures have the brand name printed on them.
Talk about wine on our
forum
.
Peter F May is the author of
Marilyn Merlot and the Naked Grape: Odd Wines from Around the World
which features more than 100 wine labels and the stories behind them, and
PINOTAGE: Behind the Legends of South Africa's Own Wine
which tells the story behind the Pinotage wine and grape.


Related Articles
Editor's Picks Articles
Top Ten Articles
Previous Features
Site Map





Content copyright © 2022 by Peter F May. All rights reserved.
This content was written by Peter F May. If you wish to use this content in any manner, you need written permission. Contact Peter F May for details.