Biltmore Estate, North Carolina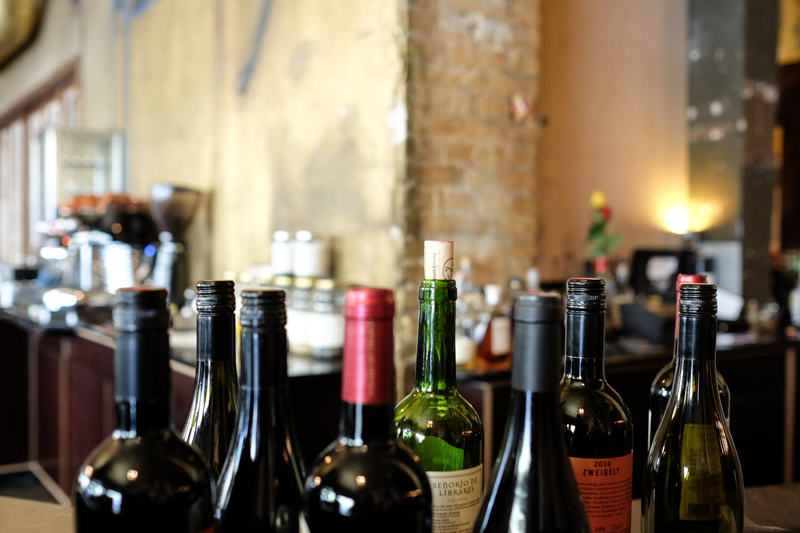 America's most visited winery isn't, as you'd expect, on the West Coast. Nor is it in New York, or Virginia.
Biltmore Estate, in Asheville North Carolina, claims to be America's most visited winery. The estate is huge, with not only the massive Biltmore Chateau that is the main attraction, but also beautiful grounds over thousands of acres of Blue Ridge mountain land. The winery is another attraction that is included in the $60+ price of an entrance ticket.
On an off-season late October Monday they were expecting 3000+ visitors to come an have unlimited tastings and a winery tour. By lunchtime there were long queues for tastings but I'd arrived shortly after they opened at 11:00 (actually I'd arrived before 10:00 and gone back to my hotel to wait).
The tour gives a brief history of the winery which now occupies the old dairy that went out of milk production when it couldn't compete with supermarket prices.
At its heyday Biltmore had 150 acres of vineyards but now it's down to 90 acres. Despite the wine labels bearing the words 'Biitmore Estate', none of the wines are what could be called estate wines. The winery produces a very large and eclectic range of wines and the winery and their labels are very vague about provenance. But not a single wine states that it is made solely from Biltmore Estate grapes which supply just 10-20% of wine produced here. The rest of the grapes are sourced from California, Washington and North Carolina.
I was told different stories. One was that no wine was made only from Biltmore grown grapes, and another employee said that one of the sparkling wines — the Chateau Reserve Blanc do Blanc vintage 2010 was made from solely Biltmore grown Chardonnay grapes — however the lack of such a statement on the label which had a North Carolina appellation didn't assure me.
Does it matter? Not to the thousands that visit and buy. Neither would it be possible to meet demand solely from their own vineyards. But I cannot see the attraction of buying a wine bearing their name which is actually grown, made and bottled by another winery in California. Or of wines made at Biltmore produced from grapes shipped the 2-3 day journeys by railway from the West Coast.
Included in the admission price is a tasting of 12 white and rose wines and 12 red wines. Plus 17 'premium' wines that can be tasted at an additional $3 for one or $8 for three. This includes sparkling wines and Biltmore's most expensive $49.99 wine, Biltmore Estate Antler Hill Napa Valley Cabernet Sauvignon 2009 which ((despite the names Biltmore Estate and winery location name Antler Hill on the label, the wine was grown and made by Del Bondio Winery, in Rutherford, California. You can buy Del Bondio's Napa Cabernet from Total Wine stores for $34.99.)
I tasted nine standard wines and two premium wines. The winery tasting sheet doesn't mention vintages. Some wines have a vintage, others are none vintage, and all are extremely vague about where the grapes come from. Biltmore appear to have three classifications.
'American' — which means from multiple states and vintages
'North Carolina', which means from wineries within the state, and may include some Biltmore grapes.
A specific appellation and vintage which, when I was there, meant made in California.
The included tasting had the first two and, although the wines were without fault, there were uniformly unexciting. The best white was a 2012 North Carolina Chardonnay Sur Lies which had spiciness and a dry finish with some wood characteristics. I bought a glass of this to have with lunch.
Of the reds, the most characterful was a 'Limited Release' Tempranillo 2012, which offered a dusty dryness with cherries in mid-palate with a dry and tannic finish that would go great with food.
Of the 'premium wines' which attracted a rather hefty $3 per tasting measure, the 2011 Pinot Noir from California's Russian River Valley was enjoyably soft and rich (at 14.6 abv) but not particularly showing varietality.
The Chateau Reserve Blanc de Blanc 2010 North Carolina (which I was assured was from 100% estate Chardonnay) had masses of the tiniest bubbles but no character and little taste.
My overall impression of the dozen wines I tasted was that they were OK, without fault but bland and characterless and were priced more than twice their worth.
Talk about wine on our
forum
.
Peter F May is the author of
Marilyn Merlot and the Naked Grape: Odd Wines from Around the World
which features more than 100 wine labels and the stories behind them, and
PINOTAGE: Behind the Legends of South Africa's Own Wine
which tells the story behind the Pinotage wine and grape.


Related Articles
Editor's Picks Articles
Top Ten Articles
Previous Features
Site Map





Content copyright © 2022 by Peter F May. All rights reserved.
This content was written by Peter F May. If you wish to use this content in any manner, you need written permission. Contact Peter F May for details.