Why Wine Labels Have a Variety Name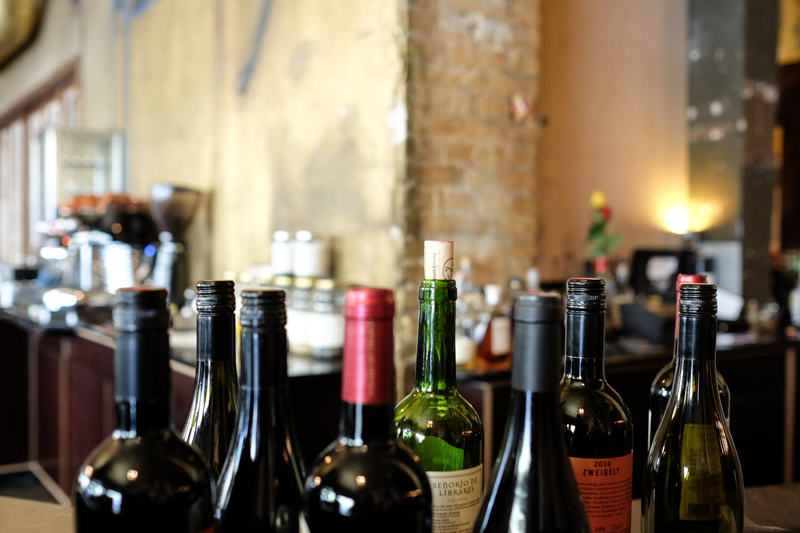 The latter part of the 20thC saw labelling of wine by variety become commonplace. Geographical labelling was the system in most of the major wine producing countries of France, Spain and Italy. Naming the wine after the region where it grew was effectively the same as naming the varieties in the bottle because history and custom had brought about rules that meant only permitted varieties could be used. Thus red Burgundy didn't need to show a grape variety because only Pinot Noir could be used, Beaujolais was Gamay. Chianti was primarily Sangiovese and Rioja was Tempranillo while red Bordeaux was mostly Merlot and Cabernet Sauvignon.
There were exceptions: Germany's better wines named the grape variety, as did Alsace.
When winemaking started in Australia, Africa and the Americas it was usual to name them after the European wine they resembled, even when different grapes were used. Even today in the United States you can buy 'Hearty Burgundy' that won't contain any Pinot Noir and 'champagne' made by injecting CO2 gas into a bottle.
The new world didn't have rules restricting which varieties could be grown. A grower in Napa Valley could make wines from Cabernet, Zinfandel, Alicante Bouschet or anything they wanted so geographical labelling wouldn't guide consumers.
Proud producers didn't want to label their wines with European names, and international trade agreements began protecting names as countries and wine regions realised the marketing value of historic names.
One of the first agreements was in 1935 when South Africa agreed to stop using French geographical names, including Champagne, Burgundy and Hermitage, in a deal involving the export of crayfish to France.
It wasn't until 1989 that Australian winery Penfolds stopped calling their flagship Shiraz 'Grange Hermitage'.
When the French forged agreements to protect Champagne's name the United States didn't take part because Prohibition was in force. Subsequent bi-lateral agreements with the European Union has restricted the use of many names but American wines using those name at the time of the agreement have 'grandfather rights' and can continue to use them when qualified by 'California' or other area where the wine comes from.
It's not all one way. In 2012 Napa Valley Vintners went to court in China to stop Napa Valley being used on Chinese made wines.
However varietally labelled wines don't tell the entire story. International agreements and local regulations allow 15% (and more in some places) of other grapes to be used in a wine labelled with just one variety. The sixth most grown grape in California is one bred in 1958 that few have ever heard of. It's Rubired, a red fleshed dark juice producing variety that is used to add colour to other wines.
And even if 100% of the contents of the bottle are the grape named on the label, there's another factor. The particular clone of the variety can be as important as the variety. But that's a story for another article.
Talk about wine on our
forum
.
Peter F May is the author of
Marilyn Merlot and the Naked Grape: Odd Wines from Around the World
which features more than 100 wine labels and the stories behind them, and
PINOTAGE: Behind the Legends of South Africa's Own Wine
which tells the story behind the Pinotage wine and grape.


Related Articles
Editor's Picks Articles
Top Ten Articles
Previous Features
Site Map





Content copyright © 2022 by Peter F May. All rights reserved.
This content was written by Peter F May. If you wish to use this content in any manner, you need written permission. Contact Peter F May for details.