Blending Sauvignon at Wither Hills Winery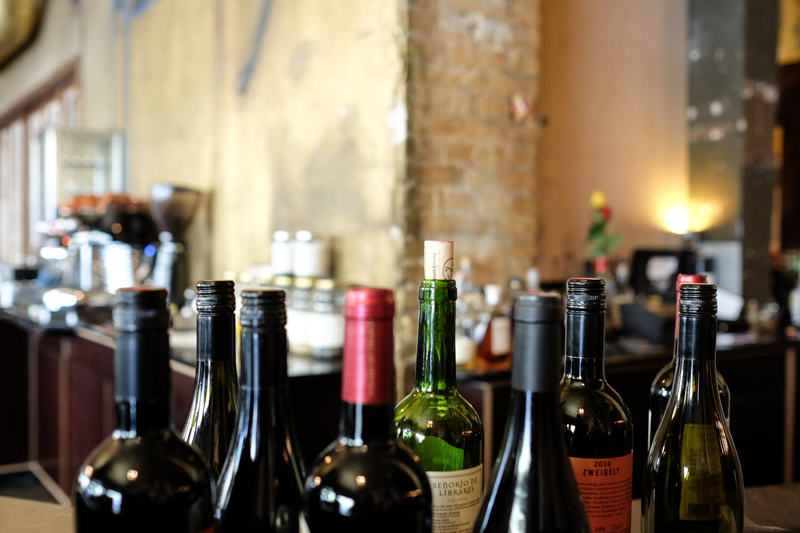 Wither Hills was one of the pioneers of viticulture in the Marlborough region of New Zealand. Located on the east coast near the top of the South Island, the region had been considered too cold for vines. The worldwide success of Marlborough Sauvignon Blanc, first planted there in the early 1970s, showed that it was in fact an ideal place.
The first area in Marlborough to be planted was the Wairau Valley, a wide plain sloping down to a curving coastline whose opaque waters gained it the name Cloudy Bay from Captain Cooks expedition of 1770.
Wither Hills takes its name from the low rounded yellow grass covered mountains on the southern edge of the Wairau Valley. The winery was founded and operated by the Maris family until they sold it to international brewery company Lion Nathan for $52M in 2004. Winemaker Brent Maris then founded 'The Ned' Winery, named after a local mountain.
Wither Hills makes 1.5 million litres of wine annually from 360 hectares of vines they own and from Sauvignon Blanc they buy from growers. Their three machine harvesters are used at night when grapes are cool. The only variety hand picked is Pinot Noir because of its thin skins.
The valley enjoys 2,500 sunshine hours annually with a maximum daily temperature that rarely exceeds 31C, and cool evening temperatures. Frost is a threat: this summer since bud burst there have been 18 days of frost and Wither the forecast indicates they have a helicopter stationed in the vineyard. Hovering low above vines moves air and prevents fog forming.
Wither Hills Sauvignon Blanc comes from 13 different vineyards blended to a house style. They also release single vineyard wines from Rarangi vineyard on the coast at the north of the valley near the Wairau river.
Blending wines is the epitome of a winemaker's skill and Wither Hills offer visitors a Wine Blending Experience with either Sauvignon Blanc or Pinot Noir.
We booked a session for $49 NZ per person (minimum two) and they asked us to wait 15 minutes while they prepared it.
Our guide was Gemma, smartly uniformed in black Wither Hills shirt and jeans. Gemma trained as a winemaker in her native Australia and has worked vintages in Cyprus and France before coming to produce wine for Wither Hills.
First she took us to a demonstration vineyard with short rows of different grape varieties so we could see how each grew. Some, such as Cabernet Sauvignon and Syrah were struggling. Others, including Sauvignon Blanc, were covered with leaves and already laden with immature grapes.
Gemma told us about Wither Hills and the region and answered every question thrown at her.
Then we moved inside to a private room where we each had a set of bottles, glasses, a jug, a measuring tube and three half bottles glistening with condensation containing wine grown in different areas of the valley; Taylor River, Rarangi and Lower Wairau.
—Taylor Valley soils are loam silt on clay and gravel, producing Sauvignon Blanc with guava, melon and tropical fruit flavours.
—Rarangi, by the coast, is on pea gravel, giving lime, lemon grass and mineral flavours.
—Lower Wairau has fertile deep silt producing ripe herbaceous and box hedge flavours.
After tasting each wine on its own we then experimented mixing blends with the aid of measuring tube.
I found the Taylor River wine to be clean and fresh but rather neutral. Maybe this could be the core of my blend.
Rarangi filled my nose with a blast of gooseberry on opening and in the mouth it was intense, also green grass and crisp acids. It also left a lingering persistent taste.
Lower Wairau was fuller in the mouth, more alcoholic and also had gooseberry flavours.
Gemma explained that these were unfinished wines, taken from the tank.
After trying different proportions of each wine our appreciation of the blender's talents reached new heights. I loved the Rarangi wine on its own and struggled to improve on it, and after trying many combinations I finally settled on a blend of 60% Rarangi, 20% Lower Wairau and 10% Taylor River.
The experience was rewarding. We had plenty of time and were not hurried, and it was interesting how just a small addition can make such a difference.
But in the end I decided to leave blending to the professionals so I bought a bottle of the Rarangi 2013 single vineyard wine ($25) when I left.
Wither Hills tasting room is very close to the town of Blenheim.
www.witherhills.co.nz
211 New Renwick Road,
Fairhall 7272, New Zealand
+64 3-520 8284
Talk about wine on our
forum
.
Peter F May is the author of
Marilyn Merlot and the Naked Grape: Odd Wines from Around the World
which features more than 100 wine labels and the stories behind them, and
PINOTAGE: Behind the Legends of South Africa's Own Wine
which tells the story behind the Pinotage wine and grape.
Peter F May visited Wither Hills at his own expense


Related Articles
Editor's Picks Articles
Top Ten Articles
Previous Features
Site Map





Content copyright © 2022 by Peter F May. All rights reserved.
This content was written by Peter F May. If you wish to use this content in any manner, you need written permission. Contact Peter F May for details.