Bahá'u'lláh's Steps to World Peace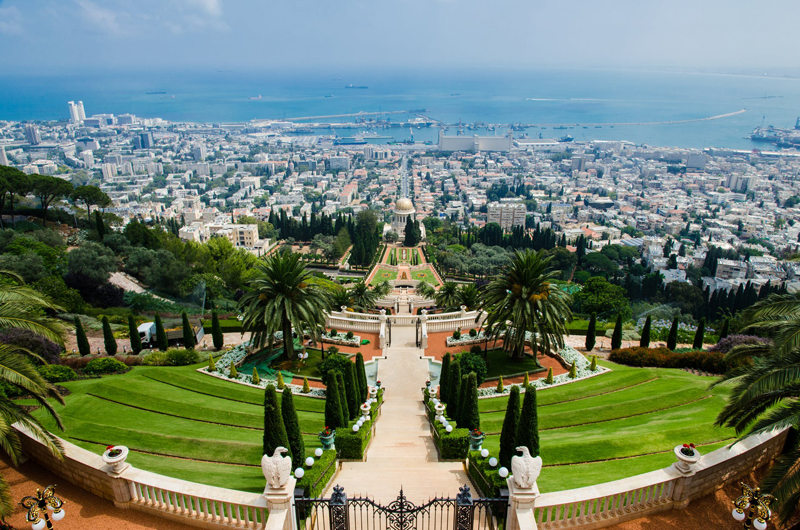 Bahá'u'lláh, is the Prophet/Founder of the Bahá'í Faith, whose followers believe Him to be the latest in a long line of Teachers sent from a single deity to guide mankind towards maturity, towards the promised Kingdom of God on Earth.
He arose in what is now Iran in the 19th Century and was banished for heresy, first to Baghdad on the edge of the Ottoman Empire, then further west repeatedly, until he was imprisoned in the city of Akka, on the bay of Haifa in what is now Israel. None of these exiles succeeded in destroying His nascent faith, and he continued to teach and to send messages to the kings and rulers of the world, encouraging them to work for peace and the benefit of their peoples, and also warning them what would happen if they did not. The latter prophesies all came true within a few decades.
Among those letters is a rather succinct plan for a peaceable planet which the world's leaders could implement, regardless of their religious affiliation. Such a peace would come in two parts, a Greater Peace orchestrated by God, and a Lesser Peace for which mankind would be responsible. He said the following would constitute the fundamental principles for administering the affairs of men:
"First: It is incumbent upon the ministers of the House of Justice to promote the Lesser Peace so that the people of the earth may be relieved from the burden of exorbitant expenditures. This matter is imperative and absolutely essential, inasmuch as hostilities and conflict lie at the root of affliction and calamity.

Second: Languages must be reduced to one common language to be taught in all the schools of the world.

Third: It behoveth man to adhere tenaciously unto that which will promote fellowship, kindliness and unity.

Fourth: Everyone, whether man or woman, should hand over to a trusted person a portion of what he or she earneth through trade, agriculture or other occupation, for the training and education of children, to be spent for this purpose with the knowledge of the Trustees of the House of Justice.

Fifth: Special regard must be paid to agriculture. Although it hath been mentioned in the fifth place, unquestionably it precedeth the others." - Tablets of Bahá'u'lláh, p. 89
Bahá'u'lláh commented on the above to say that if mankind would strictly observe this advice, most of the regulations which now prevail in the world would be unnecessary.
These may be a simple set of steps towards a solution, but they are not easy. It will require a considerable commitment on the part of both individuals and societies to make these changes, but such has occurred in the past. When believers in whatever the latest chapter of God's ongoing religious book made changes in their attitudes and behavior out of love and faith, amazing progress has always been made in that day when God had spoken again. Every major religious movement has had its day, and what are regarded as separate religions today all have a history of such growth and change in their beginnings.
Bahá'ís believe that change has come again, this time for the entire planet.
You Should Also Read:
Can Religion Provide Hope for a Global Ethic ?
Is Suffering Ever a Source of Good ?
Survival Requires Diversity, not Uniformity


Related Articles
Editor's Picks Articles
Top Ten Articles
Previous Features
Site Map





Content copyright © 2023 by Cheryll Schuette. All rights reserved.
This content was written by Cheryll Schuette. If you wish to use this content in any manner, you need written permission. Contact Cheryll Schuette for details.