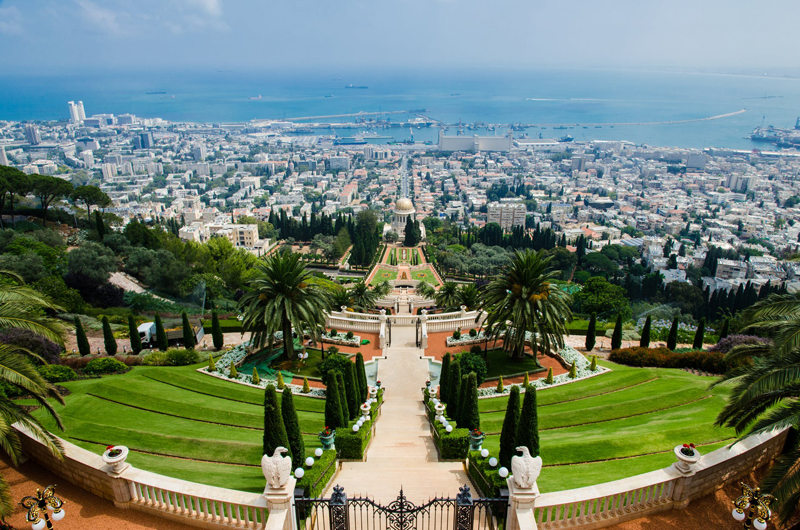 The Bahá'í Faith is a young religion; it's Founder, Bahá'u'lláh, sets the beginning of His dispensation at 1844. It has around seven million adherents, although it is now the second most widely spread religion in the world according
Encyclopedia Brittanica
. Consequently, the congregations of believers tend to be small, so local edifices have not yet grown up everywhere.
Given it's relatively small numbers and the emphasis on spirituality demonstrated by individual service in its teachings, the lack of local 'church' buildings is not surprising, although people have asked why there is even a need for that sort of physical demonstration of piety. The Bahá'í Faith is about building a better world for both the individual and society, and sees the need for group activities: "You had asked about places of worship and the underlying reason therefore. The wisdom in raising up such building is that at a given hour, the people should know it is time to meet, and all should gather, and, harmoniously attuned one to another, should engage in prayer; with the result that out of this coming together, unity and affection shall grow and flourish in the human heart." -
Lights of Guidance,
p. 606
A Bahá'í House of Worship is dedicated to the praise of God, and in future will form the center of the community's Mashriqu'l-Adhkar [mash-RACK-ol-az-kar]--or, Dawning-place of the Praise of God. This complex of buildings and services, as it unfolds at the core of future cities, will include a number of dependencies dedicated to social, humanitarian, educational, and scientific pursuits. Schools, hospitals, homes for the aged and orphans, are already a part of current Bahá'í community goals in many parts of the world. These are a tangible example of the integration of worship and service. Bahá'ís envisage that the House of Worship and its dependencies "shall afford relief to the suffering, sustenance to the poor, shelter to the wayfarer, solace to the bereaved, and education to the ignorant," and in the future, will be constructed in every town and village. - Baha'u'llah,
The Kitab-i-Aqdas, The Book of Laws
p. 190
Some of these Houses of Worship have been built, one each for Europe (Germany), Africa (Uganda), Asia (India), Australia (Sydney), North America (Chicago) and Central America (Panama), so far, and one is in construction for South America (Chile). These buildings and surrounding gardens are a gift to the people of the world, open to all, and have doors on all nine sides symbolic of universal acceptance. Visitors can enjoy a program,
a cappella
choir music, or just sit in quiet contemplation before going on their ways.
"Within the central edifice there shall be read, chanted or sung only the words of the Sacred Scriptures of the revealed religions, or hymns based upon those words. "Blessed is he," wrote Bahá'u'lláh, "who directeth his steps towards the Ma
sh
riqu'l-A
dh
kar at the hour of dawn, communing with Him, attuned to His remembrance, imploring His forgiveness. And having entered therein, let him sit in silence to hearken to the verses of God, the Sovereign, the Almighty, the All-Praised." - p. 46 & 61 of the
Synopsis and Codification of the Kitab-i-Aqdas
There is no formal ritual within the Houses of Worship, as Bahá'ís have been urged, "to avoid all forms of rigidity and uniformity in matters of worship....The important thing that should always be borne in mind is that with the exception of certain specific obligatory prayers, Bahá'u'lláh has given us no strict or special rulings in matters of worship, whether in the [House of Worship] or elsewhere. Prayer is essentially a communion between man and God, and as such transcends all ritualistic forms and formulae." - Shoghi Effendi,
Directives from the Guardian,
p. 78
Here is a link to photographs of the continental
Bahá'í Houses of Worship.
You Should Also Read:
How Do Bahá'ís Worship
What's the Use of Praying?
Prayer in the Bahá'í Faith


Related Articles
Editor's Picks Articles
Top Ten Articles
Previous Features
Site Map





Content copyright © 2023 by Cheryll Schuette. All rights reserved.
This content was written by Cheryll Schuette. If you wish to use this content in any manner, you need written permission. Contact Cheryll Schuette for details.