Spring Earring Dagmar Pezzuto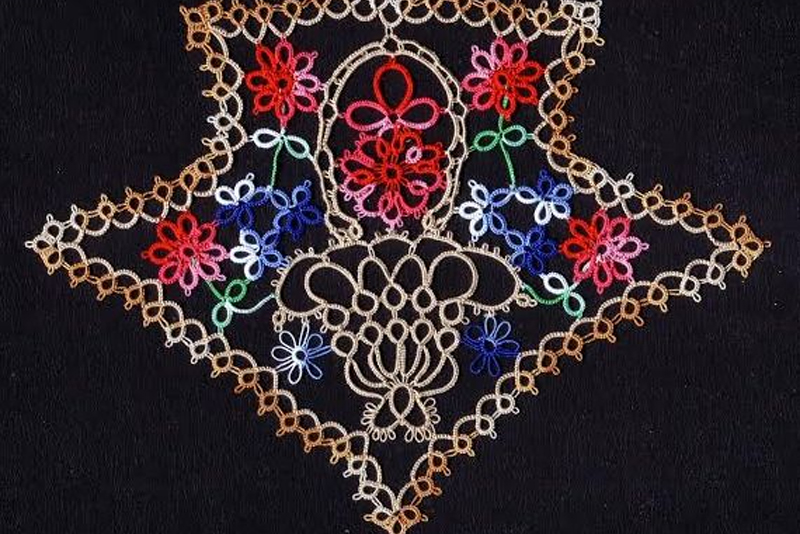 Spring Earrings by Dagmar Pezzuto ©2015
This delicate beaded earring by Dagmar Pezzuto features three tatted cluny leaves and two long chains in Victorian sets.
Abbreviations:
DS, ds = double stitch
R = ring
SR = split ring
CL = cluny leaf
FR = floating ring
SCMR = self closing mock ring, mock ring
+ = join
- = picot
dnrw = do not reverse work
Clr, clr = close ring
Victorian chain = chains tatted in sets of half stitches
CTM = continuous thread method
Large bead = #10 three beads are needed.
Small bead = #4 four beads are needed.
Using two shuttles ctm or needle and ball thread begin earring at the bottom where the arrow points to the start, R1.
R1 = 13 ds + (join to large bead) 13 ds clr.
SR2 = using sh1, 13 ds + (join to large bead) / 13 ds clr.
Prepare cluny loom on hand or loom device and then make 20 passes. A pass in cluny tatting means to take the shuttle/needle from the right to the left and back to the right = one pass.
CL 1 = 20 passes.
SR3 = 2 ds - 2 ds - 2 ds + (join to small bead) / 8 ds clr.
R4 = SCMR 13 ds + (join to large bead) dnrw;
FR5 = a floating ring with 7 picots separated by 1 ds clr dnrw;
cont. SCMR 13 ds clr.
CL 2 = 20 passes + (join to split ring 2).
CL 3 = 20 passes.
R6 = 8 ds + (join to small bead) + (join to R4) 2 ds - 2 ds - 2 ds clr.
Victorian chain 1 = this chain is 72 half stitches long. It is tatted in 6 sets of 6 : 6
R7 = 13 ds + (join to two small beads) - 13 ds clr.
Repeat Victorian chain and fasten off to SR2.
Here are two methods of adding beads to the center of a ring. The upper diagram shows a bead embedded in a split ring. The lower diagram shows a bead placed in the center of a normal tatted ring.
You Should Also Read:
Maltese Earrings by Dagmar Pezzuto
Cluny Square Motif - Dagmar Pezzuto
Cluny or Petal Tatting


Related Articles
Editor's Picks Articles
Top Ten Articles
Previous Features
Site Map





Content copyright © 2019 by Georgia Seitz. All rights reserved.
This content was written by Georgia Seitz. If you wish to use this content in any manner, you need written permission. Contact Georgia Seitz for details.