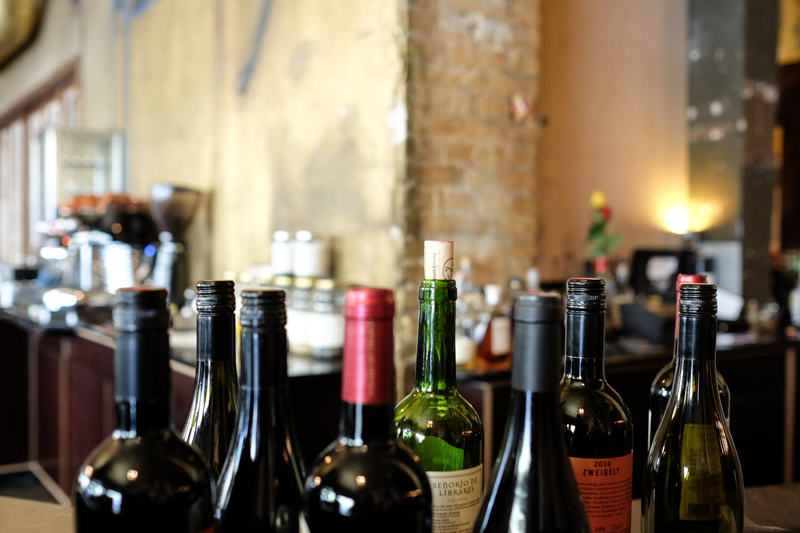 More wine is drunk when it's too old rather than when it is too young: of that I am convinced. Wine drinkers are brought up on stories of ancient bottles being opened and compared with nectar. Our subconscious expects us to age wines, and we save wine for special occasions, but often there's never an occasion special enough and the wine increases its rarity as we keep it.
There's also the (mostly male) affliction of collecting, and then not wanting to drink a prized bottle as it's removed from the collection.
Then a special occasion does come along and one looks at ones wines wondering what to open.
I've been forcing myself to drink some of my older bottles and a recent birthday was an ideal opportunity. I was tempted to open a rare bottle from very small production that was given to me by the winery owner. It was 15 years old, the only one I had, but consumer reviews on CellarTracker.com were not encouraging. I wavered. Of course I wanted a special bottle and 15 years aging should put this wine at its peak, but reviews suggested its peak had passed. On one hand I wanted this special bottle; on the other hand I didn't want to pour it with dinner and to be disappointed. So I left it. Should I now open it at a less special occasion? Meanwhile the wine keeps aging and, if the reviewer's opinions are correct, continues deteriorating.
Then there are other wines that I am sure are much too old, wines found after being forgotten about, such as two Portuguese wines, 30 and 35 years old respectively.
The oldest wine I have is 44 years old, and it's a half bottle of cheap red Bordeaux. Probably undrinkable but I haven't the heart to throw it out without tasting it, and I haven't the inclination to taste it.
In the past I threw out 10 bottles from a case of Christian Brother's California Zinfandel that I found when moving. Shortly after purchasing and drinking a couple I'd put the case in my garage to keep for a while. Something got placed in front of them and when, a decade later I uncovered them, they'd become unpleasant.
Now I have a lot of wines with 5-15 years of age I really must drink them without waiting for a special occasion. Being alive and able to enjoy wine is enough of an occasion.
And what shall I do about the Portuguese wines and a couple of good red Bordeaux coming up to their 30th birthday? I will open them for friends who ask to taste an old wine, and have a young back-upon to hand. Sharing with friends is the best way to enjoy wine.
Drink sooner than later. Remember, there is a new vinatge arriving every year
Talk about wine on our
forum
.
Peter F May is the author of
Marilyn Merlot and the Naked Grape: Odd Wines from Around the World
which features more than 100 wine labels and the stories behind them, and
PINOTAGE: Behind the Legends of South Africa's Own Wine
which tells the story behind the Pinotage wine and grape.


Related Articles
Editor's Picks Articles
Top Ten Articles
Previous Features
Site Map





Content copyright © 2023 by Peter F May. All rights reserved.
This content was written by Peter F May. If you wish to use this content in any manner, you need written permission. Contact Peter F May for details.