Mini Tatting Shuttle & Winder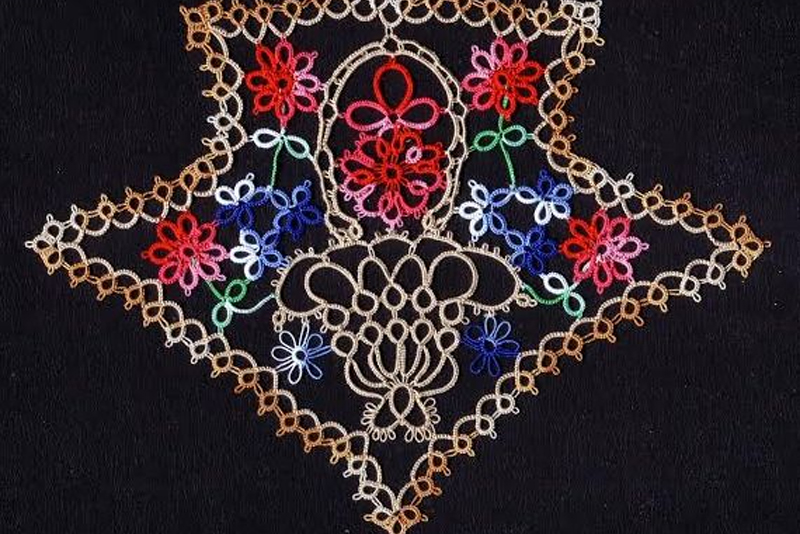 I wrote a book of patterns for miniature tatting for dollhouses back in 1995. 20 years ago! I had several patterns for doilies and table runners. I showed how to layout a bedspread to tat using split ring technique. I also showed how to make miniature picture frames to show off the mini tatting, a baby's bib, a miniature beaded rosary and the miniature tatting shuttle, thread winder and a bit of a repeat already completed. So many opportunities exist for embellishing any dollhouse. Here is the pattern for the tatting shuttle.
Miniature Tatting for Doll houses
Miniature Tatting Shuttle and Victorian Thread Winder
Supplies:
Oval shaped metal necklace clasp d" or ½" in gold or silver
Sunburst sequin 1/2" or smaller in gold, silver or iridescent white
Tatting thread size 80 or 100 any color.
Glue, scissors, metal snips or pliers.
First tat a small strip of lace, for example:
R 3 - 3 - 3 - 3 close ring RW
CH 3 - 3 - 3 - 3 RW
R 3 - 3 + 3 - 3 close ring. Leave no space
R 3 + 3 - 3 - 3 - 3 - 3 close ring. Leave no space.
R 3 + 3 - 3 - 3 close ring. RW
CH 3 - 3 - 3 - 3 RW Etc.
Cut threads leaving very long ends.
The necklace clasp usually has a metal circle at one end to which the necklace is attached. Cut off this end or fold it under. (Note: The clasp may be pried open with care and the metal circle folded in, however, the clasp will break if too much pressure is applied.) Compress the clasp so that the metal teeth crimp slightly.
Run one thread tail through the inside of the clasp and tie. Pull knot toward the inside and add generous amount of glue. Dry thoroughly. Take the other thread tail and wrap across the indentation of the sequin 2 - 3 times. Add drop of glue. Let dry.
Continue to wrap thread alternately through the spokes of the sequin. Leave just
enough length to suggest that the work has just been laid down for a moment. Add another drop of glue to hold thread in place. Display on side table or workbasket.
You Should Also Read:
Miniature Doily for Dollhouse Side Buffet
Mini Tatting Shuttle & Winder


Related Articles
Editor's Picks Articles
Top Ten Articles
Previous Features
Site Map





Content copyright © 2018 by Georgia Seitz. All rights reserved.
This content was written by Georgia Seitz. If you wish to use this content in any manner, you need written permission. Contact Georgia Seitz for details.