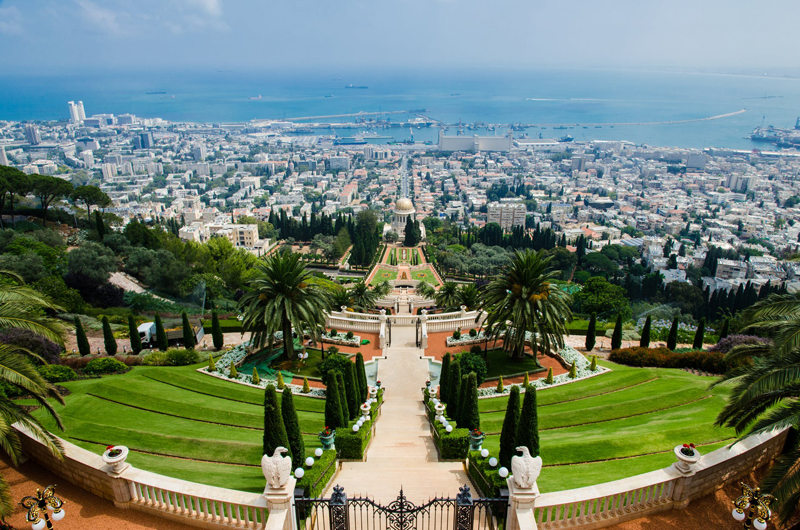 There are days when it is difficult to fight the impression that "the world is going to hell in a hand basket." Headlines do nothing to dispel my gloom. Depression is happy to be my companion. I can begin to wonder how God can be so patient with Creation. I'd have chucked it all and started fresh!
So, is my dear atheist friend correct in saying that the concept of God is only a time-honored tool of crowd management--part whip and part sop for our consciences? Or are we as a species subject to punishment for our imperfections, as defined by whatever religion we choose at the moment? Failure to live up to my goals is common, but punishment makes no sense, if imperfect is how God created me in the first place. And I have for many years felt the need for a loving Creator more powerful than I, but also logical.
My understanding of the Bahá'í Faith fulfills both those requirements: "...the love that flows from God to man; it consists of the inexhaustible graces, the Divine effulgence and heavenly illumination. Through this love the world of being receives life. Through this love man is endowed with physical existence....This love is the origin of all the love in the world of creation." - 'Abdu'l-Bahá,
Paris Talks,
p. 180
Religion, however, is one of the most common excuses for outrageous and unloving behavior--and for guilt and depression. People regularly choose up sides and fight over names instead of paying close attention to the core principles espoused. Yet, "All the prophets of God have come to unite the children of men and not to disperse them; to put in action the law of love and not enmity...." - 'Abdu'l-Bahá,
Divine Philosophy,
p. 25
Basic to Bahá'í theology is that,
"The fundamental purpose animating the Faith of God and His Religion is to safeguard the interests and promote the unity of the human race, and to foster the spirit of love and fellowship amongst men. Suffer it not to become a source of dissension and discord, of hate and enmity." - Gleanings from the Writings of Bahá'u'lláh, p. 215
And as for humankind, "The Almighty hath not created in man the claws and teeth of ferocious animals, nay rather hath the human form been fashioned and set with the most comely attributes and adorned with the most perfect virtues. The honour of this creation and the worthiness of this garment therefore require man to have love and affinity for his own kind, nay rather, to act towards all living creatures with justice and equity." -
Selections from the Writings of 'Abdu'l-Bahá,
p. 287
Because, "Having created the world and all that liveth and moveth therein, He, through the direct operation of His unconstrained and sovereign Will, chose to confer upon man the unique distinction and capacity to know Him and to love Him--a capacity that must needs be regarded as the generating impulse and the primary purpose underlying the whole of creation...." -
Gleanings from the Writings of Bahá'u'lláh,
p. 65
"God gave this power [intellect] to man that it might be used for the advancement of civilization, for the good of humanity, to increase love and concord and peace. But man prefers to use this gift to destroy instead of to build, for injustice and oppression, for hatred and discord and devastation, for the destruction of his fellow-creatures, whom Christ has commanded that he should love as himself!" - 'Abdu'l-Bahá,
Paris Talks,
p. 42
And in spite of our obvious imperfections and proclivities towards perversity, progress has continued. The species no longer lives in caves, bashing small rodents (and each other) with rocks. Amazing civilizations have been built, secrets of nature unearthed, understanding passed from one generation to the next. Religion, despite interference from human egos, has been the only lasting impetus for this growth:
"Consider whether there exists anywhere in creation a principle mightier in every sense than religion, or whether any conceivable power is more pervasive than the various Divine Faiths, or whether any agency can bring about real love and fellowship and union among all peoples as can belief in an almighty and all-knowing God, or whether except for the laws of God there has been any evidence of an instrumentality for educating all mankind in every phase of righteousness." - 'Abdu'l-Bahá, The Secret of Divine Civilization, p. 83
So, I figure failure due to imperfection is a
feature
, not a
bug,
in Creation. Therefore, it is possible for God to love me when I'm feeling useless as well as when I have succeeded. Punishment consists of allowing me to suffer the logical consequences of flawed decisions, so that I can make better ones in the future. So that I can continue to grow.
Works for me, little by little, day by day.
You Should Also Read:
Is Mankind Redeemable ?
Is It Too Late ?
Triumph over Weakness


Related Articles
Editor's Picks Articles
Top Ten Articles
Previous Features
Site Map





Content copyright © 2023 by Cheryll Schuette. All rights reserved.
This content was written by Cheryll Schuette. If you wish to use this content in any manner, you need written permission. Contact Cheryll Schuette for details.