Volcanic Wines from Lanzarote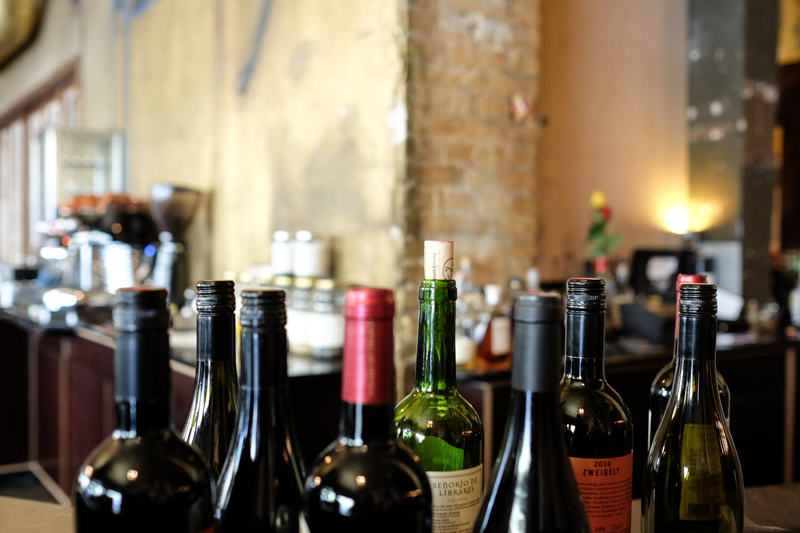 It is surprising to learn that wine is the second largest industry on Lanzarote. Indeed, it is surprising that any vines grow on this volcanic island. Lanzarote is one of the Canary Islands, located about 60 miles west of North Africa in the Atlantic Ocean.
The Canaries were created by volcanic action, and in 1730 the volcanoes came back to life, erupting almost continuously for six years. 130 new volcanoes ejected lava and ash which covered a third of the island to a great depth, covering fertile farmland and obliterating more than 20 villages. Lava flowing into the sea extended land surface.
Almost 300 years later the black land is barren. Dig a spade into volcanic gravel in places and it's too hot to hold.
Agriculture accounts for just 3% of island income, tourism accounts for the rest with more than five million visitors annually coming to enjoy year round warm weather just 4 hours by air from Europe's capitals.
Vineyards on Lanzarote are unlike anywhere else. Instead of neat rows of trellised vines each vine grows on its own in a pit dug through black volcanic stones. The vine is planted in the soil level found under the ash, and pits have sloping sides so the ash doesn't tumble down and bury the vine. Around the pit's rim is a wall made of volcanic stones to protect the vine from strong winds between April and August which also would blow ash down into the pits.
Varieties grown are primarily Malvasia, with some Muscat, both white grapes. For red wines Listan Negro is used, but most plantings are of white grapes because they consume less water than thicker skinned black grapes. Grapes grow without irrigation. Water is expensive as it comes from desalination of sea water. Rainfall is is minimal
Vines survive on what their deep roots can extract, and the pits channel any rain down to the vine. But most moisture comes from condensation caused by the difference between day and night time temperatures. Volcanic ash formed of small stones the size of large peas and riddled with holes collect condensation which then drips down into the soil far below.
Vintage time is the earliest in Europe, starting at the end of July for dry wines. Leaving grapes on the vine for longer boosts their sugar levels so sweet wines are harvested into August.
Lanzarote's appellation system insists on traditional grape varieties and others which might be successful in theses dry conditions are not grown, apart from a dispensation fourteen years ago to trial Syrah.
I visited Bodegas Rubicon and from their large range tasted four wines:
Rubicon Malvasia 2015 Seco: Lovely and aromatic, crisply dry, delightful. 100% Malvasia. €12
Amalia 2014: Amalia is the premium label. This 100% Malvasia has spent time in American oak barrels, and there's the added weft and weight of oak underlying this dry wine. Of the two whites I preferred the freshness of the unoaked wine. €12
Rubicon Listan Negro 2014: Soft with ripe fruit flavours from 100% Listan, no oak, pale red colour already seeming to show signs of aging. €10
Amalia Listan Negro 2014: This has a small amount of Syrah blended in to specially selected Listan Negro grapes. It's had 4 months oak aging. I find this the best red, perhaps the Syrah adds complexity and since I can carry home just one bottle this is the one I buy. €12
The winery and cellars are worth looking around, tasting measures are generous and you pay one or two Euros per taste. There's a restaurant with good views over the adjoining amazing vineyards with a backdrop of volcanoes.
Talk about wine on our
forum
.
Peter F May is the author of
Marilyn Merlot and the Naked Grape: Odd Wines from Around the World
which features more than 100 wine labels and the stories behind them, and
PINOTAGE: Behind the Legends of South Africa's Own Wine
which tells the story behind the Pinotage wine and grape.
Disclosure: Peter May paid for all travel, tastinga and wines he purchased.


Related Articles
Editor's Picks Articles
Top Ten Articles
Previous Features
Site Map





Content copyright © 2022 by Peter F May. All rights reserved.
This content was written by Peter F May. If you wish to use this content in any manner, you need written permission. Contact Peter F May for details.