Tasting the World's Rarest Wine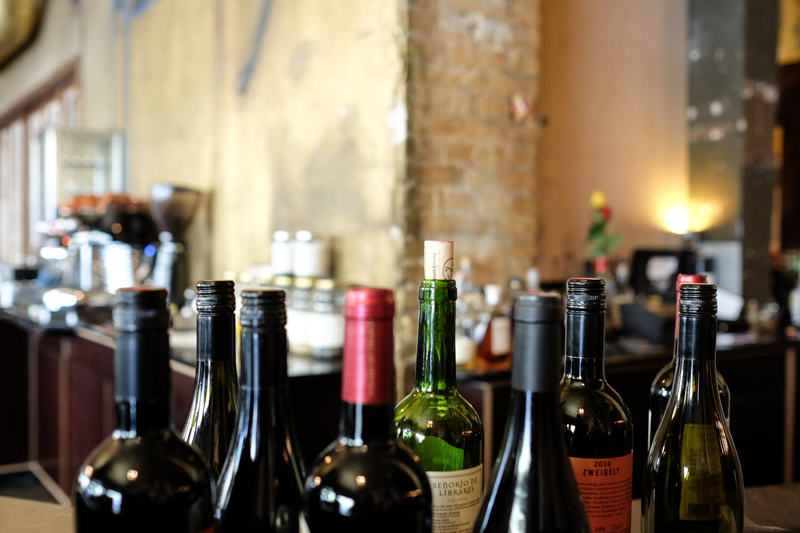 Cabernet Labrusco is a new grape variety that has been privately produced by Jerry Rodrigues. In 1994 in his father's garden in Plumstead, a suburb of Cape Town, South Africa, he took pollen from an unknown vine to fertilise the flowers of a Cabernet Sauvignon.
I have written previously how he later discovered the unknown vine was a now obscure table grape called Danugue, and how the new vine has certain similarities with both the Italian Lambrusco variety and the American Labrusca species which inspired the name he gave his new vine.
On my latest trip to South Africa's wine lands I visited Jerry at his house, also in Plumstead.
He poured me a measure of his 2015 Cabernet Labrusco wine from a 250ml bottle (above), all there is of the worlds rarest wine. He is the first to admit that his winemaking skills leave much to be desired and this small sample was tainted during an interrupted fermentation. Unfortunately it was not in a condition to get a fair idea of what the new grape is capable of.
Jerry has an energy and determination to overcome obstacles that would have defeated most men.
He sent 60 cuttings to be professionally grafted by a leading industry vine nursery, and they returned just one, reporting that 59 had died during the process! Next season he again collected cuttings to take to another nursery but they not only grafted his cuttings onto to the wrong rootstocks but they also managed to get those that survived infected with leaf-roll virus.
Jerry is himself now ridding the infected vines of the virus with advanced techniques. He has highly technical knowledge and skills. He lectured on biochemistry at Cape Town University until his recent retirement, and explained to me more about vine growing and plant diseases than I could comprehend.
In his garden he now has many pots of young Cabernet Labrusco vines (above), some with grapes, and I saw the original mother vine bearing several bunches of large plump ripe black grapes which he intends harvesting when the sugar level reaches optimum levels. He expects to make a full 750ml bottle from his 2016 harvest.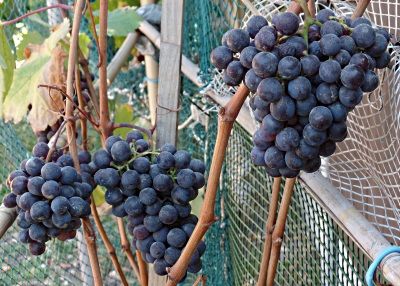 A viticulturist at a well known commercial winery in Constantia has agreed to plant a row of Cabernet Labrusco and it will be interesting to see what professionals do with Jerry's new vine.
It takes time for new wine grape varieties to get accepted, but if in 20 years time you find yourself ordering a bottle of Cabernet Labrusco, remember you first read about it here.
Talk about wine on our
forum
.
Peter F May is the author of
Marilyn Merlot and the Naked Grape: Odd Wines from Around the World
which features more than 100 wine labels and the stories behind them, and
PINOTAGE: Behind the Legends of South Africa's Own Wine
which tells the story behind the Pinotage wine and grape.
You Should Also Read:
Cabernet labrusco - Making a New Grape Variety
The Grape Detective - Tracing Danugue


Related Articles
Editor's Picks Articles
Top Ten Articles
Previous Features
Site Map





Content copyright © 2022 by Peter F May. All rights reserved.
This content was written by Peter F May. If you wish to use this content in any manner, you need written permission. Contact Peter F May for details.