Courtyard Garden Design II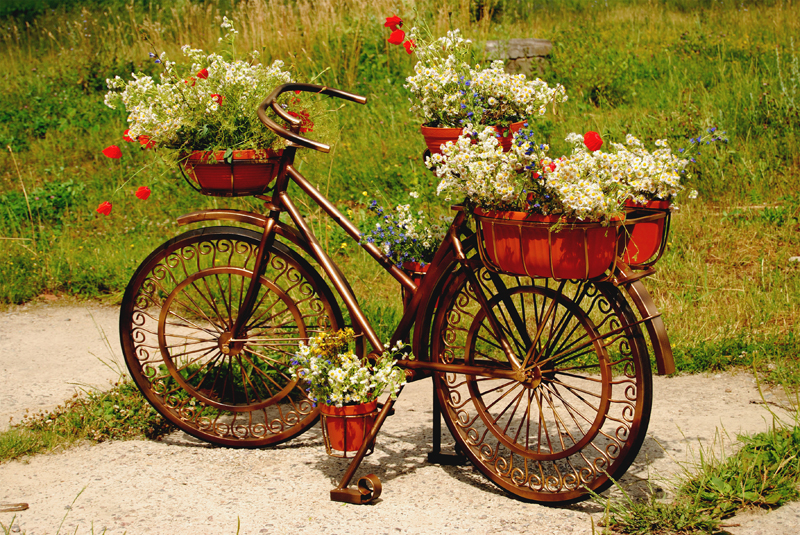 Courtyard garden design can do so much for you and since you have a space that you can dolly up? Lucky you!

You need to consider carefully what you want to use your courtyard or patio space for as well as what you want to get out of this outside room. There are many factors to courtyard garden design and when all is said and done, it comes down to sensible thinking and having fun with what you have no matter what the shape, size or state of your space is, it's yours to do with what you wish! So, after saying yes to what you want it to do, the next steps include design considerations and getting the job done.

Start your design by thinking about your space in three dimensions. Think separately of the bottom, i.e. the ground/floor, the middle (furniture and plant line) and the top or 'ceiling'.

Considering the bottom – the Floor and the ground finishes
Grass? Paved? Mixed? Concrete? Brickwork? Tiles? Slate? Wood? Crazy paving? Mosaic inlays? Riffraff? What finishes do you envisage – are your ideas practical for what you have?

Considering the Middle – the Surrounds, walls, plant line, ask yourself
Walls? Trellis? Neighbours fence? Concrete, bricked or plastered? Windows? Other features that can entertain the eye? Can you hang containers or affix them to the walls? Vertical gardening? Water feature? What view do you want to get on from inside your house? It's this middle of your courtyard that will be on immediate show.

When considering the Ceiling and 'Top' answer your questions
Open? Pergola? Awnings? Shade requirements? Privacy issues with overlooking buildings? View? Lighting? Add your own specifics.

** Take stock of what you have already got. What containers? Floor and wall art? Outside furniture? Other features? Only keep what you really love and recycle, repurpose or give away any clutter or extras.

** What do you need to buy, find, swap or build?

** What is the sun pattern which will determine what plants you can have? Planning containers is easy when you know plant growing conditions offered by your courtyard. As the seasons go by, how will weather impact on plant choices?

** Draw up your plan. Imagine everything in place (even if you need to do this makeover in stages, it will be fun to see how your courtyard develops)
** Measure up the space, note its quirks like round 'corners', windows, wall heights, views, general state of repair plus
** Who will do the work? Is it okay for DIY?
If your plans include using external construction people and other service providers, check them out, get references, do price comparisons, monitor the deposits you pay and manage the work progress carefully.
** Be sure you settle on the plan, make a storyboard with pictures and once chosen, stick with your final choice. Don't chop and change midway – you'll never get to your finish line and you may even give up in frustration!
**Start AND end your project, finish each step of the way as you go, take baby steps if necessary but get it done.

There are those times you may just want to fling a few pots around, scrub down the floor and sit outside regardless. I know. Us to. That's okay. Sometimes it gets so busy that the planted garden containers die off, the pots remain empty and the water feature gives up the ghost. That's okay too. But just for a while until you get your second breath.

As Henry Ford said "Whether you think you can or think you can't – you're right."

Still, with all this planning and thinking and deciding and acting, you can be the 'right' you want to be, and at the same time you could surround yourself with beauty and purpose. With good courtyard garden design you will give your containers beautiful context and you'll see how much more pleasure you'll get.

Because your garden courtyard is an extension of your home, this outer room offers a fine opportunity for you to expand your living space, promote happiness and well-being for yourself and anyone important to you and, along the way, enhance the value of your property. Benefits like these make a person smile.

It is amazing what you can do with a small space, imagination, love and determination.

What do you want your container garden to do?

..............................................................................
CASUAL VISITOR … and just browsing? Why not sign up to the Container Garden newsletter? It won't matter what space or how many pots you have or even how much time you have to spend in your container garden; what will matter is that you get our reminders and good advice and ideas all in one interesting article.


You Should Also Read:
Courtyard Garden Design 1
A White Moon Container Garden
Hanging Baskets and Pots


Related Articles
Editor's Picks Articles
Top Ten Articles
Previous Features
Site Map





Content copyright © 2023 by Lestie Mulholland. All rights reserved.
This content was written by Lestie Mulholland. If you wish to use this content in any manner, you need written permission. Contact Lestie Mulholland for details.