DY Knot Stitch, Unraveled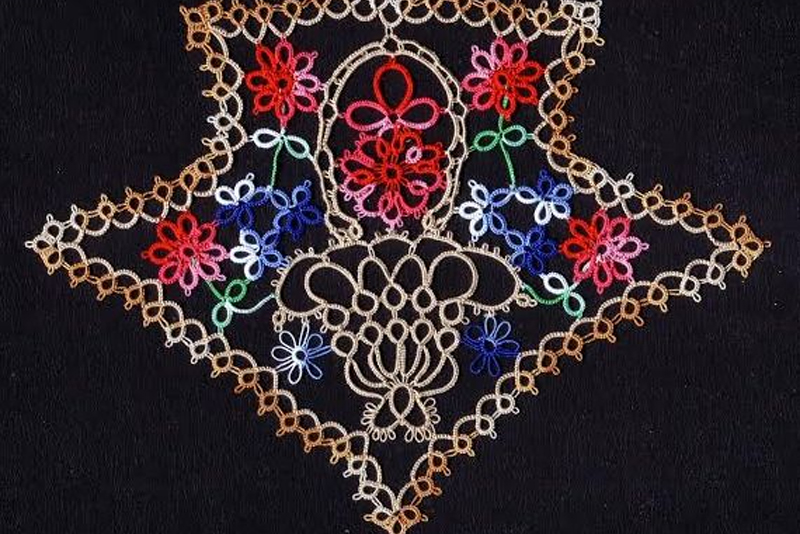 Dora Young Knot Stitch, Unraveling the Mystery
Recently I wrote about the tatting technique that I had not yet learned how to do. It is found in Dora Young's "All New Knotless Tatting. It is called a knot stitch. In my research and from information shared by other tatters I have now learned that the term "knot stitch" has several meanings and methods.
Dora's book has been recently reprinted and many tatters are seeing it for the first time. Most of us are already familiar with her bridging or split chain technique. To review, please see: https://www.bellaonline.com/articles/art26819.asp
During the May 7, 2018 meeting of the Online Tatting Class, this method was discussed intensively. As a result, we have the solution!
The class discussion log is posted for reading:
https://www.georgiaseitz.com/2018/logs/20180507log.txt
One of the class tatters, Karen Cabrera prepared a video to share. These are her notes. A video is posted at https://youtu.be/3TUe2e3VrxU. You need to copy and paste that link into your browser.
Karen explains:
"The technique is really simple.
Using a picot gauge will yield the best results.
1 shuttle wound with 2 threads, or one double shuttle (SH1), and another shuttle acting as ball wound with a single thread (SH2).
First round: Tie all threads together, using with SH1 and holding SH2 as the ball thread: *make the first half of double stitch (ds), flipped, and then the second half of the ds, unflipped (lock stitch.) Leave enough space for joining and repeat*. Leave a long space (3/4 inch) and repeat for length desired.
Second round: beginning after a long space,
<
make first half of ds, flipped, and then the second half of the ds, unflipped, join to space in previous round, first half of the ds, flipped, and then the second half of the ds, unflipped
>
. Leave long space, repeat *-*. Leave long space. Repeat
<->
https://youtu.be/3TUe2e3VrxU
Karen Cabrera's Dora Young Knot Video Tutorial
https://entrelanzaderas.blogspot.com/
Kathleen has begun the doily from the cover of the book using the DYK stitch
You Should Also Read:
Dora Young Knot Stitch Understanding the Technique
Dora Young Knot


Related Articles
Editor's Picks Articles
Top Ten Articles
Previous Features
Site Map





Content copyright © 2023 by Georgia Seitz. All rights reserved.
This content was written by Georgia Seitz. If you wish to use this content in any manner, you need written permission. Contact Georgia Seitz for details.