Caribbean Island Guide to Beer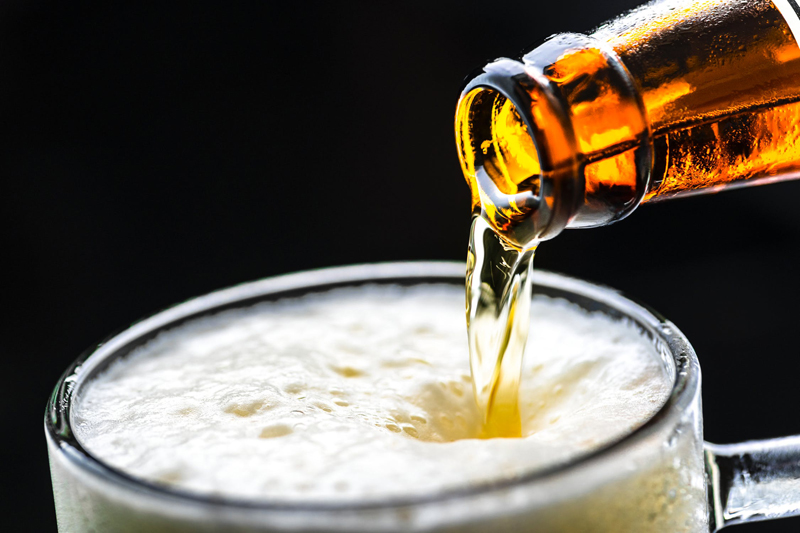 The steady flow of warm trade winds dance through your hair, as your soft, oiled skin takes on a bronze glow in the midday sun. The beach, glistening like powdered pearls, slips her edge beneath the turquoise water, where underwater coral forests support an abundance of graceful, maritime creatures.

As you look toward the island's interior, rising mountains merge with rainforests that teem with tropical birds, geckos and exotic plantlife – an infinite paradise to contemporary island-hoppers in search of sunshine, refreshing spirits, and connectedness with like-minded vacationers.

So here you are, spoiled in a lush paradise where pina coladas and Midori sours are the royal family. Somehow, your mind keeps wandering back to the U.S. mainland, where unlimited reserves of craft beer in all styles await your return.

What you need is an Island Guide to Beer!

What you do need to know is that each island generally has a particular brand of beer associated with it. The variety that you have come to expect in the contiguous states is very limited in "paradise," but the refreshing qualities of the amber brew remain a quenching treat in the noonday sun.

Kalik Gold – Commonwealth Brewery Ltd., on the island of New Providence, Bahamas – This lemon-gold lager pours with a solid white head that dissipates quickly. The clean aroma of citrus fruit carries through to the palate, where it blends with the light husky-malt body. The 7%abv is nearly imperceptible, with no sharp feel of alcohol on the tongue. Finishes dry - a pleasant "hot weather" brew.

Commonwealth Brewery Ltd. Also brews Kalik Light and Kalik Regular, variations on Gold, but with a lighter flavor profile to each.

Kubuli – Dominica Brewery & Beverages Ltd., Dominica – an island near Antigua – not the Dominican Republic/Haiti – A Gold Medal "Monde Selection" for 2002 in Brussels. This lager has a deep amber body with malt-like sweetness and a light, hoppy bitterness. Very similar in taste and body to Wadadli.

Wadadli – Antigua Brewery Ltd., Antigua & Barbuda – Pale gold Lager brewed with barley and corn, with some malt sweetness and a spicy hop bite. Crisp and sharp!

Antigua Brewery also brews Red Stripe, Carib, and Guinness Stout in house under license.

Blackbeard Ale – Virgin Islands Brewing Co, Virgin Islands – An English Pale Ale of light amber coloration and a thin white head that ends with wisps of spidery lacing. The aroma of toasted malts and notes of banana carry over to the palate, ending in a bitter-sweet finish.

Balashi Beer - Brouwerij Nacional Balashi N.V., Aruba – Winner of the "Monde Selection" in Brussels in 2001, this brew is made from imported Scottish malts, Bavarian hops and the pure island water. A smooth clear, golden pilsner that is available in Aruba, Curacao, and Bonaire.

Banks Beer – Banks Breweries, Barbados – Barbados - Water is filtered by the natural method of purification through limestone rock, then blended with the smoothness of British and Australian barley, Yakima Clusters and Noble hops.

Legends Premium Lager – another offering from Banks Breweries – A premium Lager that was bestowed Gold Medal status by the "Monde Selection" Committee in Brussels. This has smooth body and slight bitterness.

Stingray Beer – Stingray Brewery, Grand Cayman, Cayman Islands – a light body and refreshing palate.
Stingray Dark – Stingray Brewery, Grand Cayman, Cayman Islands – An American dark lager with slightly sweet flavors and subtle hops.

Carib Lager Beer – Carib Brewery, Trinidad & Tobago
Full-bodied, clean, with a refreshing palate

Carib Brewery also brews other brands under license:

Stag Lager Beer – marketed as "A Man's Beer" – slightly bitter & hoppy.
Shandy Carib – a shandygaff combination of ale and ginger beer, lightly alcoholic at 1.2% abv for sun worshippers who want to stay in control, but get into the sociable contemporary island dweller theme.
Royal Extra Stout – Sweet, full-bodied – the "Black Bottle Drink."
Macheson Milk Stout – Brewed under license from Whitbread Beer Company in England.
Guinness Foreign Extra Stout – medium bodied, sweet, yet balanced.

As you are drinking in the sunshine, enjoy the touch of island hospitality in a true island brew!

Cheers!
 
You Should Also Read:
Beer Lovin' Party Animals in the Wild
Is Beer the Secret Spice of Life ?
Guinness Stout Nitro Can - Camp Beer


Editor's Picks Articles
Top Ten Articles
Previous Features
Site Map





Content copyright © 2018 by Carolyn Smagalski. All rights reserved.
This content was written by Carolyn Smagalski. If you wish to use this content in any manner, you need written permission. Contact Carolyn Smagalski for details.