Guinness Stout Nitro Can - Camp Beer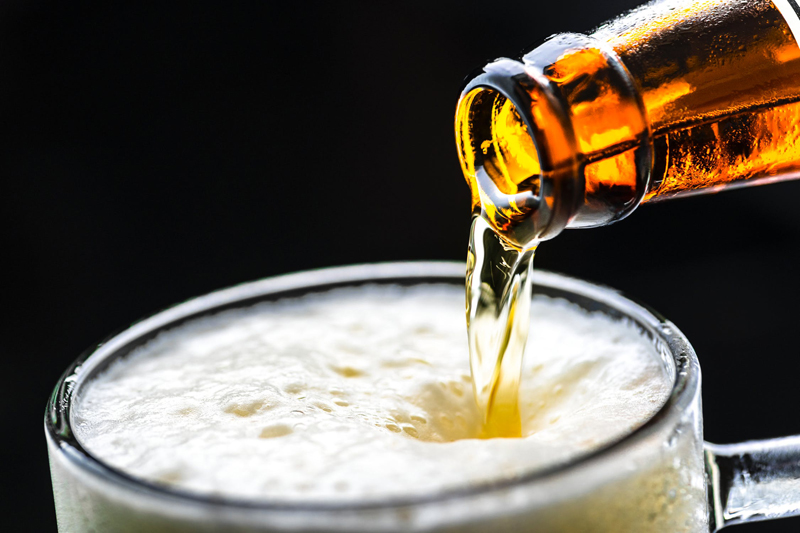 How do you define "Camp Beer"?

If you are anything like me, you have an eclectic attitude toward Camp Beer. It represents different situations - people with different attitudes and circumstances who choose to have fun.

In the northeastern section of the U.S., "camp" refers to semi-permanent lodging, with little in the way of amenities, used for the purposes of hunting, canoeing, or fishing – essentially, getting away from it all with a few good buddies. The northwestern section, by contrast, sees "camp" as outdoor recreation for vacationers – hiking, climbing, temporary lodging (tents or RV's), and family/friend oriented activities. Then there is the cosmopolitan idea of "camp" – artifice and ostentation so extreme as to have a sophisticated appeal that is contrary to the norm.

Most people would agree that "Camp Beer" has to be easily portable, impervious to light, and easy to open. An added bonus would be a product that is easy to chill in a cooler or carrier. Give me something in a can!

This is where the contrast occurs. To some, the idea of camp beer means a "cheap buzz, suckin' down the lagers at the speed of light, 'who cares? I'm in the woods and I'm not driving,' let's play poker and get drunk." To others, camp beer is "having good, easy-in-a-backpack fugitive beer, a brew of higher quality that will be refreshing on a hike or bike trek. You want a beverage that will match the incredible landscape view of the surrounding mountain peaks." Or you may want to "sit in your high-tech high-rise in the comfort of a white-leather conversation pit, drinking-in the cityscape with good friends and a few cool cans of imported beer."

The Best in Camp Beer

My favorite microbrews-in-a-can are the hand-canned, hand-crafted beers from Oskar Blues Brewery in Lyons, Colorado.
Dale's Pale Ale will seduce you with its citrusy hop nose, touched with the sweet, subtle edge of roasted malt. With a medium-full mouthfeel, you will discover the distinctive bitterness of northwestern hops, an enticing touch of piney goodness that lures you into the can. If you have a glass nearby, delight in the pour! You may not expect such beauty from a can – clear amber, like a yellow diamond, with a rich, lingering head that you'll want to pierce with your tongue! The head slowly dissipates into rings of lacing on the glass, while the nose rises to greet you. With a 6.5% ABV, this one is flavor with a punch.

Old Chub Scottish Ale is a Scotch ale/wee heavy with a robust brown hue and caramel-coffee nose. It's robust body and sweet palate lures you into its grasp, holding you captive with its 8%ABV muscle.

You may wish to span the globe and opt for a canned import. Gambrinus Premium Beer from Pilsner Urquell, Pilsen, Czech Republic is a pale lager with lights of gold, a tight, foamy head, and full-bodied, bitter character. Brewed with the soft, Pilsen water of mineral springs, this is a touch-of-class in a can.

Velvet from Prague Breweries, Prague, Czech Republic has a crown of foam that tops the golden brown body beneath it. This has the avalanche effect of bitterness, entwined with a velvety flavor profile.

Old Speckled Hen from Greene King/Moreland Brewery, in the U.K. will hand-cuff you with its translucent, reddish amber hue and persistent, voluminous head. The sweet, buttery taste of caramel is balanced by an enthralling hop bitterness with spicy undertones.

Guinness Stout Pub Draught Nitro Can from Guinness Ltd., Ireland remains the king of Irish dry stout, whether on tap or in a can. Its rich ebony color has a top-hat of cascading dark-brown clouds. Roasted malts impart a bittersweet flavor that coats your mouth, and lures you with smooth drinkability.

Mid-Range Camp Beer

You may want to explore the possibility of an Ice Beer. These generally have a slight malt sweetness, with low to moderate mouthfeel. They have a clean palate, with no detectable fruity esters. A full-bodied lager can be a refreshing choice, as well, and will be easier on the change-purse than the imports.

Black Ice from Molson, Ontario, Canada, is a light gold with limited head. This is a well-balanced, full-bodied brew – quite smooth for a beer from a mega-batch.

Rainier Ice from Pabst/G. Heileman Brewery in Texas, U.S. is actually brewed by Sleeman Brewery in Guelph, Canada. This is a clearly golden brew with white head and thin lacing, caressed with sweetness and balanced with mild hop bitterness. After a day of strenuous activity, this is as quenching as a kiss between Hera and Zeus.  Preferred by a certain Black Bear at Baker Lake Resort! Read more...

Milwaukee's Best (aka "Beast" or "Old Mill") from SABMiller, Wisconsin, U.S. is golden yellow with an American lager taste. Quenching.

Cheap Thrills

Natural Ice (aka "Natty Ice") from Anheuser-Busch in Missouri, U.S. is a great lawnmower beer with 5.9% ABV.

Schlitz from Joseph Schlitz Brewing, Texas, U.S. is an inexpensive beer with good head retention amidst refreshing flavor and hop profile. Schlitz was the second largest brewery the world in the 1960's.

Keystone Ice (aka "The Black Death") from Coors Brewing, Colorado, U.S. can be classified as a party beer. This has a smooth taste, 5.9% ABV, and is available in 24 ounce cans.

Busch Ice from Anheuser-Busch, Missouri, U.S. is packed with 5.9% ABV, is readily available, and is refreshing on a summer day when your cash reserves are low.

Carling Black Label of Molson, Ontario, Canada is refreshing and full-bodied, much like water with a kick.

Black Label from Pabst/G. Heileman Brewing, Texas, U.S. is light gold with carbonated tangy flavor and sweet, long aftertaste. This is good for late-night drinking games, when you don't want to dent your piggybank.

It is reassuring to know that America yields such a great smorgasbord of choices in Camp Beer – one to suit every taste, every purpose, and every wallet.

Cheers!
 
You Should Also Read:
Beer Cookery - Roanoke River Barbecued Pork
Low Carb Beer - Ultra , Light , Michelob & More
Scottish Ales of Celtic Mystery


Editor's Picks Articles
Top Ten Articles
Previous Features
Site Map





Content copyright © 2022 by Carolyn Smagalski. All rights reserved.
This content was written by Carolyn Smagalski. If you wish to use this content in any manner, you need written permission. Contact Carolyn Smagalski for details.