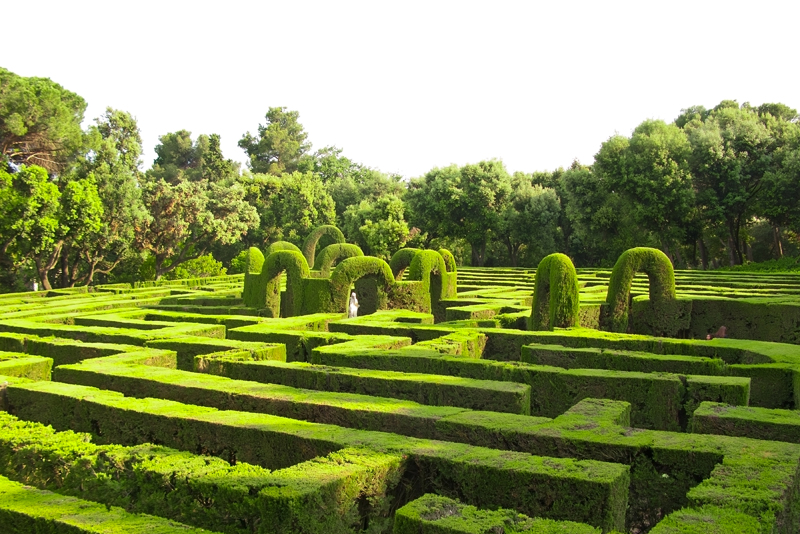 One thing that separates English gardeners from the rest of us is that they have a wonderful sense of whimsy. Learn how to think like an English gardener with these fun ideas.

The key to adding whimsical touches is to reflect your personality in your garden.

The way to do this is to consider your:

* interests
* hobbies
* profession
* sports

English gardens are famous for their topiary. But you don't have to limit yourself to the traditional geometric shapes. Almost anything (such as a musical instrument or carpenter's tool) can be made into a topiary. Somebody who loves chess, for example, might create a chess piece in topiary.

Or, demonstrate your love of chess by making your patio into a chessboard by alternating colored squares of concrete. Or go even further by creating a garden chess board. Place square pieces of black stepping stones laid out for the black squares on a chess board. The alternating squares could be filled with a creeping ground cover such as moss, creeping thyme, or even grass.

Think about things you collect. Could they be used, or represented, in the garden? If you collect frogs, for instance, you could go beyond the obvious little ceramic frog, and get an artist to paint frogs on terracotta tiles. These could be attached to any surface in the garden such as a wood or stone retaining wall.

Don't limit yourself to typical garden accessories. Check charity shops and antique stores for things that weren't originally meant for the garden.

Are you the type of woman who can't resist another pair of shoes? Plant vintage shoes with miniature plants, and have them 'walking' along a path.

Why not create a flower bed out of a -- well -- bed? An old brass headboard would certainly frame it nicely.

Are you a bowling fanatic? How about an old bowling ball on a stand, instead of the traditional gazing ball?

You can also add whimsy by doing unusual things with plants:

* At Anne Hathaway's cottage (Shakespeare's wife), the gardeners have trained willows into a living arbor. They placed a bench under the arbor and piped in Elizabethan music and recordings of Shakespeare's poetry.

* The gardener at Jane Austen's house, Chawton Cottage, took a fern and tucked it under a piece of slate in the roof at the house. It was shaded by a tree and was very happy there.

* At the Chelsea Flower Show, one display showed a turf seat – a medieval idea that is still fun today, especially for a children's garden.

* And all English gardeners allow their vines to wrap around shrubs rather than buying a wooden trellis for the purpose.

One caution: don't get carried away with too many whimsical touches. It will dilute the effect. Strategically place one thing here, another thing around the corner so it's a surprise. Think outside the box, and your English garden will make visitors exclaim, "how utterly charming!"
You Should Also Read:
Starting an English Garden
What is an English Garden?
Focal Points in the English Garden


Related Articles
Editor's Picks Articles
Top Ten Articles
Previous Features
Site Map





Content copyright © 2023 by Carol Chernega. All rights reserved.
This content was written by Carol Chernega. If you wish to use this content in any manner, you need written permission. Contact Carol Chernega for details.