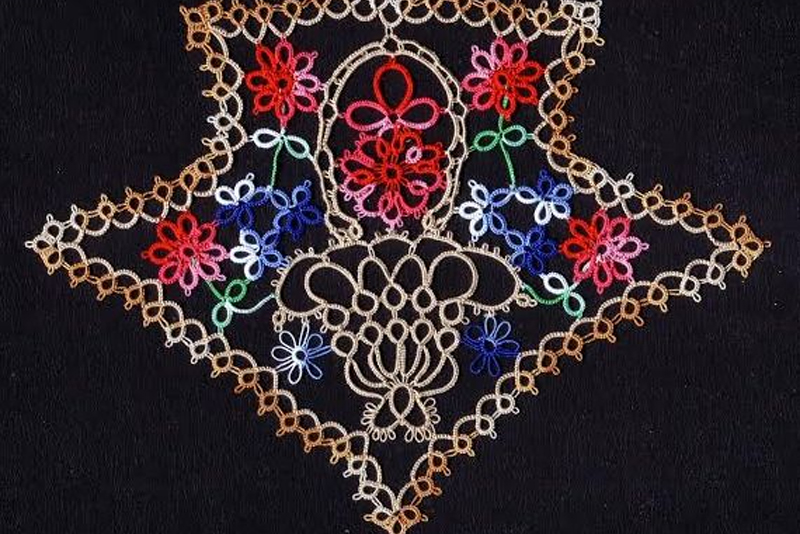 The Bullion Knot compared to the Josephine Knot and the vintage "dot" formation.
Needlecraft LTD, UK published their first tatting series as "Needlecraft Practical Journal #99" ©1914-ish. They had already published over 150 journals covering crochet, knitting, embroidery, bead work, netting, lacis, smocking and other types of lace. And as with many other publications of the era, the patterns were given as an inducement to purchase products, especially thread.


The usual vintage illustrations are included showing the basic movements of tatting for one shuttle work (rings only) and for two shuttle work (rings and chains.) The photos show the first half stitch, second half stitch, double stitch, picot, and the traditional up join. This was followed by a description of the Josephine knot, Bullion knot, and "dot." (I think this was the first time I encountered the term "bullion knot in tatting.")





I puzzled on this for a while and forgot about it for a long time. Then I encountered roll tatting. And I finally made a connection. If you read the directions for the bullion knot, it directs the tatter to move the shuttle over and over the thread (multiple times) and draw it up tight. So I feel this should really be called roll tatting instead of bullion knot. However, I did not find any patterns in the magazine which actually used the bullion knot.





"Dots" is a term often encountered in the earliest vintage tatting patterns. It is slightly different from the Josephine knot is which made by tatting just one half stitch in repetition. This creates a ring or chain with a "twist" built into it. Instead the dot is made by tatting a full ds but usually only 5 or fewer so that when the ring is closed, it looks like a bump, i.e., "dot" in the thread.

Compare to the roll stitch:








In this issue I also encountered two more surprising items. "Twine" was suggested as suitable for tatting in several patterns which were for tatted belts or waistbands. One pattern was called a "plastron." What is a plastron? Well, that is a topic for another day. Happy Tatting.
You Should Also Read:
Josephine Knot
Tatted Rings Types


Related Articles
Editor's Picks Articles
Top Ten Articles
Previous Features
Site Map





Content copyright © 2022 by Georgia Seitz. All rights reserved.
This content was written by Georgia Seitz. If you wish to use this content in any manner, you need written permission. Contact Georgia Seitz for details.