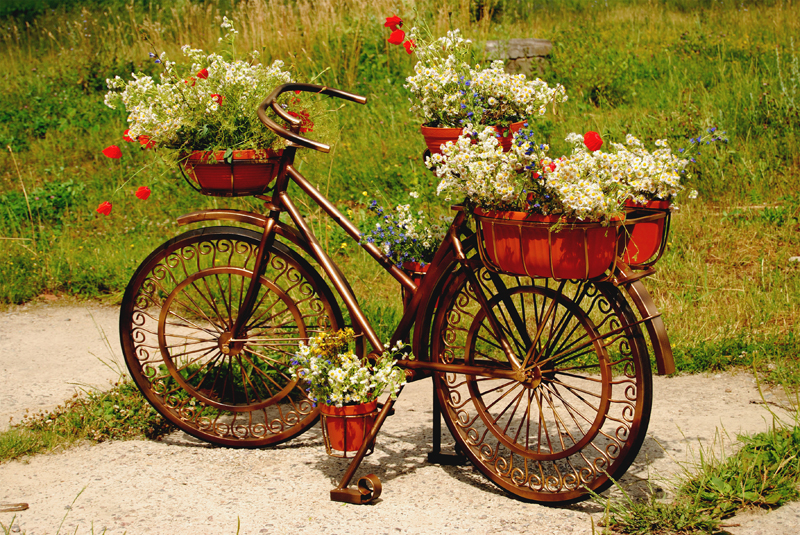 Baking pumpkins are smaller and generally have a thicker, sweeter flesh than 'jack-o-lantern' pumpkins. They grow well in container gardens, especially in warm areas. These recipes can be made with any variety of pumpkin, however, and can even be made with winter squash. They are excellent as gifts or eaten around a warm fire and topped off with hot cocoa. Enjoy!

PUMPKIN CHOCOLATE CHIP MUFFINS
Yields 1 dozen small muffins. Double recipe for large muffins and bake 5-10 minutes longer.

2 eggs
3/4 cup granulated white sugar or Splenda
1/4 cup vegetable oil
3/4 cup cooked pumpkin
1/4 cup water (substitute milk or half and half for especially rich muffins)
1 1/2 cups all-purpose flour (can substitute up to ½ cup fine-ground whole-wheat flour)
3/4 teaspoon baking powder
1/2 teaspoon baking soda
1/4 teaspoon ground cloves
1/2 teaspoon ground cinnamon
1/4 teaspoon ground nutmeg
(can substitute 1 tsp pumpkin pie spice for above three spices)
1/4 teaspoon salt
1/2 to 1 cup semisweet chocolate chips, according to your preference

1.Preheat the oven to 400° F . Grease and flour muffin pan or use paper muffin cups. Note: silicone pans will not need to be greased.

2.Lightly beat eggs. Mix in sugar or Splenda and oil. Add pumpkin and water/milk.

3.In separate bowl mix together the flour, baking soda, baking powder, spices and salt.

4.Add egg/pumpkin mixture to flour mixture and mix just until moistened. Stir in chocolate chips.

5.Fill muffin cups 2/3 full with batter. Bake in preheated oven for 20 to 25 minutes.


PUMPKIN BREAD
Yields two 9x5x3 loaves

This bread is moist and tasty – especially delicious warmed with melted butter, though it is excellent just by itself!

3 cups sugar or Splenda
1 cup vegetable oil
3 large eggs, lightly beaten
2 cups cooked pumpkin, drained
3 cups all purpose flour
1 teaspoon ground cloves
1 teaspoon ground cinnamon
1 teaspoon ground nutmeg
Note: 1 TBS pumpkin pie spice may be substituted for the above 3 spices
1 teaspoon baking soda
1/2 teaspoon salt
1/2 teaspoon baking powder
1 cup coarsely chopped walnuts, pecans, or chocolate chips (optional)

1.Preheat oven to 350°F. Butter and flour two 9x5x3-inch loaf pans.

2.Beat sugar and oil in large bowl until blended. Mix in eggs and pumpkin.

3.Mix flour, cloves, cinnamon, nutmeg, baking soda, salt and baking powder into another large bowl. Add to pumpkin mixture in three additions. Add nuts or chocolate chips, if desired.

4.Divide batter equally between prepared pans. Bake in preheated over until toothpick inserted into center comes out clean, about 65-75 minutes.

5.Transfer to racks and cool 10-15 minutes. Using sharp knife, cut around edge of loaves. Remove loaves from pans and place on rack to cool completely. Wrap and store in refrigerator. Can be frozen for up to six months.


PUMPKIN COOKIES
Yields about 3 dozen small cookies

These moist and mildly spiced cookies are wonderful for a snack on a cold winter's day! Add 1 cup broken pecans or walnuts for an extra special treat.

1/2 cup butter, slightly softened or at room temperature
1/2 cup granulated white sugar or Splenda
1/2 cup light brown sugar, firmly packed
1/4 cup molasses Note: ¾ cup dark brown sugar can be substituted for the brown sugar and molasses
1 egg, slightly beaten
1 cup cooked pumpkin
2 cups all-purpose flour (can substitute up to 1 cup fine-ground whole-wheat flour)
1 teaspoon baking soda
1 to 1 1/2 teaspoons cinnamon
1/4 to 1/2 teaspoon nutmeg
1/2 cup milk (use condensed milk or half and half for extra rich cookies)
Small amount of confectioners' sugar, if desired

1.Preheat oven to 375° F.

2. In a large mixing bowl, cream butter and sugars well. Beat in molasses and egg. Stir in the cooked pumpkin and milk.

3. In a separate bowl mix together the flour, baking soda, cinnamon, and nutmeg.

4. Stir flour mixture into the liquid mixture, mixing just until blended - do not over beat.

5. Drop cookie dough by rounded teaspoonfuls onto greased or silicone baking sheets. Bake in preheated oven for about 12 minutes.

6. Remove from oven and allow to cool on baking sheets until set. If desired, dust cookies with sifted confectioners' sugar for a festive look.
Store cookies in tightly sealed container.
You Should Also Read:
Apple Recipes - Apple Crunch, Apple Butter, and Canning/Freezing


Related Articles
Editor's Picks Articles
Top Ten Articles
Previous Features
Site Map





Content copyright © 2023 by Jessica Carson. All rights reserved.
This content was written by Jessica Carson. If you wish to use this content in any manner, you need written permission. Contact Lestie Mulholland for details.