When Your Dog Must Have an Ultrasound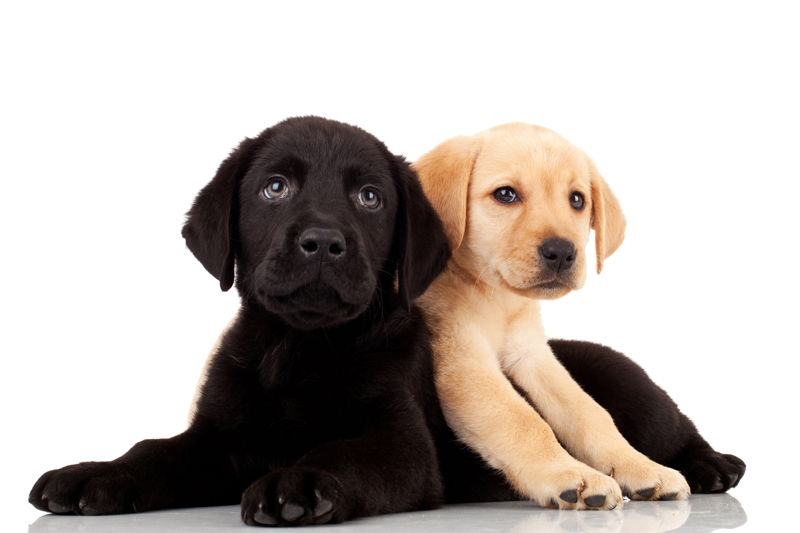 Fritz, my Weimaraner, had a small lump that needed to be removed and biopsied. He also needed to have his teeth cleaned. Since the lump removal and the dental cleaning would both require general anesthesia, our Vet said both procedures could be done at the same time. During the pre-op exam, however, while listening to Fritz's heart with a stethoscope, Dr. Mike heard a clicking sound that's usually the telltale sign of an imperfect mitral valve. Fritz had developed a heart murmur. The click was probably the sound of mitral valve prolapse. Before Fritz could have anesthesia, an ultrasound exam of his heart was recommended.
Ultrasound is a painless diagnostic procedure, and, unlike x-rays, no radiation is involved. An ultrasound machine uses sound waves that penetrate internal organs to create an image that's shown on a computer screen-like monitor. A hand-held probe is rubbed back and forth on the skin over the area being studied.
An ultrasound of the heart, or Echocardiogram, is the most useful test for evaluating a heart murmur in a dog. With ultrasound, a Veterinarian can look inside the heart, in the chambers and visualize the valves. This non-invasive test can either rule out or confirm a diagnosis, determine the amount of leakage and the severity of the abnormality. With abdominal ultrasound, the inside of the stomach and intestines, the liver, the kidneys and other abdominal organs can be visualized for an accurate diagnosis that would not be possible otherwise.
What to Expect....

The Appointment:
Although many larger Veterinary hospitals have their own ultrasound equipment, most smaller practices do not, Veterinary specialists, with portable ultrasound equipment, travel to various Veterinary clinics on a regular schedule to perform the test.
In our area, there are no Vets with on-site ultrasound equipment. We had to go to a larger Veterinary hospital about 40 miles away. Even then, our appointment was with a traveling specialist who goes there one day a week. He arrived there about 20 minutes after we did, just as we finished filling out the paper work. He carried the ultrasound equipment in a very large duffle-type bag, on his shoulder.
Preparation:
There's no preparation before hand for an Echocardiogram . For dogs with very short, thin coats, there is no preparation at all, but since the hand-held probe must make contact with the skin, some hair must be shaved on most dogs.
Since Fritz has barely more then peach fuzz on his chest and belly, no shaving was necessary for him.
For an abdominal ultrasound, food may have to be withheld for 12 hours prior to the procedure
In most cases, if a dog is easy-going and cooperative, the ultrasound is done with no sedation or anesthesia.
Fritz is a good boy. He needed no sedation : )
The Procedure:
We were taken into a small examination room. Fritz, all 93 pounds of him, was lifted onto the table by the doctor and a hefty, strong technician who worked at that animal hospital. The Vet asked the technician to stay and help hold Fritz on the table. Fritz was very nervous. He was panting heavily and trembling, but after the Vet said I could help hold my frightened boy, he calmed down. The room was darkened and the test began.
The Vet explained what was on the screen throughout the 15 to 20 minute procedure. As he moved the probe over Fritz's chest, he pointed out the mitral valve and explained that the flash of color, with each heartbeat, was a very tiny amount of blood leakage from the valve.
When the test was done, Fritz was lifted off the table and the lights were turned back on. After a few good head to tail shakes to compose himself, Fritz enjoyed a few pats and basked in compliments. He refused a biscuit reward, as he always does in a Vet office, and quickly led me back to his Dad in the waiting room. The Vet said he had to look over the films again and write a report and then he would talk to us.
The Diagnosis:
Since an ultrasound study is performed by a Veterinarian who specializes in the procedure, the results are seen and interpreted as it's being done.
The Vet called us back in about 15 minutes later. He had a handwritten report ready for us to take back to Dr. Mike. He said that Fritz has a very benign case of MVP and could safely have anesthesia. He also said that a big, strong dog like Fritz, might continue to live a normal life without symptoms and need no treatment for years, possibly never.
Cost:
$350 for the procedure; plus an extra $25 to the Veterinary Hospital.
Since the specialist did his own billing, separate from the Veterinary hospital where he performed the test, we were told ahead of time that his fee would have to be paid by cash or check, even though that hospital takes credit cards for their own patients.
Expect to pay about $300 to $500 depending on the exact procedure and where it's done.
More About Mitral Valve Prolapse:
In Mitral Valve Prolapse, or MVP, the mitral valve, a valve between the left atrium and left ventricle of the heart, does not close smoothly and evenly with every heartbeat, as it should. This can sometimes result a small backward leaking of blood. The leaking blood is heard as a heart murmur. Although this common heart valve abnormality may affect as many as 5% to 20% of the human population, most people with MVP have no symptoms, no complications, and they never will. Most people with MVP will never need any treatment, other than taking one or two doses of an antibiotic just before dental procedures that may involve bleeding and before some surgical procedures. The antibiotic prevents bacteria that may enter the bloodstream during these procedures from surviving. Bacteria in the bloodstream could otherwise lodge on the abnormal heart valve and cause an infection in the valve or in the lining of the heart.
Fritz was not quite 5 years old when his murmur was discovered. Although his mitral valve prolapse is very mild, and we hope and pray it stays that way, MVP causes serious symptoms more frequently in dogs than it does in humans. It's more common in aging dogs and frequently signals the start of congestive heart failure. In younger dogs, it's often a sign of a serious, hereditary form of heart valve disease, especially in several small breeds.... Cavalier King Charles Spaniels, Dachshunds, Yorkshire Terriers, Cairn Terriers, Schnauzers, and Cocker Spaniels. Mitral valve heart disease is, in fact, the leading cause of death in Cavalier King Charles Spaniels. It's over 20 times more prevalent in that breed than in the average dog.
(I was already quite familiar with MVP, with that clicking sound heard through a stethoscope and with diagnosis by Echocardiogram. Years earlier, Fritz's human sister, our youngest daughter, was diagnosed with MVP.)
Because it was determined that Fritz does have some degree of MVP, just like people with MVP, Fritz had to take antibiotics before the dental cleaning to prevent infection. We know that if he ever develops a frequent cough, which could be a sign of more advanced heart diasese, he will have to be re-evaluated as soon as possible.
The information in this article should never replace professional advice and Veterinary treatment. It is intended to make you aware of the need for preventative care and emphasize the importance of seeking Veterinary care, without delay when needed.
You Should Also Read:
A Dog Lover's Guide to the Internet
Dogs' Shopping Guide
Other Canine Health Topics


Editor's Picks Articles
Top Ten Articles
Previous Features
Site Map





Content copyright © 2021 by Sandy Moyer. All rights reserved.
This content was written by Sandy Moyer. If you wish to use this content in any manner, you need written permission. Contact Bettina Thomas-Smith for details.