The Dangers of the Sonoran Desert Toad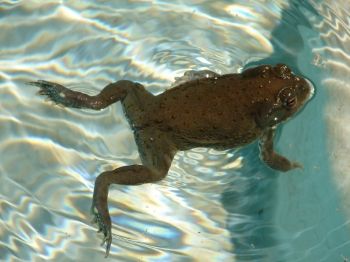 Climate change has shifted the patterns of hibernating
Bufo alvarius
, commonly called the Sonoran Desert Toad. Traditionally, these toads are readily seen during the Southwestern United States and Mexican monsoon season, which occurs from late July to mid-September. This toad usually hibernates underground during dry winter months. However, climate change has made it so winters are progressively warmer and wetter. This produces frequent winter rain totals surpassing that of the monsoon season. Because of this change in climate conditions,
Bufo alvarius
is emerging from hibernation much earlier, consequently increasing its mating season. While this might resonate as positive news, it is an overall negative effect of global warming.
Bufo alvarius
has a broad diet. It consumes insects that have a positive effect on ecological stability, like honeybees, hover-flies, centipedes, beetles, ladybugs, and the praying mantis. The warmer weather cycles also increase the number of crickets, which grow quite large throughout the Sonora Desert region and attract the toads in droves. The Sonoran Desert Toad is not an endangered animal, principally thanks to its defense mechanism. This toad releases high levels of the chemical compound 5-MeO-DMT (C
13
H
18
N
2
O), which is a powerful psychedelic. When an animal sniffs, licks, or attempts to bite this toad it releases a concentrated level of this chemical, sufficient to induce death. When predators are exposed to the toxic compound, most retreat. However, even minimum exposure can induce unpredictable behavior from hallucinations, and present a health hazard.
The animals at greatest risk of death are members of the canine genus. Canines typically attempt to eat the toad, irrespective the cost. An ingested toad continues to release the compound, which can induce deadly seizures, cardiac failure, and brain damage. Next to canines, those most at risk for death are children in their curiosity phase of development, typically during toddler years. During this time-frame, children touch random items and put nearly everything in their mouths. However, the lack of fur on humans allows 5-MeO-DMT to absorb rapidly through the skin, mouth, and eyes.
Households that have an outdoor, uncovered pool have an increased risk for exposure to this toad. While the Sonoran Desert Toad is primarily nocturnal, it is readily seen throughout the day around, or in, watering holes, like pools for mating. Further, those who favor using river rock landscaping should be mindful that toads blend into that environment, making them difficult to spot.
Preventative Measures
If erratic wildlife behavior attracts enough attention to induce one's curiosity, it is wise to leave the area. Severe hallucinations can trigger an animal's aggressive behavior without warning.


It is best to avoid direct skin contact with this toad, so keep garden gloves on hand to remove toads from the yard area.


People who live with outside pets should contact their veterinarian prior to an emergency and get the recommended dosage of Diphenhydramine, commercially known as alcohol-free Benadryl®, and keep that recommended dosage chart handy for when an animal encounters this toad. People should also ask for exact instructions on what to do in the event of consumption. Do not wait until an emergency happens to obtain this information.


Use Diatomaceous earth (D.E.) in the family yard area to keep insect populations down to a minimum, and regularly remove animal excrement to reduce these populations further. Toads are not as likely to enter the yard if there is not a food supply.


Check pool and skimmer for toads. Do not allow this animal to swim in a pool, as it will attract others. Whenever it is practical, cover the pool with a quality top. A suggestion would be to explore a 25-year mesh safety cover with a break-strength of 5200 lbs. (2359kg).


Under no circumstance should this toad be kept as a pet! These toads grow up to 7.5 inches (19cm) long and lives in excess of 10 years. They generally reach their adult length inside one year, and the larger the toad the more toxins it produces.


Teach children to avoid this animal, as one would teach to avoid a hot stove. Small children run a high health risk from exposure. It is important to talk to the child's pediatrician and obtain exact instructions on how to handle contact exposure prior to experiencing an emergency and keep those instructions readily available, as action is typically required within minutes.
You Should Also Read:
How to Handle Flea, Tick, and Lice Issues
How Valerian Root Helps Animals
How Echinacea Herb Helps Household Pets


Related Articles
Editor's Picks Articles
Top Ten Articles
Previous Features
Site Map



Follow @WildlifeWelfare
Tweet





Content copyright © 2023 by Deb Duxbury. All rights reserved.
This content was written by Deb Duxbury. If you wish to use this content in any manner, you need written permission. Contact Deb Duxbury for details.