Sweet Seduction - English Brown Ale , Mild Ale & ESB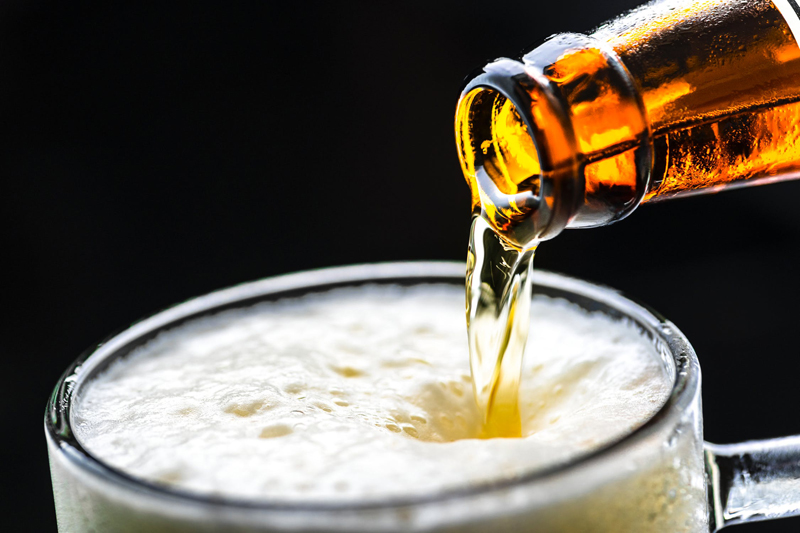 The "Pub" as we know it today, has become the heart of the English countryside, a reflection of casual attitude and fine breeding throughout the villages, towns and cities of Great Britain. Its rich history overflows with tales of invading armies, controlling royalty, religious rites, and hospitable alewives, while creating a tradition of fine brews known as English Brown Ales, Bitters and Mild Ales.

The first pubs in England were casual enclaves set up by the Romans over two thousand years ago. These "tabernae" displayed wine leaves around the perimeter of their doors, a primitive style of advertising that implied the serving of victuals, wine and local ale. As invaders came and went throughout the next centuries, the brewing of ale became a mastery of skill, due to the fondness for drinking exhibited by clansmen. These ales were brewed with malted barley, water and yeast, producing a sweet, yet powerful beverage that was prone to souring quickly. As brewers became more skilled, they developed brews with more "staying power" and passed these secrets on to their tightly-knit family units.

Traditionally, these ales were consumed at the house of the brewer – thus these homes became know as "alehouses" – and their chief brewers were "alewives." These alewives had become so successful, that by the 7th century, Ethelbert, King of Kent, enacted laws to restrict the number of ale sellers within the region.

During the 10th century, regulations were placed on the size of the drinking vessel itself. Since drinking vessels were shared, the new law required that a "measure" of ale would be marked by a peg on the vessel. According to the law, the drinker was required to drink to the peg - then, pass it on. Occasionally, the drinker would imbibe beyond his measure, taking the next drinker "down a peg or two."

As Christianity grew throughout the region, rituals involving drinking (similar to the pagan rituals they replaced) were adopted by the churches. Beer was brewed for church festivals or to raise money to fund  Church projects. These brews became known as "scot ales." As the levies on these ales increased with the ambitions of the church, a portion of the populace brewed in secret to divert these funds from the church treasury, thus the term "scot free" was developed.

As population and industry increased in England, the water supply became increasingly polluted, and ales became the only safe beverage. Alehouses captured a more permanent role – evolving into inns, taverns, and coach houses, each with a more specialized role in service to the public. The pubs remain as the hub of English society, providing centers for the gathering of associates, negotiating deals, celebrating successes, playing games, or relaxing in quiet ambience.

What might you expect in an English-style Ale?

Mild Ale is considered the traditional style of brew. This style is characterized by darker tones, with a sweet malty palate and subtle hoppiness. These are "session beers," providing full flavor and low alcohol content (3.5% ABV).

Bitters are the English specialty. It is important to note that in England, "Bitters" refers to a trademarked name and style, while in the United States, it is a style of beer. The name implies that this is "standard ale" or "session beer." Hues glow from deep gold to shining copper, and are light to medium-bodied with a fruitiness that is accented by the seductive aroma of hops. It is not particularly bitter, as the name might imply. Although English ESB or Extra-Special Bitter is full-bodied, it is not as assertive as the American ESBs that are brewed using the highest quality domestic hops.

English-Style Brown Ale is more closely defined by the region from which it springs. In Northern England, particularly in Tadcaster and Newcastle, these ales are medium bodied with hues of mahogany-brown. They are accented by nuttiness and malt, with a supple fruitiness, almost devoid of bitterness. Highly drinkable, they max out at about 5% ABV.

The Southern English Brown Ales are darker in color, yet sweeter on the palate. Despite their dark color, they are lighter in style than the Northern versions.

Beer Fox Recommended English Style Ales

Mild Ales:

Young's Dirty Dick's Ale – Young & Co.'s Brewery PLC, Wandsworth, London, U.K. – Coppery amber in hue with small tan head, this Mild is steeped in aromas of bready caramel with hints of toffee and fruit. Flavors reflect a light malt profile, with a symphony of fruit and roasty notes. Finish is bready, touched with yeast, but dry and enticing.

Victory Dark Mild – Victory Brewing Company, Downingtown, PA, USA – A deep mahogany, like an exquisite, well-stained import, with soft, even head. Light bodied, with delicate tones of toffee, earthiness, and mild lemon hops. You can detect the Belgian roots in this Mild, complete with sweet toffee, roasted chocolate malt, a kiss of hops and select toastiness at the finish. A superb offering!

Harbor Lighthouse Ale – Bar Harbor Brewing Company, Bar Harbor, Maine, USA – Rich coppery brown hue with creamy, tawny head, touched with a light, malt aroma. Flavors dance in the light sweetness of malt and bread, with a grain husk aftertaste. Incredibly addicting velvet mouthfeel adds to the high drinkability.

English Bitters:

Fuller's ESB – Fuller Smith & Turner PLC, Chiswick, London, U.K. – Amber with tangerine highlights and good head that thins out, leaving delicate wisps of lace. Rich malt with mild graininess and a distinct, hop bitterness. This work of art is a smooth and mellow blend of caramel and toffee sweetness, but on the drier edge. Very drinkable!

Brutal Bitter – Rogue Ales Brewery, Newport, Oregon, USA – Color is of light amber, with reflective hints of orange sunset and blondes on the beach. Aroma is both sugary sweet and hoppy, with hints of pine. Palate is characterized by a pleasant wash of hop bitterness, with a hint of sweetness in the background. Smooth mouthfeel adds to the aura!

Great Lakes York Street Bitter – Great Lakes Brewing Company, Cleveland, Ohio, USA – Crystal lights of copper with a frothy, white head, this ESB fills the nose with fruit and grassiness. The palate speaks of a pale malt character with a crisp, refreshing balance of citrus, adding a clean bitterness to the end.

Old Marcus – Middle Ages Brewing Company Ltd., Syracuse, New York, USA – Hues of iridescent amber are painted with coppery fire around the edges, topped with a pillowy, white head. Fruit esters of grape are greeted with floral presence, creating a beautiful balance between hop bitterness and malt sweetness. A light alcohol backbone enhances the dry raisin character, making for a highly drinkable bitter.

English Brown Ales:

Newcastle Brown Ale – Newcastle Breweries Ltd., Newcastle upon Tyne, U.K. – rich brown-walnut coloring with slight head that dissipates quickly. Roasted barley and malt builds itself around a nutty character and light sweetness. Background flavors of plum and grain wrap themselves within the medium-bodied profile, and end with a dry finish.

Naughty Goose – Goose Island, Chicago, Illinois, USA – Lovely brown with red and purple highlights encircle the caramel sweet aroma with citrus hops. A flavor profile of caramel, toast and chocolate are perfectly balanced by an earthy, spritzy, citric hoppiness within its smooth, medium body.

Samuel Smith's Nut Brown Ale – Samuel Smith Old Brewery, Tadcaster, North Yorkshire, U.K. – Emanates a rich, chestnut glow of mahogany, with little to no head. A nutty aroma immediately fills the nose with anticipation, blended with a slight graininess. Flavors of caramel nuttiness and molasses seduce you into spending a serious session with this best buddy!

You may wish to keep a notebook on your tastings as you explore the smooth characteristics and elegant bodies in these English wonders!

Cheers!
 
You Should Also Read:
Scottish Ales of Celtic Mystery
Porter - History of Beer and Imagination
Is Beer the Secret Spice of Life ?


Editor's Picks Articles
Top Ten Articles
Previous Features
Site Map





Content copyright © 2022 by Carolyn Smagalski. All rights reserved.
This content was written by Carolyn Smagalski. If you wish to use this content in any manner, you need written permission. Contact Carolyn Smagalski for details.