There are two tribes living in Dijbouti. Djibouti is known as the "Valley of Hell" since some of the hottest temperatures on earth have been recorded there. The lowest point in Africa, Lake Assal, is also located in Djibouti.
Interestingly, two-thirds of Djibouti live in the capital city of Djibouti whereas the rest of the population are nomadic herders.
Djibouti achieved independance from France in 1977. In November 1991, civil erupted between a rebel faction of the Afar tribe and the current government (predominantly Somali). The civil lasted through December 1994 ending with an agreement that the government would be reshaped to include a balance of Afar and Somali people.
The Afar Tribe
[alternate name: Danakil]
The Djibouti population for the Afar tribe ranges from roughly 130,000 to 170,000. They make up about 40% of the population in Djibouti. The Afar are an Eastern Cushite people whose language and culture related to the Somali and Oromo. The Afar language is classified as a distinct language similar to the Sohu of Ethiopia and Eritrea.
The Afar are broken down into two subgroups - the Asaemara and the Adaemara. The Asaemara (meaning red ones) are prestigious, powerful nobles who live along the coast. The Adaemara (meaning white ones) are commoners living in the mountains and the desert.
The Afar do not wish to be called "danakil" since it has an offensive meaning in Arabic.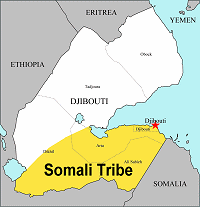 The Somali Tribe
[alternate name: Issa]
The Somali first appeared in Africa around 1200 AD. Around 1550 AD the Somali people converted to Islam (Sunni Muslim) due to the influence of the Arab traders. The Issa sub-group of the Somali tribe is the largest ethnic group in Djibouti today.
Twenty-five percent of the Somali in Djibouti live a nomadic shepharding lifestyle. They have small huts made from woven mats or boiled bark. These huts can be packed up and moved around on camels.

Tribes of Africa eBook
This eBook is the most complete listing of African tribes available on the internet. The first section of this book is the tribes sorted alphabetically by country. The second section is the tribes sorted alphabetically by tribe name.
This site needs an editor - click to learn more!

You Should Also Read:
Djibouti Country Facts
Tribes of Africa from Djibouti through Ivory Coast
Tribes of Africa eBook




Related Articles
Editor's Picks Articles
Top Ten Articles
Previous Features
Site Map





Content copyright © 2021 by Jeanne Egbosiuba Ukwendu. All rights reserved.
This content was written by Jeanne Egbosiuba Ukwendu. If you wish to use this content in any manner, you need written permission. Contact BellaOnline Administration for details.