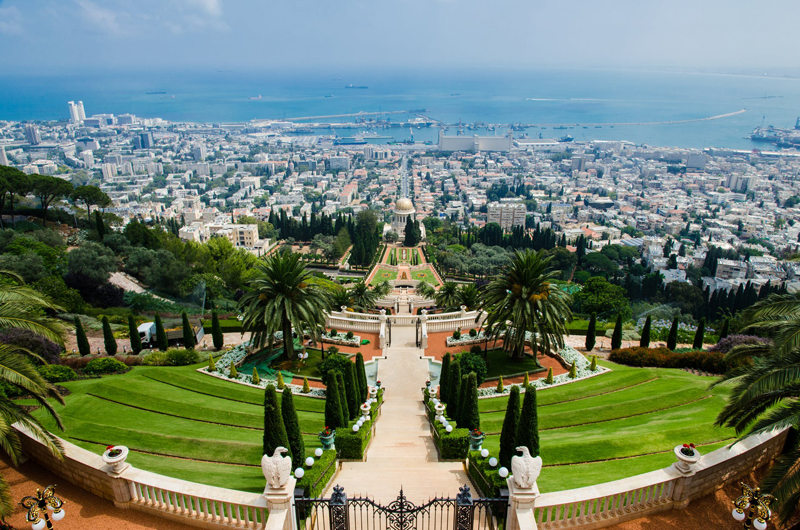 Bahá'ís are working to become people "whose most cherished desire is so to live and act as to enrich and illuminate the world, whose source of inspiration is the essence of Divine virtue, whose aim in life is so to conduct [themselves] as to be the cause of infinite progress." They believe that, "...true faith is no mere acknowledgement of the Unity of God, but the living of a life that will manifest all the perfections and virtues implied in such a belief." 'Abdu'l-Bahá, quoted in The Bahá'í World, Vol. I, p.12

The followers of this religion are convinced that not only is changing the world a possibility, but that it is also inevitable, because one unified world is God's plan for creation. The purposes of life are to know and love God, and to "carry forward an ever-advancing civilization....[because] To act like the beasts of the field is unworthy....Those virtues that befit [human] dignity are forbearance, mercy, compassion and loving-kindness towards all the peoples and kindreds of the earth." Gleanings from the Writings of Bahá'u'lláh, p. 215.

So, how is all that going to happen? As an individual you can't charge out the door expecting to change the world, or even your family or your neighbors, because you will soon fail. On the other hand, things are not going get better without individuals willing to work at it. The problem here is that life is not linear, but rather, an infinite series of feedback loops. Change one thing and it will affect another, which alters something else, which will have an impact on you.

An excellent example of the kind of problems a feedback loop can cause is depression, for which exercise helps more than drugs, but when depressed, who feels like exercising? To control depression, you can change the attitudes, the inner dialogues, that cause it, which can get you moving, or you can move, which will change the biochemistry of that part of your brain which controls mood.

But changing behavior is difficult to accomplish alone. Ask any smoker who has tried to quit! Human beings are not solitary by nature; we are a social species that has survived by watching and learning from each other. In order to change, we require--according to sociologists--a goal, a role model, and a supportive environment. We need to know things can be different, then see someone flourishing with this new behavior, and when we try it out, most of us will need encouragement from those around us to keep practicing until we succeed.

Within the Teachings of Bahá'u'lláh, Prophet/Founder of the Bahá'í Faith, these prerequisites to change are provided. Given that the primary focus of the religion is on unifying the entire human race, Bahá'í theology, social laws, and community administration are designed to assist transformation of individuals and groups.

In the book, Promulgation of Universal Peace, which is a compilation of the many speeches given while touring the USA in 1912, 'Abdu'l-Bahá explained that attaining any objective requires:
* knowledge--you have to know where you want to go
* volition--you need to decide you are going to work on it, and
* action--you have to get out there and do it.

Bahá'u'lláh gave mankind the goals--reiterating the importance of developing the virtues that every Messenger of God has emphasized throughout history. He gave His son 'Abdu'l-Bahá as a model of a virtuous life, and laid out the outlines of the kind of community which would assist in achieving those virtues. All mankind has to do is build that community!

So, where to start? According to this summer's women's magazines, the current Pop Science path to success states that to achieve a goal we need the Four As:
-Aspire to change (I want it)
-Approve the change (I deserve it)
-Assume success (I will have it)
-Affirm change has happened (I am successful at it)

To which Bahá'ís would add:
-Accomplish (I'm doing it) and
-Associate (I'm hanging with friends who support me and helping them to succeed, as well)

"Unto each one hath been prescribed a pre-ordained measure, as decreed in God's mighty and guarded Tablets. All that which ye potentially possess can, however, be manifested only as a result of your volition." - Gleanings from the Writings of Bahá'u'lláh, p. 149
You Should Also Read:
Characteristics of a Bahá'í Community
'Abdu'l-Bahá, the Perfect Example
Bahá'ís as Activists


Related Articles
Editor's Picks Articles
Top Ten Articles
Previous Features
Site Map





Content copyright © 2022 by Cheryll Schuette. All rights reserved.
This content was written by Cheryll Schuette. If you wish to use this content in any manner, you need written permission. Contact Cheryll Schuette for details.