Organic Brewers & Celtic Tradition - Crannog Ales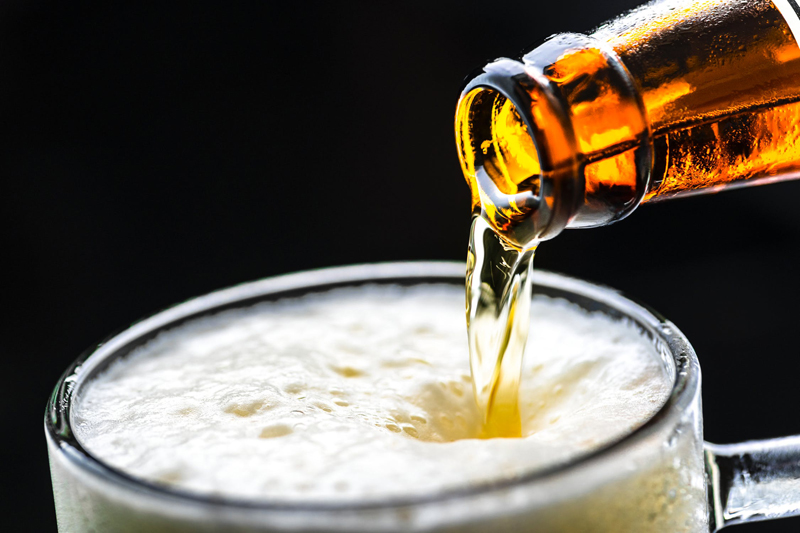 Images of crystal clear water surrounded by lush coniferous greenery are not uncommon in these parts. This is Sorrento, British Columbia, in the Shuswap region of western Canada. Each year, four-year-old salmon embark on the dangerous trek upstream during the Adams River Salmon Run from the Pacific to the spawning grounds – one that entails journeying over 225 miles in the face of opposing currents and thrashing rapids - all this to assure the propagation of the species.

In August, the Bluegrass Festival awakens the area with upbeat enthusiasm. This is the "Houseboat Capitol of the World," an area filled with water activities, as well as rock climbing, hiking and horseback riding.

Tucked within this Canadian landscape you will find Crannóg Ales, a "Certified Organic," old-world farmhouse brewery, one of only a few breweries of this type in the world. It is Canada's only certified-organic micro-brewery, adhering to strict provincial guidelines and inspected twice each year to assure compliance with the Pacific Agricultural Certification Society.

Brian MacIsaac is masterbrewer and co-owner of Crannóg Ales. His talents go far beyond the brewhouse, extending out to create masterpieces of Celtic Art displayed throughout the farm, on the Crannóg Ales website, and in little treasures of beer memorabilia.

The Certified Organic nature of Crannóg Ales verifies that this micro-brewery employs an ecological production management system that restores, enhances and maintains harmony with the earth and her delicately-balanced systems.

Eight varieties of hops are grown on this parcel, and in conjunction with BC Investment Agriculture, Crannóg Ales has created a hops growing manual for small-scale and organic producers of cultivated hops. Self-sufficiency is important in this environment – spent grain feeds the animals and is used for compost; a zero emissions system is in place; a market garden feeds the MacIsaac family while the surplus is used to support the farm.

Purity of water is a bonus component of Crannóg beers. Crystalline springs feed a well on the property, producing a hard water consistent with old-world strains of beer from Europe. A long shelf life is enhanced with the maturing process, producing more flavorful, matured beer with the addition of 3-4 months time.

As a draught only microbrewery, Crannóg Ales does not have the classic "beer labels" for collectors, despite the artistic hand of MacIsaac. They also do not have the means to ship beer globally, since they do not bottle. However,Crannóg Ales are available throughout British Columbia and your trip would not be complete without the incredible memories of this nectar from heaven!

Beer Fox Guide to Crannóg Ales

Partition Bitter – English Bitter – A golden brew with solid balance between malt sweetness and gentle bitterness. This bitter has a full, rich flavor profile, a reflection of MacIsaac's commitment to detail.

Beyond the Pale Ale – American Pale Ale – A golden amber with outlines of glowing copper and a frothy eggshell-colored head, similar to Northern Bitter. The Goldings and Pacific Gem hops arise out of a firm foundation of toasty malt within a round body. The finish is reminiscent of toast-and-jam, but with a clean clarity.

Hells Kitchen – Irish Red Ale – The addition of organic potatoes creates a delicate velour body unsurpassed by any other Irish red. Rich malts are suspended in coppery amber, as the finely balanced dew slips easily down your throat.

Back Hand of God Stout – Irish Dry Stout - Formerly named "Black Wolfhound," a dense ink-black body slumbers beneath its brown fluffy head, while bubbles arise to the top in a steady queue. This is British Columbia's best stout, having won three Consumers' Choice Awards, and with good reason! Aromas fill the nose with powerful sweetness of finest chocolate malts. A lean body is crisply pumped with a powerful punch and a soft-as-moss, dry finish.

Red Branch Irish Ale – Irish Red Ale – Rich red highlights entice your eyes as aromas of caramel and chocolate fill your nose. The taste is close to heaven – wonderfully hopped with Pacific Gem and Fuggles, while offset with tones of toasted malt.

Rotating Seasonals

Old Mill Flax Ale – Hybrid Ale – mild ale with toasted aroma and a body of silken allure. Flax oils add flavor and elegance, creating an overall impression of fine character.

Bansidhe Ale – Specialty Fruit Ale – Too complex to categorize as a framboise! Created with farm-grown raspberries, plums and crabapples, this triple fermented ale evolves a bit with each passing brew-session. The generosity of the growing season dictates variation in this specialty beer, swaying Crannóg's un-hopped hybrid into the realm of plum-crabapple-black-currant flavors and imparting a mild cassis personality. Cask conditioned!

Pooka Cherry Ale – Kriek – This attractive burgundy ale has a lovely pink head and bold aroma of fresh-grown cherries. Un-hopped, flavors blend in a sweet-tart flavor profile, ending in a finish reminiscent of red wine.

Beyond the mainstream...attentiveness to detail...and Certified Organic!
Cheers!
 
You Should Also Read:
Is Beer the Secret Spice of Life?
A Beer Fox Guide to Hops and Beer
Anheuser-Busch - Beer - Caffeine & Legendary Herbs


Editor's Picks Articles
Top Ten Articles
Previous Features
Site Map





Content copyright © 2023 by Carolyn Smagalski. All rights reserved.
This content was written by Carolyn Smagalski. If you wish to use this content in any manner, you need written permission. Contact Carolyn Smagalski for details.