Red Ales & Imperial Red Ales - Bold and Sexy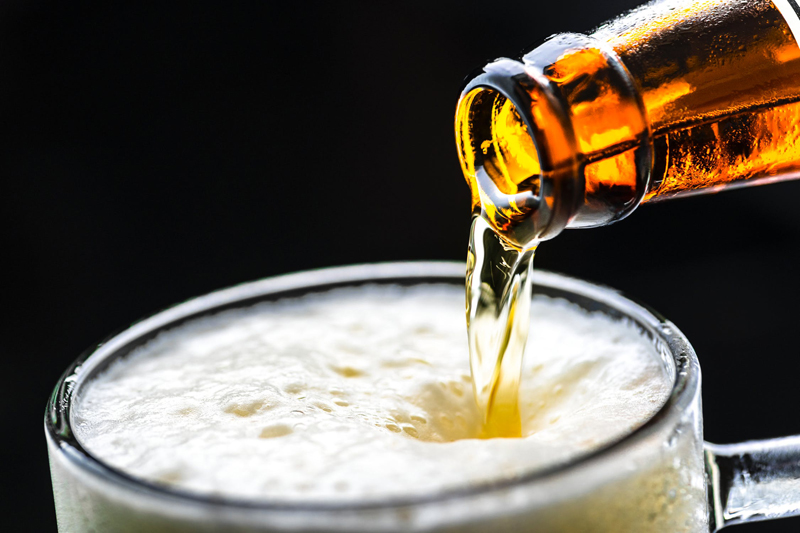 Is red a source of energy?

Perhaps Bill Blass was right when he quipped, "When in doubt, always wear red." The color of visionaries and leaders…the symbol of courage, confidence and spontaneity.

In most parts of Asia, red is a sign of good luck. In American culture, a red convertible is the signature of energy and sexual prowess. Ronald Reagan employed a red tie to attract attention. It was his sign of virility and power. A red rose is symbolic of desire, while fire red indicates flaming passion and sensuality. The ultimate symbol of red is the "Red Lion" - the elixir of life, held magically secret within a philosopher's stone, i.e., the power of immortality!

It is no wonder that American microbrewers infuse such energy into the creation of Red Ales and Imperial Reds. This is an evolving style, one with roots in European traditions as diverse as Bulgaria and Ireland.

American Red Ales are often categorized with Ambers – and occasionally, with Pales. True reds should be visually unmistakable when held up to light. Infused with a ruby glow that surrounds deep walnut, striking in ruby brilliance, bitten with burgundy or valiantly crimson!

The rich color discloses an expectation of the anticipated malt profile. A defined exuberance emanates from embedded tones of toast. Light fruit esters may be detectable, with heavenly chimes of sweet toffee and nougat. In Irish Reds, this sweeter malt remains defined, with a polite hop balance. In American Reds, however, this sweetness is balanced by an aggressively hopped character that can only be achieved with the addition of distinctive hop hybrids developed in the Northwestern United States.

As you progress from Reds to Imperial (or Double) Reds, the maltiness intensifies, as does the extreme hop-personality. Complexity increases with the higher alcohol content of the Imperial. This spotlights the hop profile all the more, taking you into groves of citrus trees or pine forests nettled with softened dirt floors. You may even feel the stinging bite of the hop monster and yield in a perpetual search for extreme hop pleasures.

Beer Fox Guide to Red and Imperial Red Ale:

Red Rocket Ale – Bear Republic Brewing Company, Healdsburg, California, USA – 6.8% ABV - Strikingly radiant ruby-tinged walnut with a creamy beige head that lingers like fog in the mountains. Aroma is of sweetened caramel, with citric bitterness sensually drifting past your nose. Its medium body tickles your tongue with fingers of caramel-roasted malt, as grapefruit skins and earthy pinecones slide down your throat in an explosion that is the mark of Centennial hops. Sweet on both ends of the spectrum, with a hop middle that handcuffs you to hedonistic bitterness.

Mad River Jamaica Red Ale – Mad River Brewing Company, Blue Lake, California, USA – 6.0% ABV – Body is seductive crimson-burgundy with creamy beige foam and retentive sheeting that dresses the glass like classic lace lingerie. The nose is filled with aromas of herbs and spices reminiscent of the Far East, while grapefruit hangs in the air. Flavors of caramel and fruit dance across your tongue. Oak and cedar follow with toasted bread and fresh yeast. A huge, aggressive cloud of hops, perhaps Chinook, rises like a dragon protecting his castle! Finishes as an impressive engraving of perfection!

Dry Hopped St. Rogue Red – (Draft only) – Rogue Ales Brewery, Newport, Oregon, USA – possibly 6.0% ABV – Crystal clear russet of precious gems! Citrus quasars of lemon and grapefruit mix with the coniferous profile of Raw Centennial hops. Sweet caramel chewiness, dripping with apple and apricot dew is offset by hot-peppery blasts of spruce needles. Dry hopping heightens the finish, and adds intensity to the pleasure sensors within your aromatic receptors.

Anniversary Ale 2004 – Minneapolis Town Hall Brewery, Minneapolis, Minnesota, USA– 6.8% ABV – (available in Growlers) – Intense crimson sealed beneath a thick, rocky froth of creamy foam. Rich malts drip with the juiciness of dark fruit and English toffee. Pine sap is intertwined with citrus and spice. Sheets of light lace undress down the sides of your glass, while a feather of prickly carbonation grazes your taste buds. This is a masterpiece in balance.

Sharkbitten Double Red – Pizza Port and Pizza Port Brewing Company, Solana Beach, California, USA – Polished cherry-wood with red edging and a thick, vanilla head of cream. Caramel malt blends with marzipan fruits of raspberry and orange, while spicy waves of citrus hops tame the rising sweetness with elegant ascendancy. Finishes crisp and dry!

Bold, powerful, passionate! Reds abundantly encompass a broad spectrum of profiles from the timid to the Tasmanian devil! Hundreds await your discovery! Search and enjoy!

Cheers!
 
You Should Also Read:
Beer Styles - Tribute to Jackson , Eckhardt , Gatza & Papazian
Secrets of Belgian Style Ale - Dubbels & Tripels
Scottish Ales of Celtic Mystery


Editor's Picks Articles
Top Ten Articles
Previous Features
Site Map





Content copyright © 2022 by Carolyn Smagalski. All rights reserved.
This content was written by Carolyn Smagalski. If you wish to use this content in any manner, you need written permission. Contact Carolyn Smagalski for details.