Breweriana - Collectors' Corner of Beer Stuff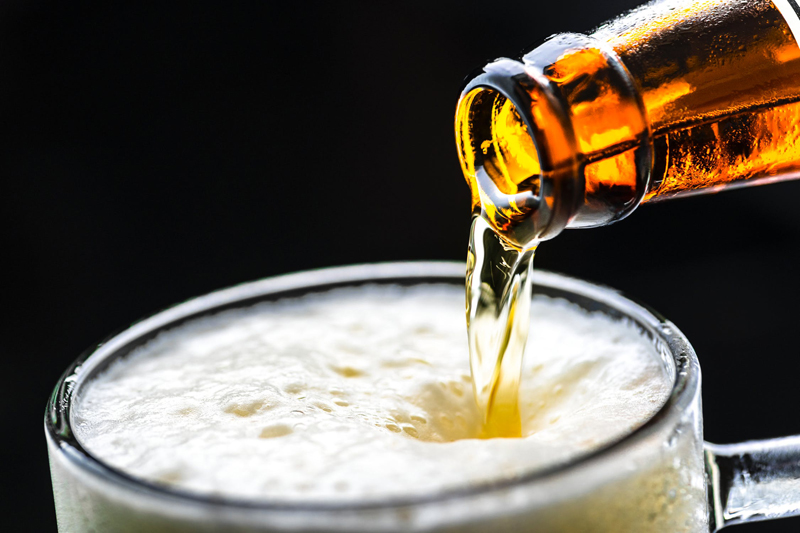 It's been a great Summer…all that time at the shore, chowing-down on steamed clams, suckin' on some great brews and pumping-up your spirit with a sound system that could knock the roof off a casino three-blocks away!   For three glorious months, you had it all!  Hit every bar on the Jersey coast.  You were hot!
Now you are home, and the monumental task of cleaning out that "Summer car" lies before you.  As you begin sorting through candy wrappers, CD's, granola bars, beach towels, and thongs (oops!  Where'd that come from?), you are fascinated by the huge collection of bar-coasters and bottlecaps on the floor of your car.  You tasted a lot of microbrews, and the collection is a testimonial of all those wild times with your elite animal pack!
You decide to gather the coasters and bottle caps in a bag, with thoughts of reliving those warm months in the dead of winter.  As you gather your "bag of memories," you begin to notice the artistry of each "crown" – the 21 kinks, an occasional message on the underside, or the brewery logo.  The coasters are just as fascinating.  Three days later you are watching an episode of The Antique Roadshow, and the value of an antique beer mug is estimated to be between three and four-thousand dollars – if the stars align on a particularly good day, it could bring in as much as $5,000. 
And you are bitten by "the bug."  Breweriana!
Collectors of beer memorabilia are among the most knowledgeable and organized of any in the business.  A solid knowledge of the historical development of manufacturing – printing, advertising, the development of materials and processes, technology, labeling laws, taxes, preservation – is necessary to properly "date" items, and organize them into collections that will bring in the greatest auction value. 
The late 1880's to World War II are considered the "golden age" for old-time collectors of breweriana.  When the "American Age of the Microbrewery" dawned in 1978, however, a whole spectrum of new miscellany for the beer enthusiast flooded the market, giving the new collector the opportunity to trade within an even playing-field.
Breweriana goes far beyond crowns and coasters.  Within the umbrella of the American Breweriana Association and the National Association of Breweriana Advertising (NABA), collectors can find the segment of collecting that provokes their passion, as well as information and experts on their favorite beer corner. 
Types of Breweriana 
Breweriana comes in all shapes and sizes, and you have a fascinating assortment of memorabilia to choose from:

Crowns (bottle-caps), beer cans (including "cone top" cans of the 1930's), beer bottles, coasters, labels, business cards, micro coasters, openers (cans & bottles), beer napkins, sports schedules, antique advertising, tin signs, neon signs, beer furniture, glassware, cast iron, trays, Lemp chargers (special edition concave advertising trays created after lithography onto metal was perfected), back bar advertisements, chalk statues, figurals and wallhangings (made of plaster of Paris and reinforced with horsehair), plastic figurines made of Bakelite, melamine, and early fiberglass (some of these were lit from within), cast aluminum, posters, tent cards, life-sized figures of cardboard or plastics, beer towels, beer t-shirts, ties, and lapel badges, beer ads, and audio advertising clips.
With such an enormous range available, most collectors narrow their collections, either by brewery, region, time-frame, sporting events, or some other segment that categorizes their breweriana.
One word of warning:  Always check references of the people with whom you do business!  There are great dealers, enthusiastic collectors, and disreputable folks in any business, and checking the reputations of these dealers or traders is a recommended practice to ensure a positive experience.
For more information on breweriana and the business of collecting beer stuff, the following sites may assist with details and contacts:
American Breweriana Association
Breweriana – Beery Bits and Bobs
Brewery Collectibles Club of America
Antiques Collectibles Directory
Cheers!
You Should Also Read:
Porter - History of Beer and Imagination
Beer Alert - The Magic of the Griffin
Secrets of the Brewmaster's Castle


Related Articles
Editor's Picks Articles
Top Ten Articles
Previous Features
Site Map





Content copyright © 2023 by Carolyn Smagalski. All rights reserved.
This content was written by Carolyn Smagalski. If you wish to use this content in any manner, you need written permission. Contact Carolyn Smagalski for details.