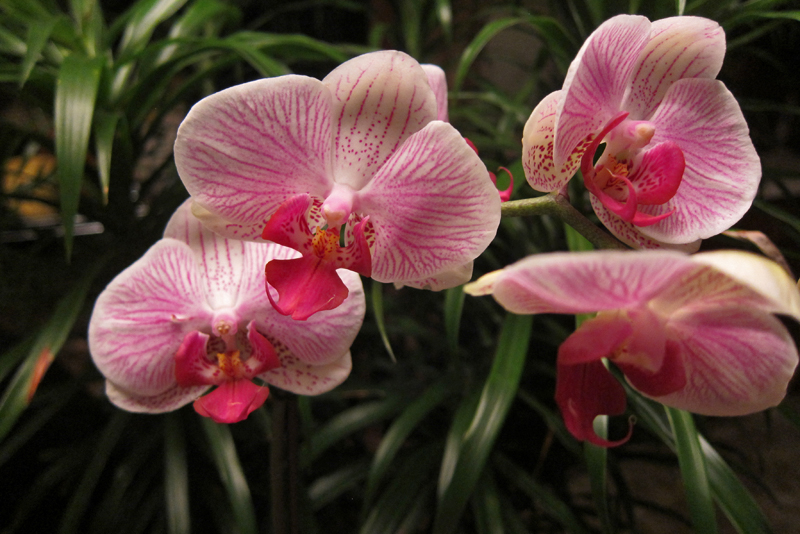 This is a continuation of the Tips articles which were posted previously. If you have any tips you'd like to contribute, please send me an e-mail with "Tips" in the subject line. I would like to thank the members of the AOS Forum, Orchid Dreams Forum and the Houston Orchid Society for the tips they contributed.

Hydrogen Peroxide Uses
Hydrogen Peroxide in a 5% solution can be used to kill insect eggs and most insects upon contact when applied as a spray to infected plants. It also is a good additive to fertilizer solutions since it will kill bugs in the medium. A 10% solution is a good disinfectant for surfaces and potting materials used in either the greenhouse or indoor planting areas.

Use "S" hooks instead of buying longer wire hangers
Most of the orchid supply vendors have something called "S" hooks which look just like what their name is, a large "S" shaped piece of wire. They are very inexpensive (and I suppose it would not be hard to make them yourself) and easy to use to add length to a plant that is putting out long inflorescences and needs more room above the normal hanging height.

Sterilizing utensils and used pots with Clorox
Use a 1:5 solution of Clorox to clean used pots, both plastic and clay, in order to sterilize them. In addition to thoroughly disinfecting the pots (including killing any viruses), it oxidizes and removes any organic debris. Dipping tools for 20-30 seconds will destroy any organism. Pots should be soaked overnight and then rinsed and allowed to dry completely before re-use.

Use yellow cups to catch insects
Smear plastic yellow cup with regular Vaseline and place in your greenhouse. The yellow color will attract all kinds of insects and they will be caught in the Vaseline. This works for aphids and mites.

Cutting cork mounts
Here's a neat idea for cutting large pieces of cork to the size you need. Use a drill to make a 'dotted line' to use to break the cork into the sizes and shapes you want from a large mounting piece. Then break the bark apart—it will give you a more natural-looking break than a sawed line does. It also helps to drill some extra holes in the cork to give the orchid roots a place to growth through and hang on. Try your local pet stores for cork and grape wood which are both excellent for mounting orchids.

You Should Also Read:
Orchid Growing Tips #6
Miniature Orchid Series
Orchid Growth Types


Editor's Picks Articles
Top Ten Articles
Previous Features
Site Map





Content copyright © 2022 by Susan Taylor. All rights reserved.
This content was written by Susan Taylor. If you wish to use this content in any manner, you need written permission. Contact Anu Dharmani for details.