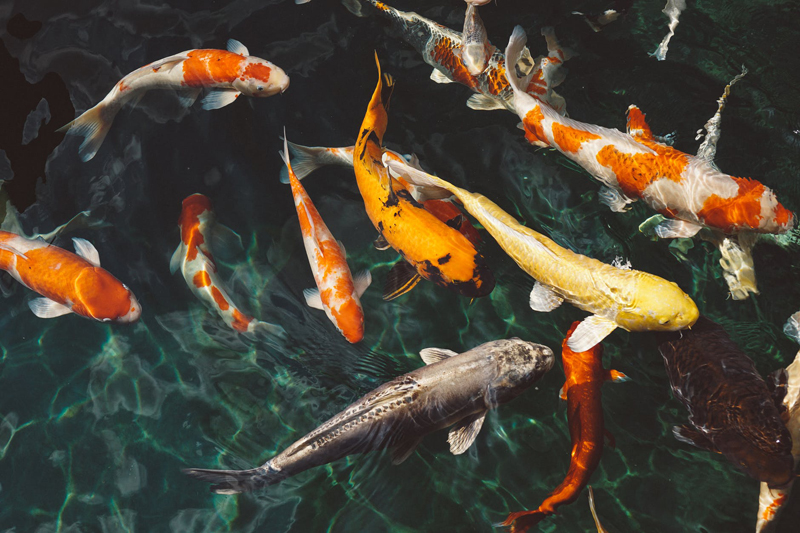 If you are lucky enough to have both fish and dogs as pets, you are fortunate indeed! They both give unconditional love and are loads of fun, to boot.

There are not that many problems associated with keeping both dogs and fish. Now, cats and fish can be a little trickier although that, too, is manageable - with a little forethought and care.

Dogs and fish, on the other hand, mostly just require you to think of your basic "dog proofing" ideas that you would normally think of in order to dog proof your house - just focus on keeping your fish safe, right? You know, the fish are not going to do anything to your dogs - but, your dogs, although not naturally that interested in fish (they much more prefer a thrown tennis ball to a swishing fish), a dog may accidentally knock over your fish tank if you don't take proper precautions. It's just your basic common sense.

Mainly, you would just want to make a plan for the room where you keep your aquarium or fish tank or bowl(s). It's a good idea to actually sit down and draw it out like an architectural plan - like you are redecorating your home.

Draw your kitchen or living room or bedroom or whichever room you will have your fish housed. Draw your fish tank and cut it out and move it around the drawing of your room to help you decide which spot is ideal in your own individual living space.

Draw your dog, too, and cut him out and move him around the picture of the room, too, in order to "think outside the box" and consider all possible combinations of fish and dog living together. This is a very helpful tool since it is visual and most of us are visual learners.

This way, you can also make notes to yourself on your drawing so that you can be sure to remember your thoughts later and thus make a better final decision on fish tank placement. In addition to that, this will allow you to also formulate alternate plans for placement that you may use as "Plan B" should the original attempt at placement not in reality turn out the way it did in your imagination. Sometimes, you have to put the plan to the test and observe to discover the best way to do it since there may be variables you didn't account for such as noises or vibrations or heat.

For example, your fish would most likely not be safe on a coffee table since your dog may innocently try to lap up the water your fish is swimming in and unintentionally kill your fish. Your dog, with your fish so low and near your dog's level, may accidentally swish your fish's container onto the floor and trample your fish without knowing what he or she even did. Your dog may just be excited to greet you and his tail wags happily and then disaster ensues for you and your fish.

Speaking of places your dog can reach, it depends on your dog's training and his size. If you have trained your dog to absolutely stay off of the counters, then there could be many possible safe places for your aquarium and fish bowls. Safety first. Your placement of your fish's tank must be a combination of the ideal location for the tank according to sunlight and drafts and all those things we have discussed in previous articles about optimal aquarium placement in the home; and of the safest place in the house with consideration for your dogs - and without any compromise for either animal.

A little planning and there's less to worry about later: dogs, fish, and people alike can live together happily.













You Should Also Read:
Keeping Bettas and Cats
How to Buy Toys for your Fish
the Importance of Clean Water For Betta Fish


Related Articles
Editor's Picks Articles
Top Ten Articles
Previous Features
Site Map





Content copyright © 2022 by Mary Brennecke. All rights reserved.
This content was written by Mary Brennecke. If you wish to use this content in any manner, you need written permission. Contact Mary Brennecke for details.