Celebrating the Celebrator - Tom Dalldorf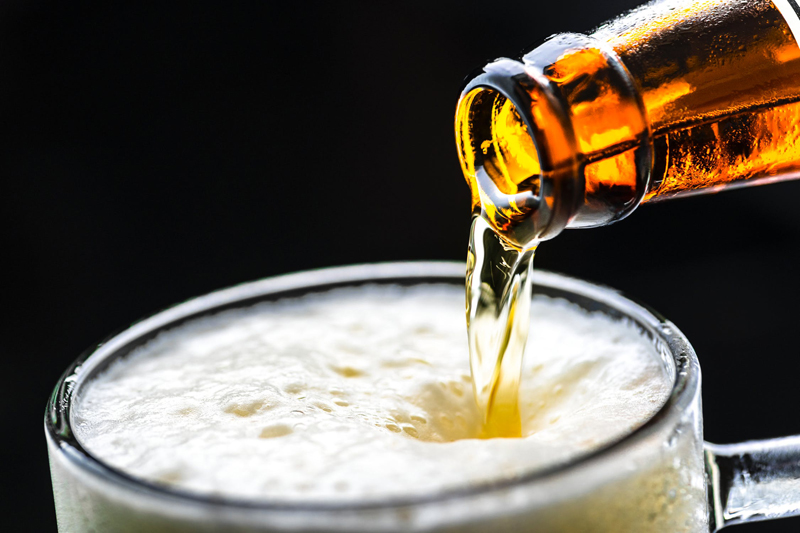 He is the supreme reflection of West Coast living: laid-back, progressive, energetic, high-spirited, unconventional, cosmopolitan, and fun-loving – all rolled up into one. You may call him the epitome of the beer-taster with a discerning palate, an icon in the beer industry… yet light-hearted enough to revel in an impromptu jam session as he belts out his classic Goin' to Berkeley City with the Rolling Boil Blues Band.

The San Francisco Chronicle calls him "quick-witted and impassioned," one who has gathered a following of loyalists over seventeen-plus years as publisher, editor and columnist of Celebrator Beer News, the oldest running publication of its kind in the United States.

This is Tom Dalldorf, a legend within the craft-beer industry. He commits no hesitation in spreading the hop gospel to as many beer enthusiasts as will listen. A combination of past Air Force discipline blends with over twenty-three years in the beer, food and wine industry and an insatiable thirst to create a brewspaper that covers the gamut from beer-styles and history to festivals and emerging craft-markets. Dalldorf radiates like a diamond in this 'liquid topaz' industry.

As a beer drenched publication, Celebrator has earned high honors across the North American continent. As early as 1996, Ale & Lager Examiner listed Celebrator as Number One Brewspaper in the Annual Readers Survey and among the Readers' Choice Top Ten Beer Publications. Happy Hours.com named Celebrator as Top Pick in the Brewspaper Category, and the Horse Brass Pub in Portland, Oregon calls it the "Bible of the Brewing World."

This is no surprise, considering Dalldorf's innate talent for leadership among beer enthusiasts. His bi-monthly publication is chock full of well-established beer writers: Fred Eckhardt, recipient of the 2005 Beer Journalism Award for Trade & Specialty Beer Media at the Great American Beer Festival in Denver, Colorado; Lisa Morrison, Oregon correspondent and recipient of the 1994 Beer Journalism Award – Morrison was celebrated as the first winner in her category of the newly established writers' awards at the GABF; Steven Beaumont, author of The Great Canadian Beer Guide; Beer Cook Lucy Saunders; Denver freelance writer Marty Jones; John Rowling, first President of the Victoria, British Columbia, Division of CAMRA and a co-founder of the Great Canadian Beer Festival; and on and on…

Dalldorf contributes regularly to his publication as a roving, cross-country expert, covering everything from brewers' conventions and beerapaloozas to brewery openings and anniversary celebrations. He creates a global overview of the beer scene in his feature, Hop Caen, his own 'raised glass' to the late columnist Herb Caen of The Chronicle - the beloved icon who penned a daily column from 1938 until his death in 1997.

The hard-working, hard-playing Dalldorf is a multi-faceted display of quasar energy. He exhibits composure as moderator of forums and panel discussions for the promulgation of craft brewing trends; attends such West Coast events as the Boonville Beer Festival, Great Alaska Beer & Barley Wine Fest, and Northern California Rhythm & Brews Festival; participates in the annual Brewers' Conference, sponsored by the Brewers Association; and hosts an annual event to celebrate the ongoing success of Celebrator Beer News.


The chile-sauce that adds spice to the mix is Dalldorf's own Rolling Boil Blues Band, an odyssey of music-lovin' beer folks sifted together to create brews-music specifically re-written for enthusiasts of the golden elixir.

'Dizzy-Bones Dalldorf' writes the 'tuns,' sings lead and plays rhythm guitar, while pulling together an A-team to create the Super Bowl of Beer 'Tuns' on his CD, Bootleg Boil, recorded live at Pyramid Brewery & Alehouse in Berkeley, California.

If you are a beer enthusiast, the words alone will pull you like a magnet to the metal. To the tune of ZZ Top's Sharp Dressed Man:

"Mash tun, spent grain
He's got a brewhouse that is quite insane
Carboys, stacked high
He's brewin' suds that make the little girls sigh…"

Infected beer once got him sued,
But every girl's crazy 'bout a Home Brew Dude."

George Thorogood's Bad to the Bone is the foundation for Dalldorf's Born to Brew Beer:

"Its got to be all grain, boy
No substitute
There's only one way, boy
Reinheitsgebot
Get you a kettle
Mash tun too,
Sparge them grains, boy
Till it look like goo
Born to brew beer…"


Scotty Moore plays a killer lead guitar on the CD, with Bruce Joseph from Anchor Brewing Company on Fender bass. Depending on where they are jammin', Rolling Boil Blues Band may feature different instruments and musicians – drums, a horn or two, additional guitars, and a hogshead of enthusiasm brought to the top by Dalldorf.

And he's not afraid to wear his UtiliKilt to steal the show!

Whether acting on behalf of the beer industry, conducting lectures, editing copy or cranking out beer tunes, Dalldorf takes the lead as a World-Class professional and leading authority among beer aficionados.

Cheers!
 
You Should Also Read:
Homebrewing - Books & Resources - Novice to Expert
Beer Styles - Tribute to Jackson , Eckhardt , Gatza & Papazian
Garrett Oliver - Brooklyn Brewmaster of Beer & Food


Editor's Picks Articles
Top Ten Articles
Previous Features
Site Map





Content copyright © 2022 by Carolyn Smagalski. All rights reserved.
This content was written by Carolyn Smagalski. If you wish to use this content in any manner, you need written permission. Contact Carolyn Smagalski for details.