German Schwarzbier - Bold and Black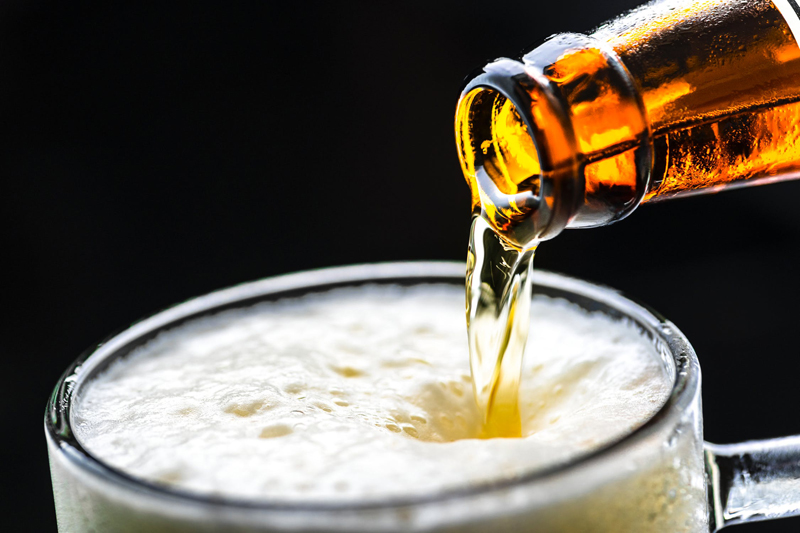 Totally devoid of light, the rich black body stands encased in a robe of darkness, momentarily shimmering with mahogany hues as the persistent aficionado searches for a glimmer of color beneath its tawny, tan head. Perhaps the oldest style of beer in Eastern Europe, "Schwarzbier" gave the city of Kulmbach, Germany, its royal name as "silent capital of beer."

During a 1935 dig located seven miles west of this Bavarian city of Kulmbach, archaeologists unearthed an amphora-shaped beer vase from an ancient Celtic burial pit, an artifact dated from the 8th century B.C. Within the confines of the ancient vase, was a substance determined to be blackened bread, a material associated with the earliest brewing techniques of the Celtic and Germanic tribes of Europe. These techniques employed half-baked bread immersed in liquid, and subjected to the unpredictable action of wild, airborne yeast. The blackened nature of this bread is powerful evidence that these ancient tribes brewed ale that was deeply opaque, the first schwarzbier.

Remnants of brewing have been discovered throughout Bavaria, and in the old eastern state of Germany known as Thuringia, a region of mountains, castles and medicinal spas. The oldest documented schwarzbier is Braunschweiger Mumme, brewed since about 1390 in Braunschweig, a member of the Hanseatic League and an important trade city during the Middle Ages. However, the classic schwarzbier as we know it today hails from the Thuringin town of Bad Köstritz, a spa town north of the Bavarian border, possibly Bohemian in origin. It is generally believed that the first Kostritzer Schwarzbier was ale, but developed into a lager beer by 1878 with the introduction of German bottom-fermenting yeast.

Beer Fox Recommended Schwarzbier

Sprecher Black Bavarian – Sprecher Brewing Company, Glendale, Wisconsin, USA – Deep mahogany walnut body with total opacity sports a creamy, chestnut head and khaki sheeting of lace. The nose is of caramel and bittersweet chocolate, with a smattering of nutty undertones. Crisp coffee flavors dust the palate, infused with bready caramel malt and light chocolate. Finish is dry, with spice that lingers in the throat.

Monchshof Schwarzbier – Kulmbacher Brauerei A.G., Kulmbach, Germany – Deep garnet-brown elixir shimmers beneath an ostentatious tan head. The air fills with aromas of toffee, milky chocolate and sweet caramel. The mouth delights in the silken flavors of chocolate malts, while coffee and hops merge in a smooth and dry finish.

Köstritzer Schwarzbier – Köstritzer Schwarzbierbrauerei GmbH & Co., Bad Köstritz/Thüringen, Germany – Intense cola-brown body upholds a rocky, burnished-tan head, while latte notes emerge into the air. Creamy coffee flavors slink into complexities of dark chocolate, burnt sugar, and a kiss of hops.

Schwarzbier – Hereford & Hops Brewpub, Wausau, Wisconsin, USA – Clear deep blackish ruby cape sits beneath a tight, creamy beige head, while a froth of lacing coats the crystalline walls of the glass. Emerging aromas of roasted nuts, molasses, espresso, tobacco and bread diffuse into the air. The mouth is treated with the pleasurable delights of nuts baked in brown sugar, pumpernickel brushed with molasses and a latent touch of licorice. Mouthfeel slides gently like velvet on ice.

Death & Taxes – Moonlight Brewing Company, Fulton, California, USA – Deep sepia lady slinks beneath an ample, creamy, mocha head, while sheets of lace slither against the glass. Imported coffee merges with chocolate and toasted grain in an olfactory delight. Smooth and pure flavor profile of espresso, German chocolate malt, and spicy hops presents itself as a hearty, bold player.

Black Moravian – Great Dane Pub & Brewing Company, Madison, Wisconsin, USA – Shining black torso with froth of milky brown emits aromas of gourmet java and charcoal. Flavors of rich roasted nuts, fresh ground coffee, black malts, charred caramel, and licorice paint the tongue with an explosion of complexity. A final pizzazz graces the tastebuds as German hops spice the palate.

Cheers!
 
You Should Also Read:
Beer Fox Guide to Dortmunder
A Classic Beer Guide for Women
Porter - History of Beer and Imagination


Editor's Picks Articles
Top Ten Articles
Previous Features
Site Map





Content copyright © 2023 by Carolyn Smagalski. All rights reserved.
This content was written by Carolyn Smagalski. If you wish to use this content in any manner, you need written permission. Contact Carolyn Smagalski for details.