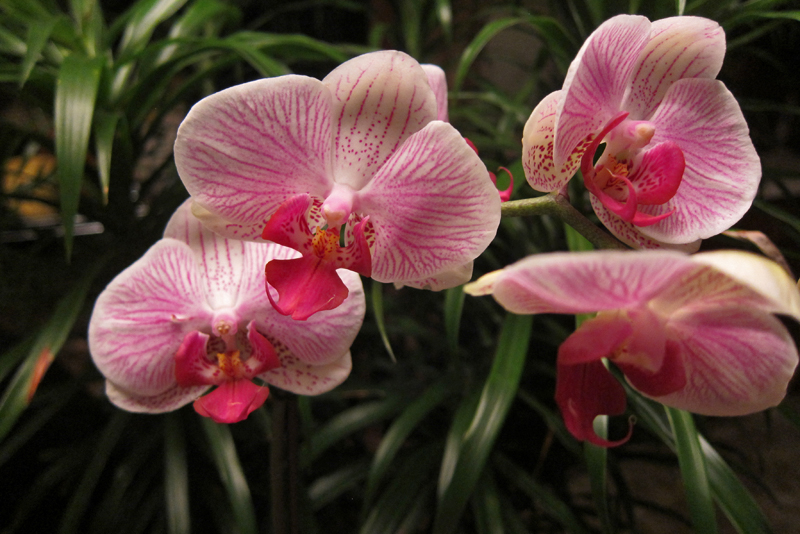 The weather is taking a turn and your orchids need to be shifted inside, as the outside temperatures have started to dip. Orchids have different sensitivity to the temperature. There are some orchids that need to be shifted much earlier than others. These are temperature sensitive and they are mostly tropical orchids. Remember, in the tropics the temperatures rarely touch freezing point. Orchids like certain Dendrobiums (hard cane type), Phalaenopsis, Vandas belong to this category and these do not like temperatures below 10°C ± 2.

Shifting the orchids inside does not mean that you put them all in your living room. Depending upon the temperature ranges in your area, you can shift the orchids to different locations in your house. If the temperatures do not fall much, then the orchids can be simply moved under a tree and can also be bunched together. You can also place the orchids under some cover, such as cloth or plastic sheets. Or if you have a covered porch, it can also serve as a good shelter. But if the temperatures fall quite low, then it would be better to shift them inside. The garage can be an option, if you do not want to bring in the added wild life that lives in and around your orchid when outside.

In winter, it is not just the low temperatures but also the wind conditions that affect the orchids. Low temperatures accompanied with gusty winds are quite harmful to orchids. So the orchids need protection from the wind as well. However, you need not worry if the wind conditions are normal or it the temperatures are high but the conditions are windy.

Upon exposure to low temperatures, the symptoms of injury in plants do not appear immediately but become evident much later. So it is better to shift the orchids to safer place before outside temperatures start touching freezing point. As the dew on leaves can cause harm on freezing. Sometimes, in order to give maximum sunlight in the winter months, orchids are placed very close to the windows with the leaves touching the glass. However, this should not be done as the window glass can get very cold especially at night.

How to know your orchid has suffered damage due to low temperatures
Symptoms of low temperature injury depend upon the extent of exposure and the level of temperature the plant was exposed to. Chilling, cold and frost injury happens when orchids get exposed to different levels of low temperatures. Some symptoms of low temperature injury are listed below.
1. Water soaked regions can be observed on the plants.
2. The leaves turn black and soft or there are necrotic spots. This is because the leaf tissue dies and the rot, probably due to viral infection, sets in. This can spread quickly to rest of the plant, so the affected area should be cut and removed.
3. The bulbs turn brown and dry.
4. If the leaves turning brown and hard, then this is not due to cold, but the leaves have suffered sunburn instead. This happens when sometimes we think that the orchid needs more sunlight because of cold temperature in winter, but the clearer skies and full sun for longer period can be just as harmful in winter as it can be in summers.
5. Susceptibility to viral and bacterial infection increases after injury due to low temperatures.

References
1. Choy Sin Hew. 2001. Ancient Chinese Orchid Cultivation: A fresh look at an age-old practice. Scientia Horticulturae, Vol. 87: 1 – 10.
2.Snyder, R.L. 2004. Worldwide frost problems and frost protection. International Society for Agricultural Meteorology-Needs for agrometeorological solutions to farming problems.


You Should Also Read:
Effect of Low Temperatures on Orchids
Watering Orchids
Shifting Your Orchid Outside


Related Articles
Editor's Picks Articles
Top Ten Articles
Previous Features
Site Map





Content copyright © 2022 by Anu Dharmani. All rights reserved.
This content was written by Anu Dharmani. If you wish to use this content in any manner, you need written permission. Contact Anu Dharmani for details.