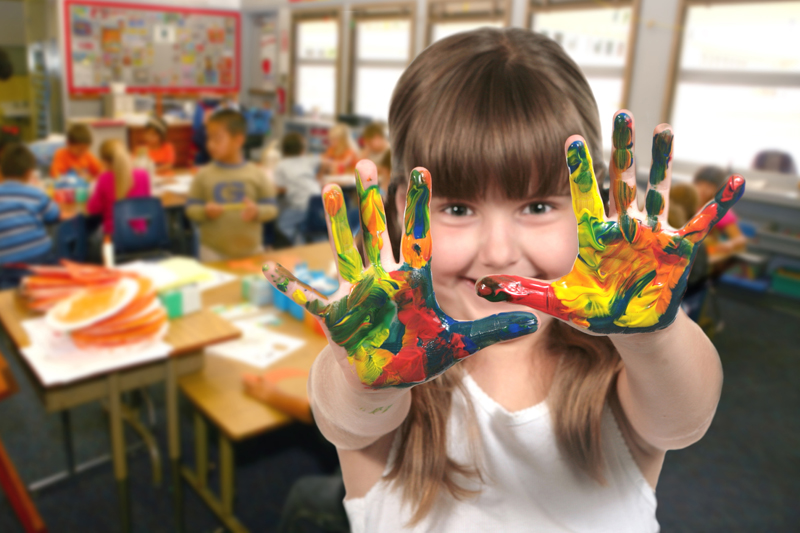 Read about spring, talk about the first signs of spring and then make a Spring Chick Book with your child. They can tell you some of their favorite signs of spring. You can work on this project over several days to allow discussions and decisions about the signs of spring.
Spring Time – Baby Chick Time
Make a Book
"What is your favorite thing about spring ___________? "
Baby Chick Book
Materials:
Children's books about spring
Enlarged baby chick pattern
Oak tag or heavy poster board
Glue stick
Scissors
Colored markers and crayons or water colors
Laminator
8 1/2" x 11" paper – soft pastels if available or white
Hole punch and yarn
What to do:
• Read several books about spring, and talk about the first signs of spring. Make a book about spring.
• Draw or glue an enlarged baby chick patter on two pieces of poster board (about 10" x 12").
• Cut around the shape which will then become the front and back covers.
• Also cut plan paper into the baby chick shapes for use as the book pages.
• With markers, or paint color the chick yellow and the beak and feet orange
• Laminate for durability, and cut out close to the edge of the chick piece.
• Write the follow sentence on small sentence strips: "My favorite thing about spring is _______"
• Each day let your child/children take a strip and fill in the blank.
• Then let them choose one of the paper chicks to glue the sentence strip at the bottom of the page.
• Using crayons they can then illustrate their sentence at the top of the page.
• Work on this project over several days to see the different spring images they create
• Read a different springtime book so they have lots of ideas to choose from.
• When you have enough pages completed help your child assemble the finished pages, and bind them between the covers using a hole punch and yarn.
This fun project can be used for any season – image a pumpkin shaped book, or a turkey shaped book, or even a birthday cake shaped book! Always start this project by gathering several books about the season or event to read together.
Related books:
Good Morning, Chick
by
Mirra Ginsburg
Bright pictures and fun animal sounds make this a delightful book for young children.
The Baby Chicks Are Singing / Los Pollitos Dicen
by
Ashley Wolff
This song about spring is perfect for bilingual children just learning to read – the poem/song words are both in English and Spanish.
Pip! Zip! Hatch! Love!: A Complete Kid's Guide To Keeping Chickens
by
Susanne Blumer
A book for young children who want to learn how to keep chickens.
Note: These books about spring are from my personal library.


Related Articles
Editor's Picks Articles
Top Ten Articles
Previous Features
Site Map





Content copyright © 2019 by Launa Stout. All rights reserved.
This content was written by Launa Stout. If you wish to use this content in any manner, you need written permission. Contact Launa Stout for details.