Eggs Benedict Italian Style Recipe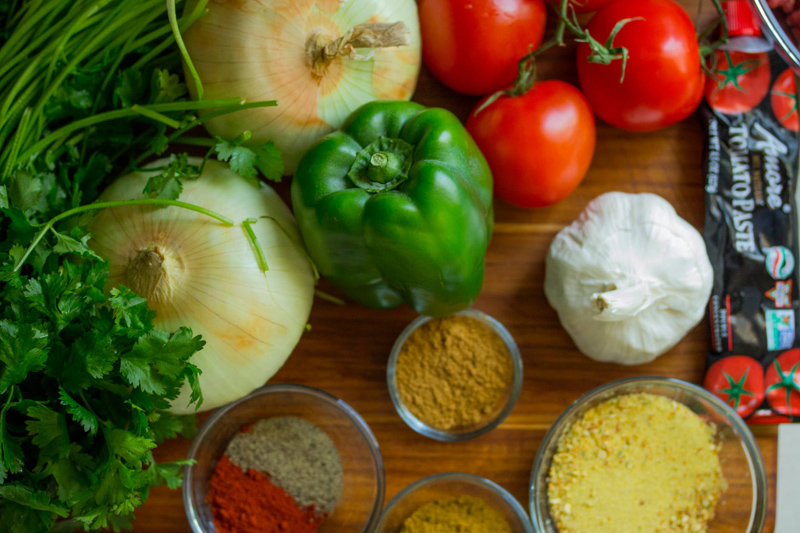 This is an incredible brunch recipe. These eggs are stylish and flavorful when resting on a potato cake and topped with a red bell pepper sauce.
Eggs Benedict Italian Style
Ingredients
Potato Cakes

2 cups potatoes, shredded
1 egg, beaten
2 Tbs flour
1/2 cup Provolone cheese, shredded
1 clove garlic, minced
1/2 Tbs thyme, minced
4 basil leaves, sliced thin
1 medium zucchini, julienned
1 cup white mushrooms, sliced
1 green onion, diced
1/2 red bell pepper, diced fine
1 + 2 Tbs olive oil
1/2 + 1/2 tsp salt
1/2 tsp black pepper, freshly ground
Red Bell Pepper Sauce

6 egg yolks, beaten
1 1/2 Tbs water
2 1/2 sticks unsalted butter
1/4 tsp Salt
1/4 tsp white pepper
4 tsp fresh lemon juice
1/4 cup roasted red bell peppers
1 tsp Dijon mustard
Poached Eggs

Water for pan
12 eggs
12 slices Prosciutto crudo (Prosciutto ham), sliced very thin
6 sprigs Italian parsley
Directions
Potato Cakes

In a bowl mix together the zucchini, mushrooms, green onion, bell pepper, salt, and 1 Tbs olive oil.
Place the vegetables on a cookie sheet and bake at 375F for 20 minutes. Remove and allow to cool slightly.
Mix together the potatoes, egg, flour, Provolone cheese, garlic, thyme, basil, salt, black pepper, and roasted vegetables.
In a large skillet heat 2 Tbs olive oil over medium heat.
Cook 1/3 cup portions of the potato-vegetable mixture over medium to medium-high heat for 3-5 minutes each side, until golden brown.
Remove the potato cakes and keep warm.
Red Bell Pepper Sauce
Purée the roasted red peppers in a blender or food processor.
Place the egg yolks in the top of a double boiler, over medium-high heat.
Whisk in the water.
Slowly add the butter while steadily whisking the egg yolks.
Continue to whisk until the sauce starts to thicken.
Add the salt, white pepper, and lemon juice and continue to whisk over hot, but not boiling water, until the sauce is thick enough to coat a spoon.
Whisk in the puréed red bell peppers and mustard.
Continue to whisk over the hot water until for 1-2 minutes.
Poached Eggs
In deep skillet, boil 2 to 3 inches of water.
Reduce the heat to low, but the water should still simmer.
Break eggs, into individual custard cups or bowls.
Being careful, slip the eggs (in the cups)into water.
Cover and cook until the whites are completely set and yolks begin to thicken but are not hard, about 3 to 5 minutes.
Lift out the cups and drain any water off the eggs if necessary.
Eggs Benedict Italian Style
On a plate place 2 potato cakes.
Cover each cake with a slice of prosciutto.
Slide the eggs out of the cup and place 1 egg on top of each slice of prosciutto.
Top each egg with 1/8 cup of sauce.
Garnish with Italian parsley sprigs.
Serve immediately.
Note: Do not let any of the egg dishes (sauce or poached eggs) sit at room temperature for more than an hour--including cooking time. If necessary the sauce can be made ahead and reheated.
You'll note that the red bell pepper sauce is a fun variation on hollandaise sauce. It will perk up many bland vegetable dishes.
You Should Also Read:
Frittata Recipes
Baked Stuffed Peppers Recipe
Paula's 4 Pepper Pasta Recipe


Related Articles
Editor's Picks Articles
Top Ten Articles
Previous Features
Site Map





Content copyright © 2022 by Paula Laurita. All rights reserved.
This content was written by Paula Laurita. If you wish to use this content in any manner, you need written permission. Contact Cinzia Aversa for details.