Beer Theme Movie Classics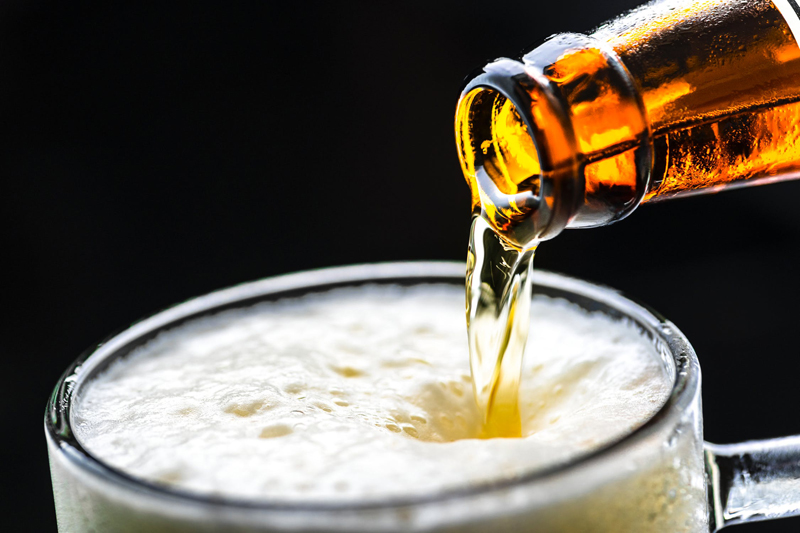 As an enthusiastic lover of the golden brew, your senses have dedicated themselves to experiencing every nuance of the magical potion that others just call "beer." You are one who acknowledges emotional euphoria at the sight of a topaz liquid lingering under a capacious head of rocky white. You delight in the diverse aromas of malt, caramel, citrus and pine. Essences of toffee, chocolate and French-roast-coffee awaken your tastebuds as they intermingle with the sweetness of malt and the spice of hop oils. As the silken liquid coats your mouth, you experience delight as the luscious amber fluid slides down your throat.

With such an appreciation for beer, there is little that can surpass the joy of immerging into an overstuffed sofa with a cool glass of lager, your favorite warm body and a broad, flat-screened DVD-treat about your preferred addiction…beer!

Beer movies extend across all genres. Diversity in taste among beer aficionados begs for a movie that will match your style and mood, while enhancing physical pleasure with just the right beer signature as fuel for the psyche.

Movie Matches and Beer – Three Classics

Stooges Shtick
Movie:  Three Little Beers
Genre: Slapstick Film
Mood: Classic comedy with no consequences
Sink into schlock with a 17-minute warm-up of slapstick mayhem. In 1935, director Del Lord merged the talents of Moe Howard, Larry Fine, Curly Howard and Bud Jamison in the short comedy classic, Three Little Beers. As bungling brewery deliverymen, "stars-of-glory" fill the Three Stooges' eyes as they dream of winning the company golf tournament. A stealthy, pre-tourney practice session ends in a cataclysm of disaster, as barrels of brew spill from their get-away beer truck.

Recommended Beer: Cropton's Calamity Ale / Uncle Sam's Bitter – Cropton Brewery, Cropton, North Yorkshire, United Kingdom
Style: English Bitter
Earthy and bottle-conditioned, Cropton's apricot-gleaming gem sports a lavish coating of foam over a bouquet of fruit-touched breadiness. Malt seizes your tongue, as Cascade hops temper the sweetness with a balanced edge.

Working for Beer
Movie:  Strange Brew
Genre: Wacky Comedy
Mood: Sophomoric laughs
A wheelbarrow of juvenile comedy primes the pump in the 1983 film, Strange Brew, starring Dave Thomas and Rick Moranis as the iconic, dull-witted Canadian hosers who have spawned a cult-following among SCTV fans and moviegoers alike. Within the plot's silliness, Bob and Doug McKenzie design ways to get free beer while a mysterious scheme to take over the world is initiated by mad-scientist Brewmeister Smith, (Max von Sydow). Our beloved buddies from the "Great White North" deliver their abominable brand of assistance, as well as enough one-liners and verbal dessert to satisfy the most ravenous appetite. "Take off, you hoser. Eh?"

Recommended Beer: Hermannator Ice Bock – Vancouver Island Brewery, Victoria, British Columbia, Canada
Style: Eisbock
Crystalline and dark copper with a veiled white caplet, the solid body arises in a bready malt base, peppered with alcohol-dipped dark fruit tones of dates, raisins and plums. Spices paint the inner recesses of your mouth with fullness and end in a solid, dry finish.

Surreal Golden Age
Movie:  The Saddest Music in the World
Genre: Film Noir style – drama/musical/black humor/
Mood:Kafkaesque musical melodrama
In classic Film Noir style, Guy Maddin directs this 2005 release, The Saddest Music in the World, set in Winnipeg, Manitoba, (1933) during the depths of the Great Depression. Maddin, in collaboration with George Toles, sets the mood with an astute level of cinematography, employing old-fashioned iris lens techniques to create the antique, distressed look of a Golden-age movie-screen, using grainy blues and silvers to invoke moods of emotional intensity. He skillfully manipulates stark camera angles and chiaroscuro to accent light and shadowy effects, while highlighting exuberance and humor with unconventional music and dialogue.

Isabella Rossellini plays the role of the clever and tragic Lady Helen Port-Hunsley, a wealthy beer baroness who launches a world competition seeking the most melancholy music on the globe, as she endeavors to increase beer sales in a dramatic way. The purse is a huge twenty-five-thousand-dollar award that brings forth competitors from as far away as Scotland, Serbia and Siam. The main protagonist in the film emerges as the cynical Chester Kent (Mark McKinney), in contention with his brother, Roderick as Gavrillo the Great, and others in this great rivalry, where winners in each round slide into a giant vat of beer.

Twists and turns of emotion fill the plot, pulling you from humor to tragedy within a framework of grandeur and the absurd. As bygone secrets unravel, Fyodor, father of Chester and Roderick, attempts to exonerate his past guilt by fashioning glass legs filled with beer for Helen, his former lover, and the victim of an accidental amputation.

For those who appreciate imagination and avant-garde expressionism, Saddest Music is nourishment for the senses.

Recommended Beer: Scaldis Prestige – Brasserie Dubuisson Frères sprl, Leuze-Pipaix, Belgium
Style: Belgian Strong Pale Ale
A beautiful, creamy, tight head grandly guards the amber orange glow beneath. Oak, apple, and cognac fill the olfactory senses. Caramel and fruit fill the mouth, as shades of wood drift across the tongue. The creamy, full mouthfeel demands attention, then finishes quickly like the ocean ebbing from the sand. Spectacular 13% ABV is an adventure for the senses!
Cheers!


 
You Should Also Read:
Breweriana - Collectors' Corner of Beer Stuff
Beer Radio - A Winning Cask of Characters
Tavern Limericks & Beer


Editor's Picks Articles
Top Ten Articles
Previous Features
Site Map





Content copyright © 2023 by Carolyn Smagalski. All rights reserved.
This content was written by Carolyn Smagalski. If you wish to use this content in any manner, you need written permission. Contact Carolyn Smagalski for details.